Monthly Ministry Newsletter! :)
The gospel on display: a free gift 🎁
Last Sunday in Lansing there was an event called "I love my city" where many different congregations demonstrated the love of Jesus all over Lansing with various projects. One of these projects that I got to be a part of was giving out "finals survival kits" to the students at MSU going into their week of final exams. These care packages included snacks, study materials, a Bible and the Jesus film. We also offered prayer to all. I am believing that God revealed Himself to many during this time and that He is continuing to encounter them! :) Below is a picture of us in action last week: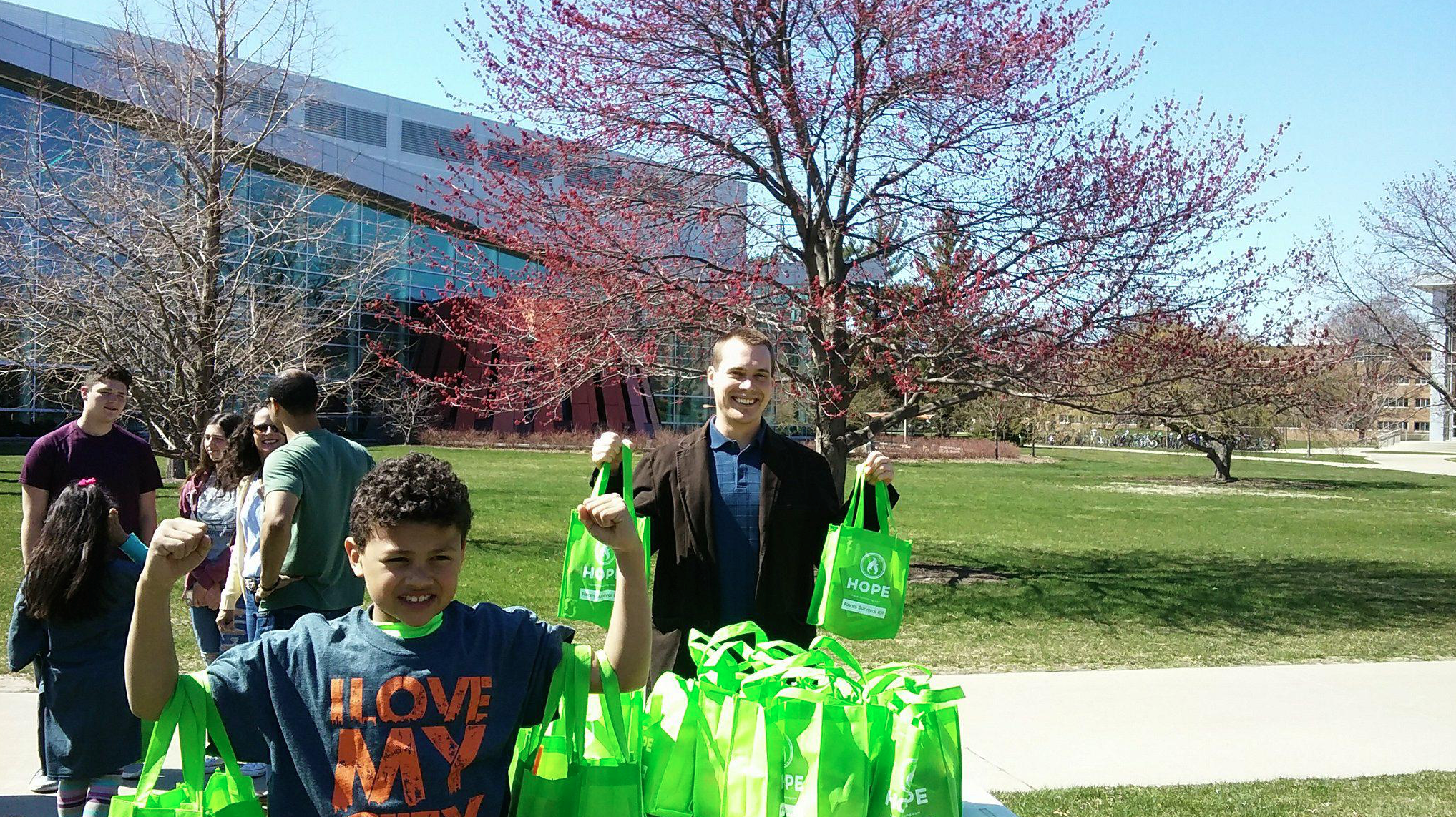 What is prayer?
Most of the work that God currently has me doing is prayer. It's the behind the scenes work. But as Oswold Chambers said, "prayer doesn't prepare us for the greater work. Prayer is the greater work."
Simply defined, prayer is conversation with God. We pray to build relationship with God and to bring His kingdom here. One person defined prayer as agreeing with God. Worship is agreeing with who God is and intercession is agreeing with what God wants. In intercession Jesus invites us to make decrees with him in the courts of heaven.
Identity
Part of our identity is the governmental-like function that God's people have. Jesus talks about this in Matthew 16:18 when He talks about His "church" that He is building. The word He uses here to say "church" is "ecclesia." This word means an assembly or council. The ecclesia was a ruling body—a type of governmental authority in that time. Jesus chose to use this word (ecclesia) instead of the word "synagogue" because he was talking about a prevailing, praying people 🙏—not a building! ⛪️ LOL! 😛 Below is a picture of some of the church in Lansing gathered for the national day of prayer a few days ago on May 3rd.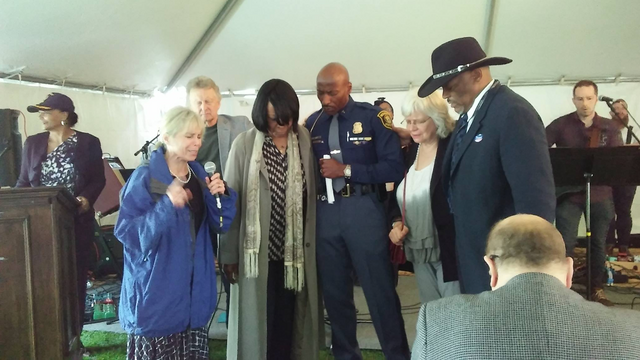 Does prayer really work?
Yes! Prayer changes things! It really works! God even changes His mind sometimes in response to our asking. One of the many Biblical examples of this is seen in Moses interceding for Israel on many different occasions. Through Moses' intercession, God changed His mind and spared Israel—many times! :) Another example is seen when Abraham pleads for God to spare Sodom in Genesis 18. Abraham continued to propose a lower and lower number of righteous people that God would require him to find in order for God to spare it. Every time Abraham proposed a lower number, God granted his request. Abraham asked God a total of 6 times! And God answered each one of these petitions with a "yes!"
Is prayer really necessary?
There are certain things that God will not do unless we ask Him (James 4:2). Jesus encourages us to ask, seek, and knock (Matthew 7:8). God is raising up night and day worship and prayer because He tells us that He will quickly bring about justice for His chosen ones who cry out to him day and night (Luke 18:7-8).
A brief history of 24/7 worship and prayer
Throughout the centuries there have been groups of people all over the world dedicated to prayer. Numerous groups have maintained 24/7 prayer for many years. King David was the first to organize this. Around 1000 B.C., he brought the Ark of the Covenant to Jerusalem and employed 4,000 musicians (1st Chronicles 23:5) and 288 singers (1st Chronicles 25:7) to minister before the Lord. Day and night these Levites were "to make petition, to give thanks and to praise the Lord" (1st Chronicles 15-17).
This global prayer movement has exploded in the last few decades. In 1985 there were only 25 houses of prayer that were doing worship and prayer around the clock. Today there are over 20,000 houses of prayer that do worship and prayer 24/7! 😃 This is not even counting the many other houses of prayer that are not 24/7 yet!
God is raising up a global prayer movement! Houses of prayer are springing up all over the world at a supernatural rate! God has been stirring up a passion for prayer all over the world for the last few decades. Many of these 24/7 houses of prayer had no idea that God was calling others to do the same thing. Clearly, this "prayer movement" is God's doing. ☝️
At this very moment God is fulfilling prophesies that He will restore the tabernacle of David (Amos 9:11-12) and that He will be worshipped in every place (Malachi 1:11). Lansing Michigan is one of these places! God has invited me to be a part of building a house of prayer in East Lansing, Michigan.
House of Prayer East Lansing (HOPE)
It is such a privilege to get to be a part of what Jesus is doing in bringing His kingdom to Lansing by partnering with Him in intercession! Some of the different things we pray for at the HOPE is for unity in the body of Christ, race relations, a moral revolution, freedom from chemical dependence, and the nations. God has done so much in each of these areas! 🙌
My barber became a believer!
Over the past few years I have seen my barber become progressively more receptive to Jesus' leadership. Several months ago God brought to completion this good work that He began. The love of God encountered him in a profound way and he has never been the same ever since this encounter! 😁
Several months ago he got into an accident on a motorcycle and died. After he died, he said that he encountered God's love—but from afar. He said he did not want to stay there and wanted a second chance to go back and live differently before God.
After experiencing the love of God, he passed over from death to life! He now confesses with his mouth that Jesus is Lord and believes in his heart that God raised Him from the dead! He hasn't smoked pot in several months and has made many other changes! He is a new man!
Prayer requests:
That I would love the Lord with all my heart, soul, mind, and strength.

That God would heal me from the tormenting affliction in my mind and chronic pain.

That the Holy Spirit would help me in this practice of abiding. (Help me keep my mind stayed on Him/help me keep my attention focused on Him)

That Jesus would increase my financial partnership team.
---
Thank you so much to all who have prayed for me! I really appreciate all of you so much! And thank you to everyone who has joined my financial partnership team! I am so encouraged when I see others investing in me. The message I receive when someone joins my financial partnership team is that they believe in me and in the work that God is doing through me. So thank you for encouraging me in this way!
You play a huge role in everything that I do! Those testimonies couldn't have happened without you! So together, we are bringing God's kingdom here! 😃 Do you want in on the action? If you want to be a part of continuing the work that God has me doing you can give online or in the mail:
---
Electronically:
https://www.paypal.com/cgi-bin/webscr?cmd=_s-xclick&hosted_button_id=2RED68AZQNG6J
Mail:
Make checks out to Spirit of Christ Church and send them to:
Benjamin Mercer
3830 South Waverly Road
Lansing, MI, 48911
(Please include "for Benjamin Mercer" in the memo)
Thank you for your prayers and financial partnership! :)