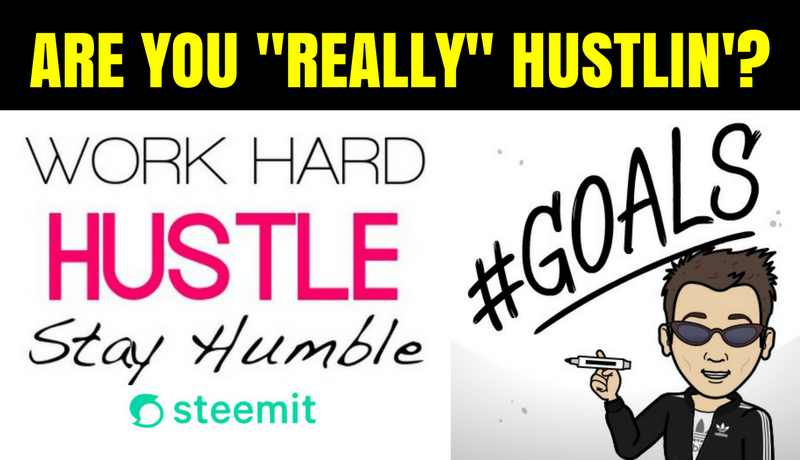 Good things happen to those "Hustle" harder than the average person ~ Charles Fuchs.
What up STACKERS (AKA Crypto Lovers) .... Another Day, Another Grind! 😎
Today I decided to talk about the word "Hustle", it's a word that gets thrown around lately of how hard a person works on his goals. 👨🏼‍💻
I found out a long time ago that people tend to say they "Hustle" hard but most of the time it's usually just talk without any action. Sometimes I fall into this kind of behavior but it's not a way to get things done.
So the topic for today is.... "Why Your Steemit Account Sucks"? 😳
There are people here on Steemit that want instant gratification and success in a short period of time, I'm going to tell you right now... you are setting yourself up for failure. ☹
I see the typical posts on here about people that they are hustlin.... then complaining that they don't get upvotes, that their content is way better than most, that this person don't deserve this or that etc... etc...
Just all complaints and no action... 🙇🏼
I can usually tell instantly by looking at a Steemians profile if they are just lying or really doing the work to become successful on Steemit. 🙌🏼
It's not really about just writing great content (remember it's Social media)... it's take 10X more effort than that.
You see, you need to start doing more... people may ask "What else do I need to do"? 🤷🏼‍♂️
First off, there are many things you can do such as become an investor in Steem + Steem power, comment and interact in the community, upvote awesome people, talk about your personal life, supply tons of value, being very consistent, be interesting, and most important of all... talk about how you are making Steemit an awesome place to be on.
These are just small examples what a Steemian must do. ✅
For Example, I upvoted more than 30,000+ posts, did over 10,000+ comments, did over 5750+ replies, over 150+ blog posts (1- or 2 times a day) just to name a few in 6 months. 
All this can be looked up on Steemboard. 👨🏼‍🏫
Go take a look at your numbers, are they up to par to all the successful Steemains on here, if not... why not? So are your really Hustlin' (working harder) than most of the people on here?
Nobody really wants to hear the truth, but sometimes one must really take it as constructive criticism to become better than they were.
Hope this post doesn't piss you off but to motivate and inspire all of you to get better at what you are doing right now and if you really want it.... REALLY WANT IT... Got get it. 🤑
With that being said, Have an awesome week my friends! 💞
P.S. For those who are interested in following my daily activities that I do in very short form called "Micro Blogging" on Steemit... you can follow me there also: @charles-fuchs. 😀

---



---