❇️ PI NETWORK UPDATE: MINE "CRYPTO" RIGHT ON YOUR MOBILE PHONE!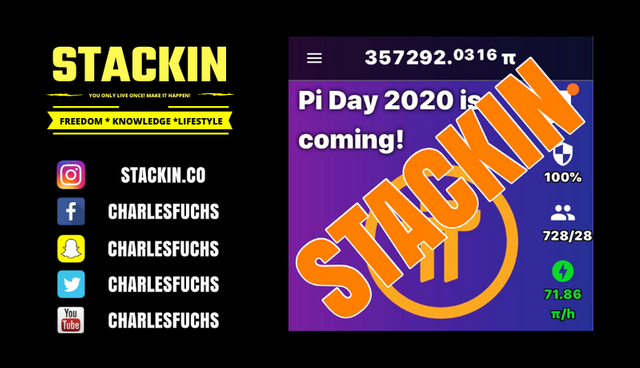 What up STACKERS!
I joined the Pi Network mining experience around March 2019 by the recommendation from one of my crypto buddies online.
I asked myself if it was for free, why not give it a try? You can get started by Downloading The Free PI Network App Here:.
(Use The Invitation Code: STACKIN)
As of Today, I've invited over 2800+ People (who actually downloaded the app) and personally mined over 357,292+ PI Tokens who joined the STACKIN Team.
Damn, that's a whole a lot of people if you think about it... I have yet to see anyone with these numbers as if yet. 🤑
What is the PI Network?
---
Pi is a mobile cryptocurrency and smart contracts platform that is secured, owned and operated by everyday people.
To achieve this goal, we are giving everyone convenient access to the most proven and compelling cryptocurrency application to date: mining (earning cryptocurrency rewards for helping to secure a distributed ledger).
More specifically, we aim to empower more people to help validate transactions and earn cryptocurrency rewards from the convenience of their mobile phones.
---
The PI Network is still in the beta phase and the main focus of the project is to distribute the PI Tokens to as much people as they can.
In less than 1 year, the PI Network App has already been downloaded by 2.5+ Million people and they are still growing fast.
Here are the steps to get started:
1.) Download The Free PI Network Mobile APP
2.) Start Mining The Pi Network Token
3.) Invite Your Friends
4.) Grow You Team and Build A Huge Crypto Community,
*The more people on your team, the more Pi you can mine per hour. It's that simple and if I can do it, anyone can!
Just Remember, this is 100% FREE To Download! Be sure to use my personal invitation CODE: ( STACKIN ) to get on the team.
What direction will the Pi Network go in the near future?
No one knows for sure but they do have one of the biggest crypto communities in the world right now with millions of people.
Keep on STACKIN! 😎
~ Charles Fuchs
For those who's interested in following my "Content" and "Daily" Posts... you can just follow me @stackin to get my updates.
You Can Follow Me Here:
➡️ UpTrennd: https://uptrennd.stackin.co
➡️ Facebook: https://facebook.stackin.co
➡️ Twitter: https://twitter.stackin.co
➡️ Instagram: https://instagram.stackin.co
➡️ Steem: https://steem.stackin.co

PI NETWORK: Pi is a new digital currency you can mine on your mobile phone for free without draining the battery or using data. Use The Referral Code: ( stackin ) to be on my personal team.

Crypto.com: Get The World's First ELITE Cryptocurrency MCO Debit Card and we both get $50! NOTE: You must stake 50 MCO to get the $50 + 2% cashback on all purchases. Must use Ref code: ( mqanqykcym )
---