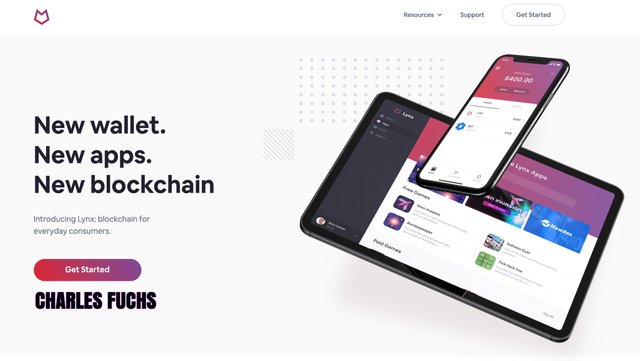 Introducing LynxChain: Blockchain For Everyday Consumers.
The LynxChain has officially launched and it's currently open to everyone. The first crypto platform designed for the masses. 🙋‍♂️
You will able to create up to 3 accounts for free... be sure to get your LYNX Account/Wallet Usernames right now before someone takes it!
I got my LYNX username: charlesfuchs
Here is the download link to my ambassador LYNX account... By using this link, we will both get 1 LNX Token Each! (current value .34)
It takes about 30 seconds to create your account... how simple! 📲
People will be able to earn LNX Tokens by inviting their friends and earning them by playing games to "mine" LNX coins. (coming soon). 🎮
My main goal is to invite over 100+ people in the next 24 hours to accumulate tons of LNX Token for free.
You better get your personal link here ASAP before I invite the masses in and get all the tokens! Just kidding... but for reals though! 😂
Keep on STACKIN! 😎
~ Charles Fuchs
For those who's interested in following my "Content" and "Daily" Posts... you can just follow me @stackin to get my updates.
You Can Follow Me Here:
➡️ UpTrennd: https://uptrennd.stackin.co
➡️ Facebook: https://facebook.stackin.co
➡️ Twitter: https://twitter.stackin.co
➡️ Instagram: https://instagram.stackin.co
➡️ Steem: https://steem.stackin.co
CLAIM YOUR FREE HEX TOKENS - The first high interest blockchain Certificate of Deposit (time deposit) that is designed to go higher, faster and retain its value.
PI NETWORK: Pi is a new digital currency you can mine on your mobile phone for free without draining the battery or using data. Use The Referral Code: ( stackin ) to be on my personal team.
Crypto.com: Get The World's First ELITE Cryptocurrency MCO Debit Card and we both get $50! NOTE: You must stake 50 MCO to get the $50 + 2% cashback on all purchases. Must use Ref code: ( mqanqykcym )
BYBIT: Want To Trade Bitcoin with 100X Leverage? Create Your Free Bybit Account 30 seconds and claim your $60 Welcome Bonus!