✴️ GUESS THE PRICE OF "BITCOIN" AND WIN FIVE (5) STEEM FROM STACKIN! 🤑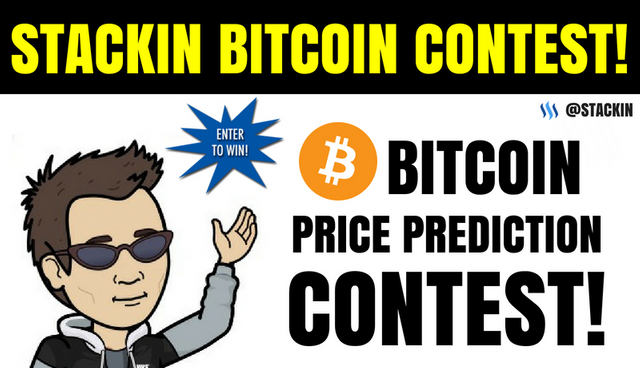 "When things are quite, that's when you start taking action." ~ Charles Fuchs.
WHAT'S UP STACKERS!
With Bitcoin dropping around 70% since it's rise to it's all time high of $20,000 in January of 2018, many people are just bummed out. 🙇🏼‍♀️
There are many rumors and speculation that we have more downside to go. Only time will tell but I see a huge bull run happening in a few months from now while we all accumulate more in the meantime. 📊
Just have patience guys, Cryptos and blockchain is here to stay... In the mean time, lets have a Steem Contest! 🤣
There will be "One Winner" that will be chosen on JUNE 21st at 11:00 A.M. to win "5 STEEM" by prediction the price of Bitcoin. 
Here Are The "STACKIN" Contest Rules: 👨🏼‍🏫

Follow @STACKIN on Steemit. 
Must *Comment and *Resteem this post.
Guess the price of "BITCOIN" will be exactly at 11:00 AM PST.
The Last Guess Stop at 6:00 A.M. PST. June 21st!
One (1) WINNER without going over will win, No Edited Posts!
Winner will get FIVE (5) STEEM!  

The current price of Bitcoin is $6,776.95! 
This contest will end tomorrow morning so that it will give people enough time for everyone to participate and get their guess in.
* All you have to do is "Resteem" and "Comment" your prediction below to qualify. You have til' 6:00 A.M. PST on June 21st to lock in your "Bitcoin Prediction". 
* Please do not edit your guess or prediction before the deadline, you will automatically lose and get flagged. We want everyone to have a fair chance of winning!
* I appreciate all the "Upvotes" as it's a way for me to do these contests weekly so that we all can have a little fun on Steemit.
Keep On STACKIN! 💞

P.S. For those who's interested in following my "Content" and "Daily" Posts... you can just follow me @stackin to get my updates.
*Stay Tuned for my weekly "STACKIN Steem Contests" where I've givin' out $1,000's of Steem, SBD, and Merchandise to fellow Steemians!
---



---