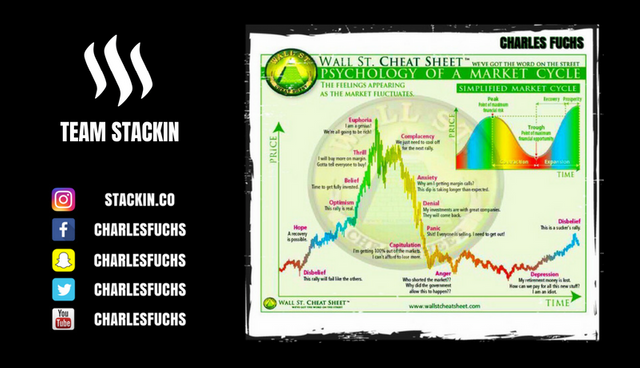 "If one wants success in their lives, the first step is to start believing in yourself" ~ Charles Fuchs.
WHAT'S UP STACKERS...
If you have been an Investor for a long time, you probably have already seen and heard about the picture posted above. 📈 📉 📊
It's called the "Wall Street Cheat Sheet: Psychology of a Market Cycle".
Regardless of which "Market" that you are invested in (real estate, stocks, bonds, precious metals, commodities etc... etc...)  the market tends to mimic this trend.
Looking back on what I posted on Facebook on November 28, 2017... I already knew that we was in the "thrill" and "euphoria" phase. Check it out: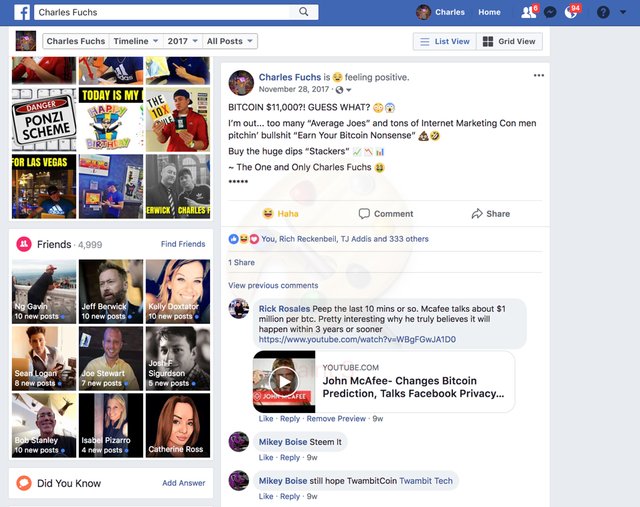 Many thought I was crazy to say that getting out of "Bitcoin" around $11,000 was a bad idea because most people tend to "follow the herd" ideology. 🐑 🐑 🐑
People in general hate being "left out" from the majority... It's simple human psychology, people just want to "fit in" with others.
Everyone was saying during December 2017 "100k Bitcoin in 2018!"
By looking at the charts above, I'm thinking that we are in currently in the "Capitulation" and "Anger Phase". The reason why I'm stating this is because I don't see that many people in the "Depression" mode yet.
However, I can be totally wrong. Maybe we are currently in the "Depression" stage depending on the person situation of how much he or she lost. 🤷🏼‍♂️
Looking at the sentiment and charts on the overall 'Crypto Markets", some seem to still be bullish right now and I don't see a lot of people depressed yet. 
I'm probably being very biased here because I took lots of profits during December through March and many people didn't. 🙇🏼‍♂️
I wouldn't even be worried at all if the "Crypto Markets" tank another 50% from here... every single person situation is different. 
So what are you thoughts? Can we go lower from here before the next run up? Maybe, who knows... If I knew, I would have Millions of Dollars Already! 🤣
Keep On STACKIN! 💞

P.S. For those who's interested in following my "Content" and "Daily" Posts... you can just follow me @stackin to get my updates.
*Stay Tuned for my weekly "STACKIN Steem Contests" where I've givin' out $1,000's of Steem, SBD, and Merchandise to fellow Steemians!
---



---