5th Phase Of POHI Project: Distribution of Books, Writing Materials, Snacks and uniforms to over 100 school children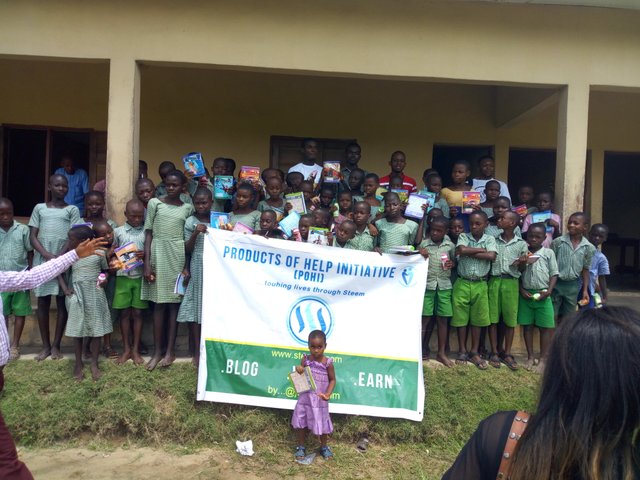 And as we let our own light shine, we unconsciously give other people the permission to do same. - Marianne Williamson
There's a reason why I like the above quote so much. It redefines humanity, the content gives essence not just to life, but the purpose of living. I got this quote from the popular movie, Akeelah and the Bee many years ago and since then it has become a part of my life.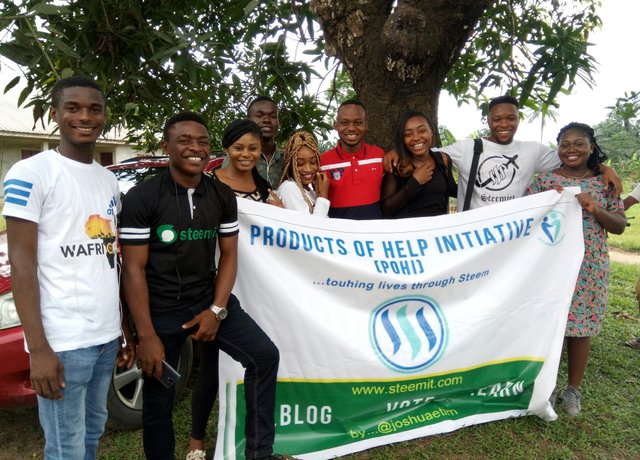 From L-R; @lordjames, @ungest, @ucathy, @empato365, @angiebrown, @joshuaetim, @annieben, @deandaniel and @jeline
On thursday, may 31st myself and a group of friends, mostly from the Steemjet community (delegates/members) went out on a charity project to see how to give back to the community through providing educational support to school children.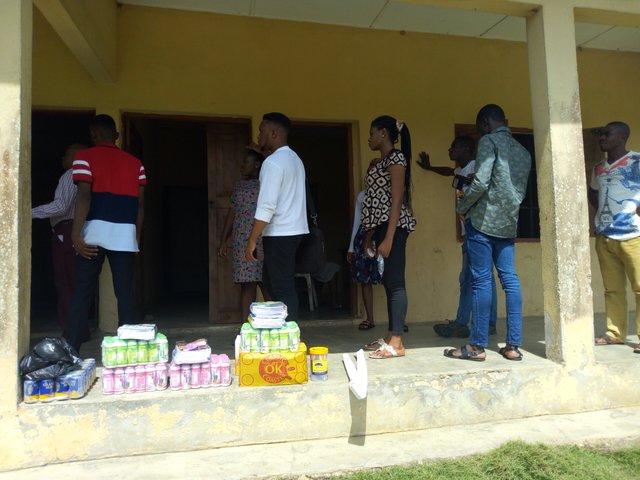 upon our arrival at the school
This phase was an exceptional one as it involved delegates/members from the Steemjet community who volunteered on their own to be part of the POHI project as well as sponsor it.
This was also more of partnership with Steemjet
to reach people in rural areas and create awareness about Steemit, blockchain and cryptocurrency, as the Steemjet vision centers around global stem adoption.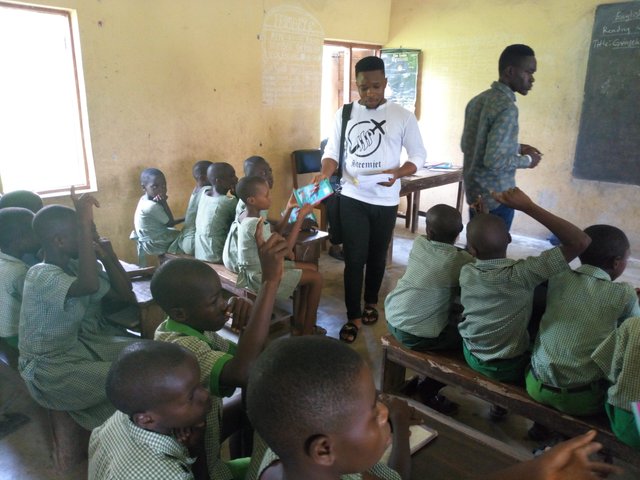 @deandaniel sharing exercise books to pupils
And we cannot attain global adoption for steem if we cannot reach out to people in the rural areas, streets and synagogues. And people in the forgotten corners of the world who has never read or heard about the words, Steemit and blockchain. It is true that people who truly need help do not have access to the internet.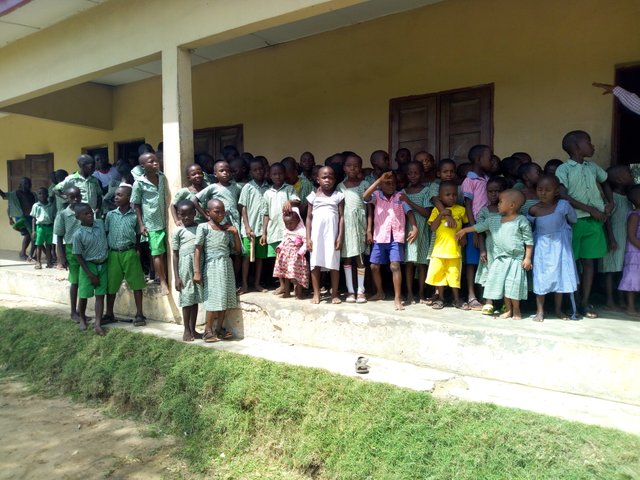 a cross-section of school pupils
Those who volunteered and came along with me for this mission were; @lordjames, @jeline, @deandaniel, @empato365, @ungest, @annieben, @ucathy, @angiebrown and my offline friend Ifiokabasi, who suspended his work, plans and everything to drive us to and fro the school.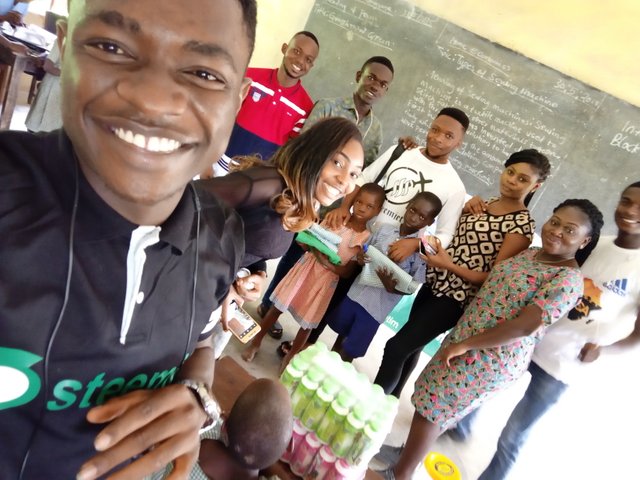 The project was a successful one, we were able to distribute exercise books to pupils covering three (3) classes, primary 4, 5 and 6 of Government Primary School, Ikot Ese. A public school located in a remote area of Southern Nigeria.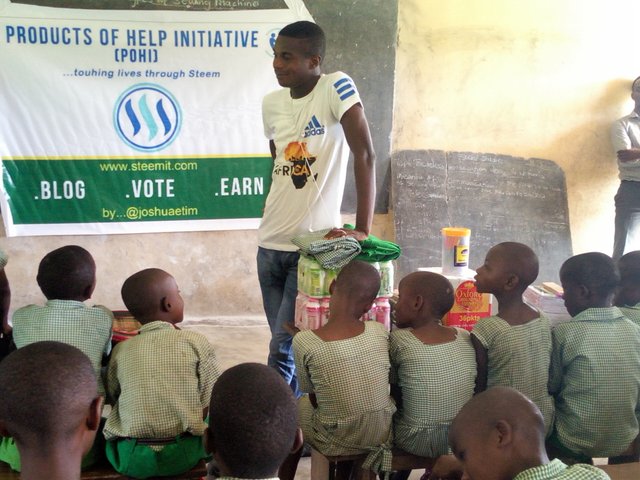 @lordjames with the school uniform materials and other items
We were also able to present brand new school uniforms to school children who didn't have for sewing. We selected 2 pupils from the senior class and 5 from the younger classes; primary 1, 2 and 3 who really needed help with sewing of new school uniforms.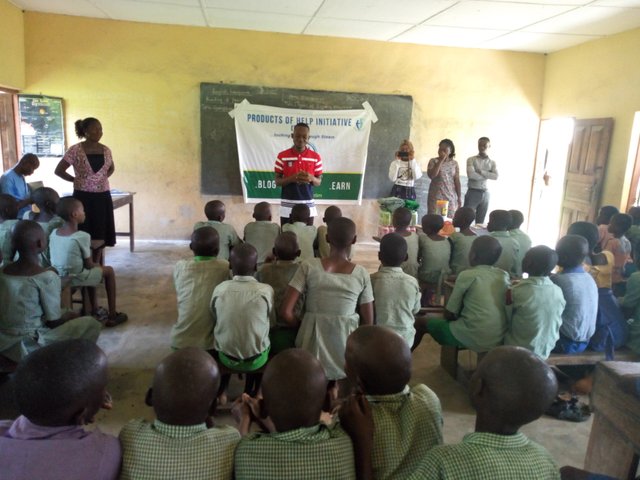 addressing the pupils and teachers
I spoke to the pupils and teachers and made them understood that this wasn't a government program or government sponsored project but a Steemit powered project sponsored by young Steemians and other members of the Steemit community who cares about philanthropic and charity projects.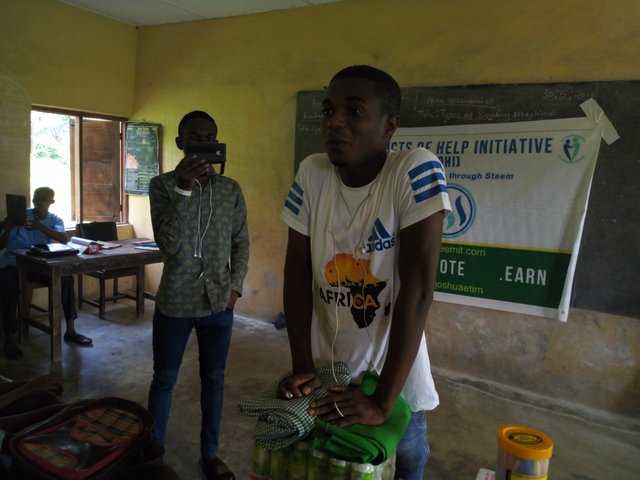 @lordjames explaining internet and blockchain in simple terms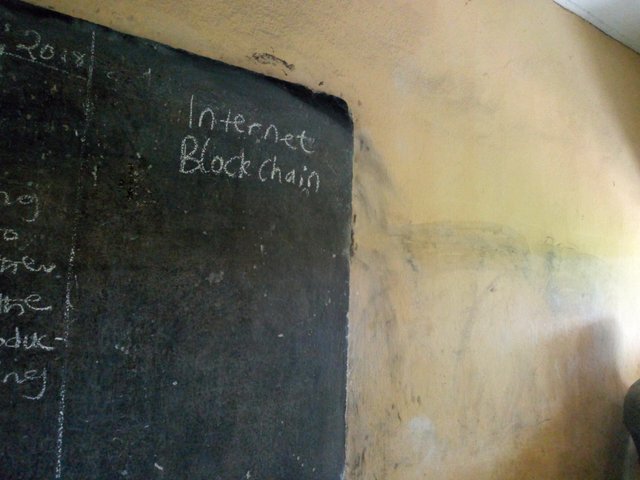 @lordjames had to scribble those words on the board for the pupils for more emphasis
I introduced blockchain technology to the teachers and pupils, and later @lordjames took it further to explain in simple terms what internet and blockchain technology is to the pupils and teachers and what can be achieved with it.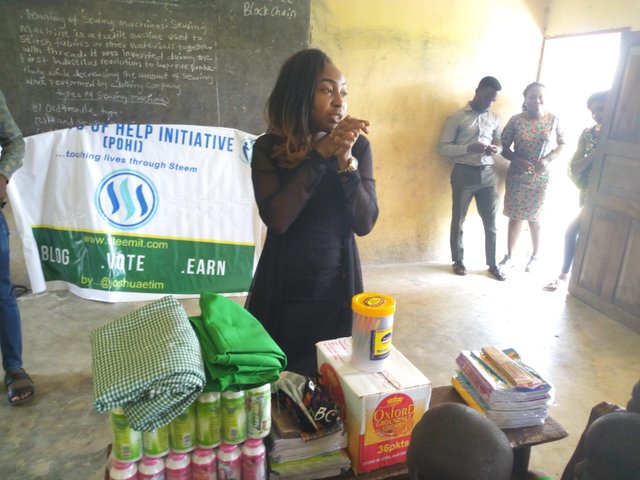 @annieben addressing the pupils and teachers
Afterwards, @annieben spoke to the teachers and pupils, and made them understood that one doesn't need to become a government official or person or be in government before he/she can lend help. She also emphasized on the importance of not waiting for the government to fix everything. She encouraged the pupils to work harder and take their studies seriously so they can become the change they wish to see in the society as well as attain financial independence someday.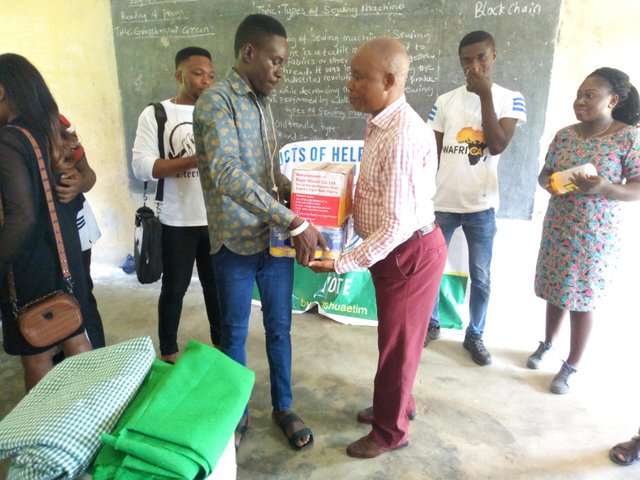 @empato365 presenting gifts to the teachers via the head teacher
The teachers were not left out as @empato365 presented the head teacher of the school with drinks and snacks as our gift and refreshments for the teachers.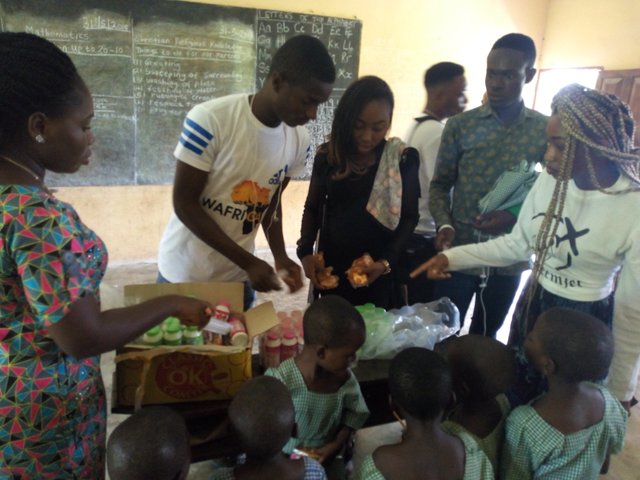 The pupils also had enough to drink and eat as we shared drinks and snacks to pupils in all the classes. We also shared biros and pencils to them.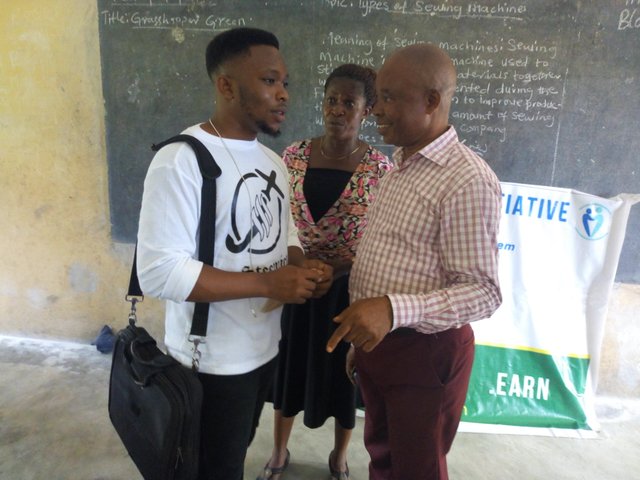 @deandaniel with head teacher
@deandaniel presented money to the head teacher and told him that it was meant for the sewing of school uniforms for the selected pupils.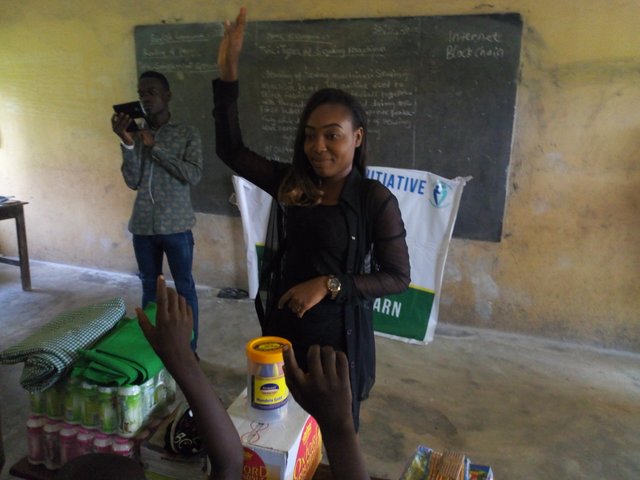 We also spent quality time interacting with the kids, asking them questions about what they wish to become when they grow up. We had beautiful answers from them; some said they want to become doctors, some engineers, some bankers, some lawyers, we also had a potential male nurse and so on.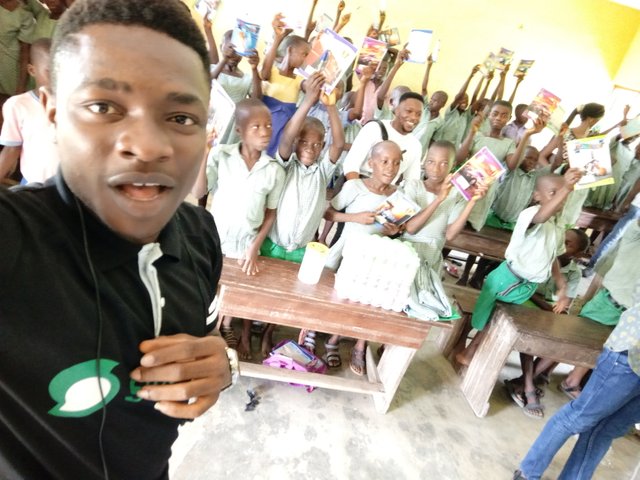 @ungest having fun with the kids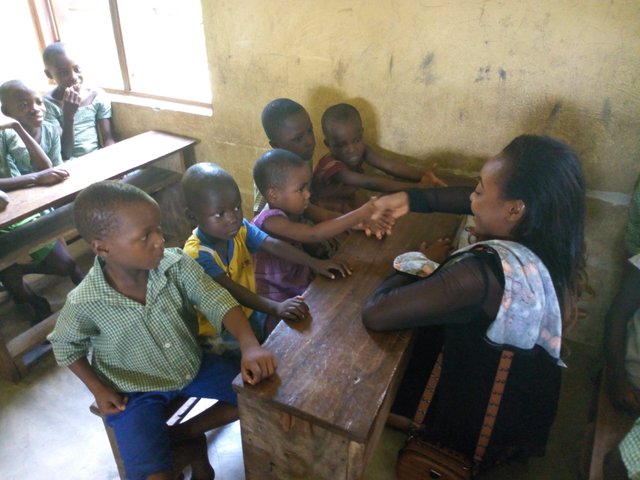 @annieben shaking hands with a future whale
The kids laughed when I told them that the books, biros and pencils given to them is not meant for writing of debtors' names or names of noise makers but to write their school work, their dreams, achievements, poems, songs and do their drawings.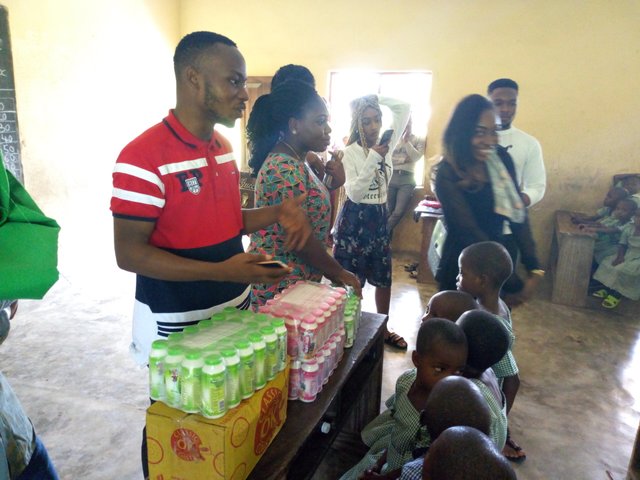 interacting with the kids
My friend @lordjames would say...
We cannot save the world, but we can always start from our immediate community.

We may not be able to save the world at once, but we will always try to see what we can do to help our immediate world. We'll see how we can help a child have access to books and writing materials, we'll see how we can help a child change a torn uniform or sandals.
Even if I do not have enough, I am doing what I need to do. I want to know what I can do for someone.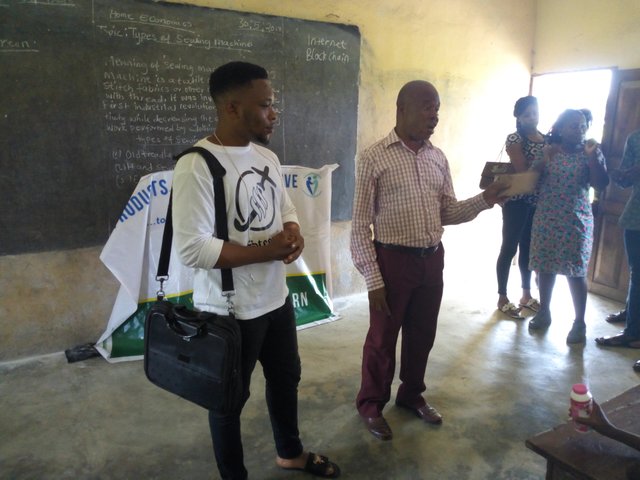 The children and teachers were so happy about our coming and donations. The head teacher gave a vote of thanks on behalf of the entire school and after that, we were done and left.
Whenever I see kids without school sandals, I feel privileged to have worn shoes to school. -@joshuaetim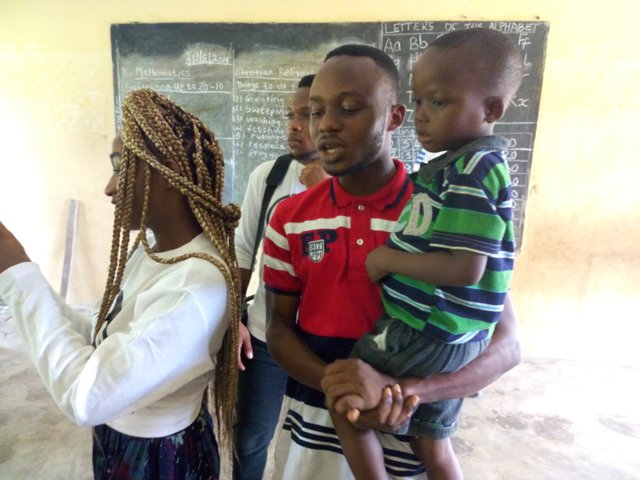 It was really difficult to leave, even after we were done. We were becoming fond of the children, likewise the kids with us. I enjoyed every single moment with them, talking and playing with them. Letting them to know that all of their dreams are valid and real and not merely illusions.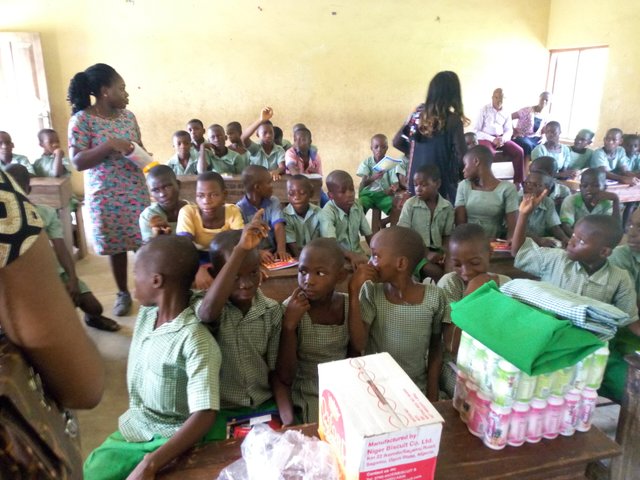 @jeline sharing writing materials to the kids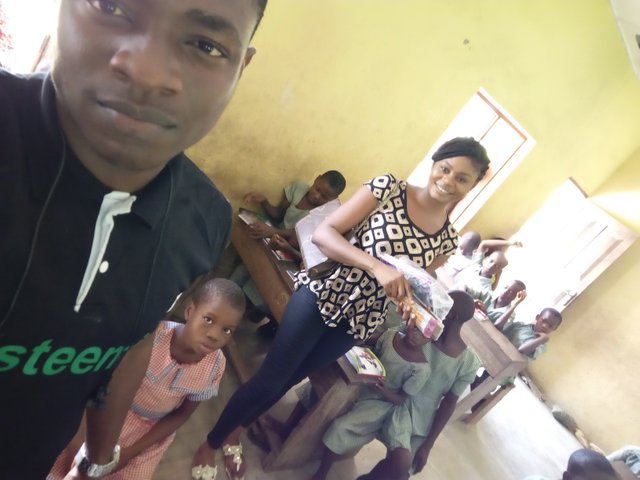 @ucathy looking all happy as she shares pencils to school children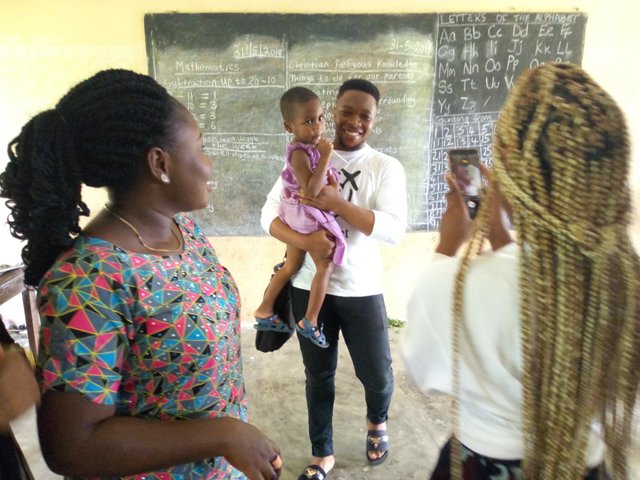 @deandaniel and one of the kids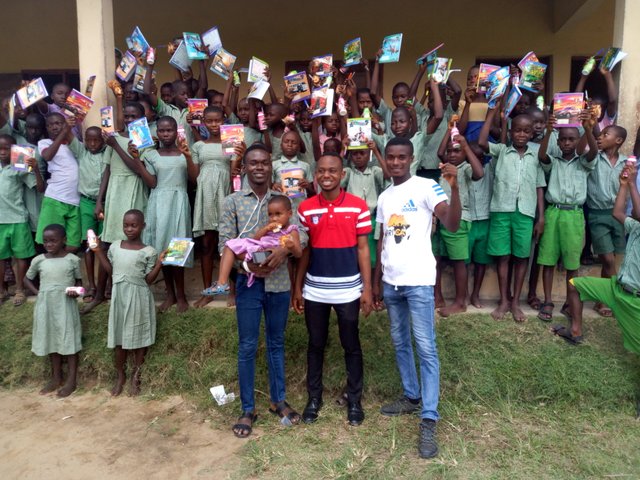 with the kids
I am extremely grateful to the Steemjet delegates/volunteers who donated to make this project become more successful. We got a total of 51 SBDS from their donations.
@deandaniel - 15 SBD
@lordjames - 10 SBD
@empato365 - 10 SBD
@ungest - 6 SBD
@jeline - 5 SBD
@annieben - 5 SBD
I am also grateful to @mitneb who has been a long standing supporter of this project. She is the first person who donated to this project from inception, she gave 50 Steem to this course and has always assured us of her support. Thank you @mitneb.
I am personally grateful to @ejemai and @dimimp for the 500 and 1250 SP delegations respectively. Thank you, I'm grateful.
Special thanks to @sircork and @surfyogi everyone else who supports and promotes projects like this, and who keep inspiring young people to become better, thank you.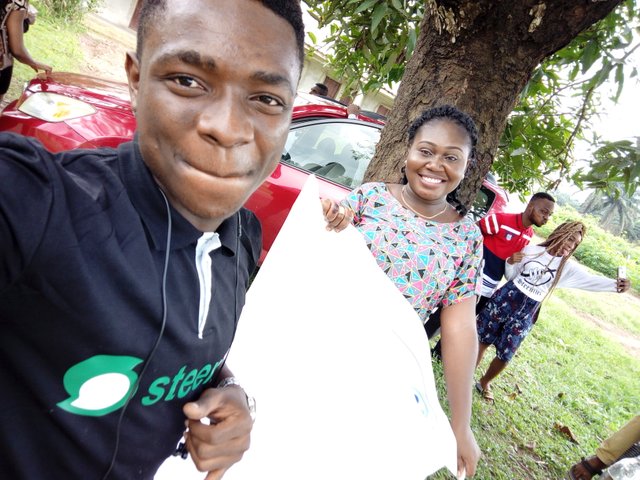 @ungest gave us all the shots
About POHI (Products Of Help Initiative)
POHI is a steem powered project that focuses on providing educational support to school children and students in the rural parts of Nigeria. It's a project I started with @lordjames in Northern Nigeria, and so far we've covered a few schools in Northern and Southern Nigeria.
I'm currently working on launching it here in the Western part of Nigeria where I am currently.
We are opened to support, donations, partnership, suggestions, volunteers and advice.
Thank you for your time.