XIX: Maximum the Hormone.
Maximum the Hormone es una banda de Tokio (Japón), que mezcla un gran número de géneros musicales en todos sus temas, pasando por el punk, hardcore, rock y diversos subgéneros del metal.
En Japón se convirtieron en un fenómeno musical en el año 2005, esto les sirvió para que su música apareciera en el opening y en el ending del popular anime Death Note, lo que los catapultó a la fama en el resto del planeta.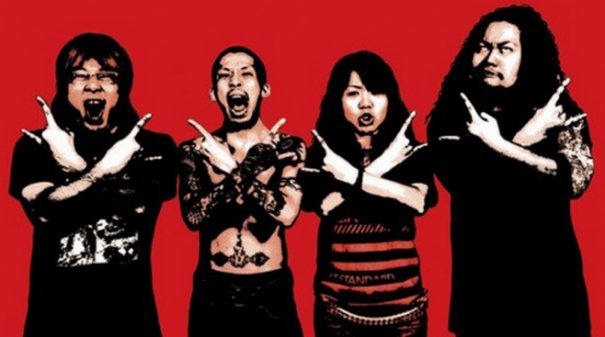 Fuente
Es un grupo extraño, contundente y muy original, han conseguido vender una gran cantidad de discos y que la afluencia a sus conciertos sea muy significativa.
Se caracterizan por el despliegue de energía que llevan a cabo tanto en sus canciones, como en sus videos musicales y sus directos, nunca se quedan quietos sobre el escenario y todos colaboran en las múltiples voces que tienen sus canciones, hasta su batería.
Fuente
Sus temas son una mezcla entra la brutalidad más extrema, llegando a tener partes de grindcore, pasando repentinamente por momentos musicales muy dulces y por diversas paranoias sonoras difíciles de clasificar con palabras.
Fuente
Con su disco Buiikikaesu, consiguieron ganar un disco de oro, llegando a vender cientos de miles de copias, en ese momento, realizaron una gira internacional que los llevó a América y a Europa, incluida España.
En 2018 firmaron por Warner Music Japan y con ellos sacaron su último videoclip, una locura más…