Let's go far away together / Vayamos muy lejos juntos - Illustration and blog by Fernanda Rojas ❤️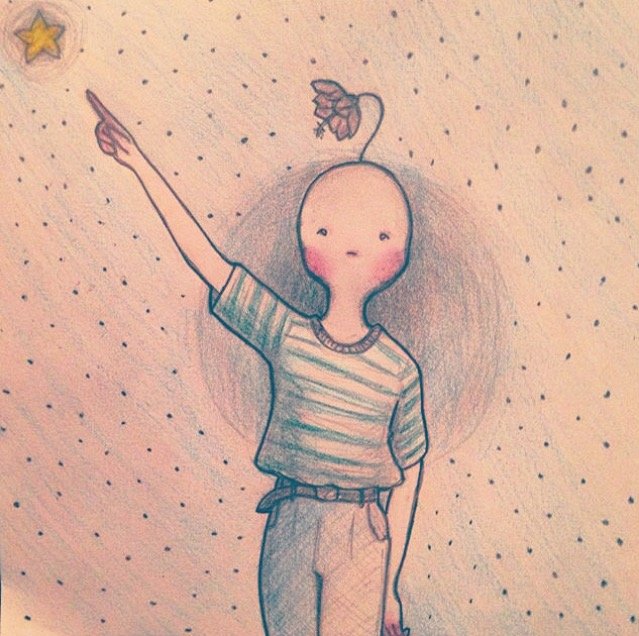 Let's go far away together, lápiz y creyones. (2019). Sentía melancolía y soledad, pero también esperanza. ⭐️
Hay veces en que deseas algo con tantas ganas... que sientes que harías lo que sea por lograrlo, como si no tuvieras más opción que alcanzar eso que parece estar tan lejos para poder ser feliz... ¿Te ha pasado?
Personalmente, cuando me siento de esa manera, tengo que expresarlo de alguna forma. Por supuesto, mi medio preferido es la ilustración. 💗
El año pasado fue muy intenso para mí, en especial los primeros meses. A pesar de todo, a inicios de año, tomé la decisión de participar en un concurso de idiomas. (Es que si no me reto, no soy feliz 😆).
Si leíste mi post anterior, sabes que estudio Japonés, y que es algo importante para mí, si no lo has leído y quieres conocerme mejor, te invito a visitar mi perfil. @kitzune
Así, que a pesar de las muchas adversidades personales por las que estaba pasando (que eran muy fuertes, debo decir😶), y del poco tiempo que tenía para prepararme, logré calificar para competir en un importante concurso de discurso en Japonés, cuyo premio es viajar a Japón.
Para mí, poder ganar era muy importante. Así que perdí horas de sueño y mucho trabajo hasta el día de la presentación. Sentía que necesitaba ganar. Fue muy duro porque pasaba mucho tiempo sola, y aunque mi Sensei me ayudó mucho, fue emocionalmente difícil .
Ese día llegó y sabía que no estaba 100% preparada, pero igualmente tenía esperanzas. Aún así, cuando no quedé entre los finalistas, me sentí muy triste y decepcionada.
Al llegar a casa, realicé una ilustración que llamé "Let's go far away together", porque en ese momento es lo que sentía, que quería llegar a ese lugar que estaba tan lejos de mí, en el que sabía que me sentiría mejor. ⭐️
A pesar del resultado, no perdí el deseo de poder ganar la competencia en el próximo año 2020, y de poder superar los obstáculos que tenía en ese momento.
"Nunca me debo rendir" pensaba.
Estudié y me concentré mucho más. Ahora, un año después, (este sábado) he vuelto a participar. La experiencia anterior valió mucho la pena, y durante el 2019, pasaron tantas cosas de las que aprendí mucho 😧✨, este 2020 estaba más preparada.
¿Cómo crees que resultó este año? ¿Crees que gané?
He hecho una una nueva ilustración para expresarlo y contar mi nueva historia en un próximo post que me emociona compartirles!! 😗😗
🙇🏻‍♀️Gracias por leerme 🙇🏻‍♀️
By Fernanda Rojas @kitzune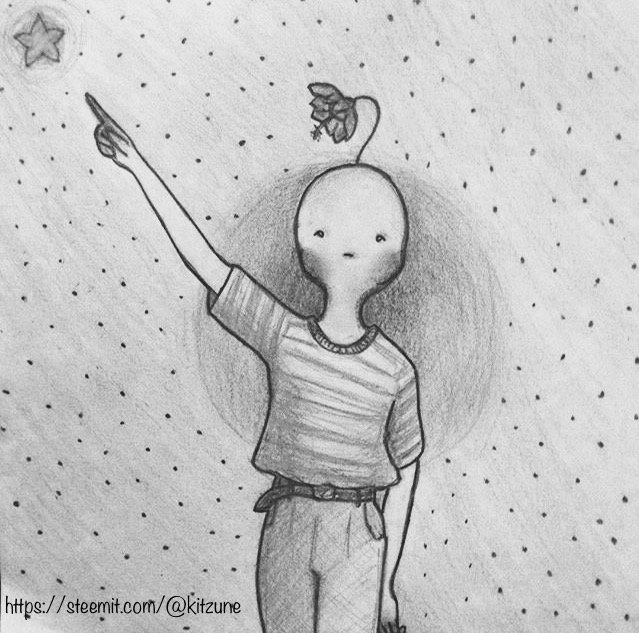 English Version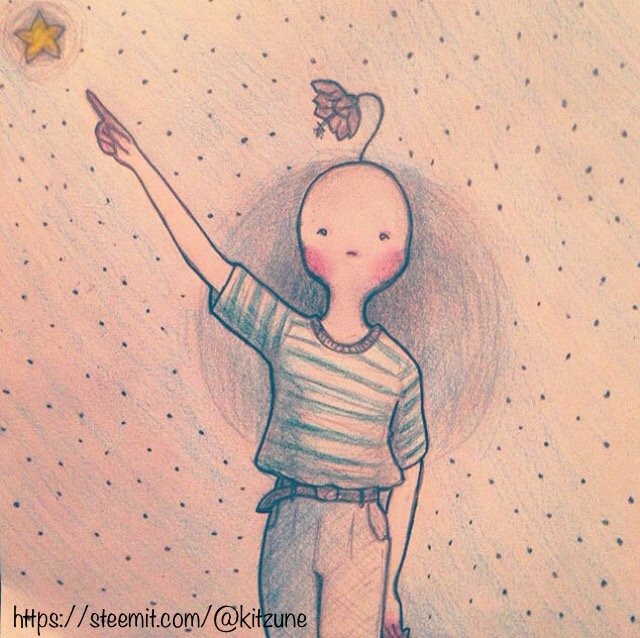 Let's go far away together, pencil and crayons. (2019). I felt melancholy and loneliness, but also hope. ⭐️
There are times when you want something with so much desire... that you feel that you would do whatever it takes to achieve it, as if you had no choice but to achieve that something that seems so far to be happy... Has it happened to you?
Personally, when I feel that way, I have to express it in some way. Of course, my favorite way is trough illustration. 💗
Last year was very intense for me, especially the early months. Despite everything, at the beginning of the year, I made the decision to participate in a language contest. (It's just that if I don't challenge myself, I'm not happy 😆)
If you read my previous post, you know that I study Japanese, and that it is something important to me, if you haven't read it and want to know me better, I invite you to visit my profile. @kitzune
So, despite the many personal adversities I was going through (which were very strong, I must say😶), and the lack of time I had to prepare myself, I managed to qualify to compete in a major Japanese speech contest, which prize is to travel to Japan.
For me, being able to win was very important. So I spent hours of sleep and a lot of hours of work until the day of the presentation. I felt I needed to win. It was difficult because I was kind of lonely, even that my Sensei helped me a lot, it was emotionally hard.
That day came and I knew I was not 100% ready, but I still had hopes. Still, when I wasn't selected as a finalist, I was very sad and disappointed.
When I got home, I made an illustration that I called "Let's go far away together", because at that moment that's what I felt, that I wanted to get to that place that was so far from me, where I knew that I would feel better. ⭐️
Despite the result, I didn't lose the desire to win the competition in the next year 2020, and to be able to overcome the problems that I had at that time.
"I must never give up" I thought.
I studied and concentrated much more. Now, a year later (the past Saturday), I've participated again. The previous experience was very worthwhile, and during 2019, so many things happened that I learned a lot from 😧✨and this year I was better prepared...
How do you think this year turned out? Do you think I won?
I've made a new illustration to express it and tell my new story in a future post that I'm excited to show you!! 😗😗
🙇🏻‍♀️Thank you for reading 🙇🏻‍♀️
**By Fernanda Rojas @kitzune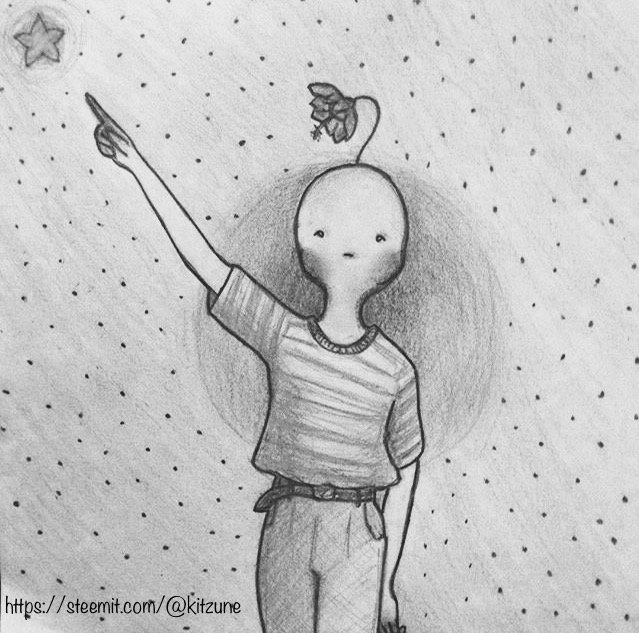 .
.
.
.
.
.



.
.
.
.
.
.
.
.
.
.
.


You can also read another of my posts in English and Spanish / También puedes leer otro de mis posts en español e inglés: :
https://steemit.com/cervantes/@kitzune/retrato-a-color-con-estilo-retro-retro-style-colored-portrait-by-fernanda-rojas