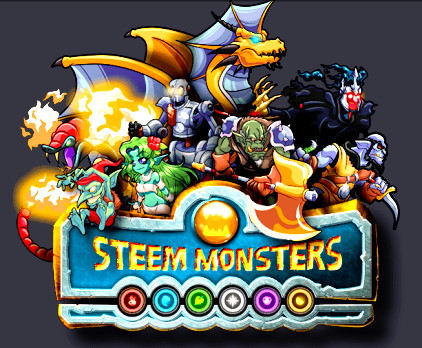 Copyright // Derechos Reservados: SteemMonsters ©


     Someday I had to try... Writing in English is difficult for someone who does not master the language of Shakespeare; but if I do not try, how i will know that I can communicate my ideas in the universal language?
     So, I gathered the courage and with the help of a translator and my limited knowledge of English, I dare to write: the 7 reasons why I think SteemMonsters is successful.

     Algún día tenía que intentarlo... Escribir en inglés es difícil para alguien que no domina el idioma de Shakespeare; pero si no lo intento, ¿cómo sabré que puedo comunicar mis ideas en el lenguaje universal?
     Así que me armé de valor y con la ayuda de un traductor y mis pocos conocimientos del inglés, me aventuro a escribir las 7 razones por la que yo creo que SteemMonsters es exitoso.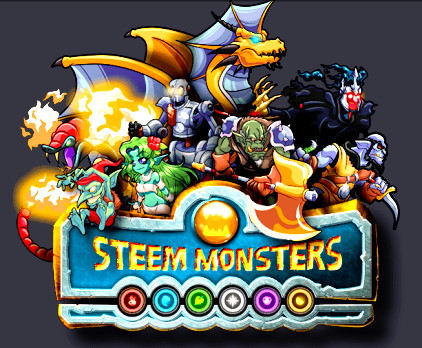 Screenshot // Captura de pantalla.
Copyright // Derechos Reservados: SteemMonsters ©

The market
     The market ...Oh ..! The blessed market..! Thousands of cards are traded and negotiated at the price the owner wants. Is not it attractive? The morbid that comes off to be able to receive money for some cards that are worth tens, even some of them very rare, hundreds or thousands of dollars ..! Isn't that a winning formula?
El Mercado
     El mercado... Oh..! El bendito mercado..! Se transan miles de tarjetas que se negocian al precio que el dueño quiera. ¿No resulta atractivo? El morbo que se desprende al poder recibir dinero por algunas tarjetas que valen decenas, incluso algunas muy escasas, cientos o miles de dólares..! ¿No es una fórmula ganadora?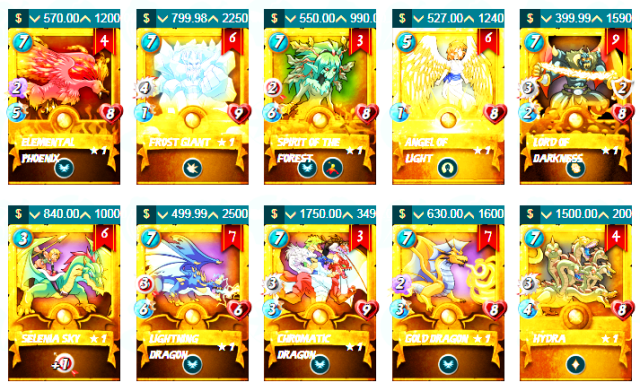 Screenshot // Captura de pantalla.
Copyright // Derechos Reservados: SteemMonsters ©


The strategy
     I love when the strong can not beat the weak and this is especially possible in this game, if you do not believe me, watch a game shared by @michelcamacaro on our Discord server: A guy with monsters armed to the teeth and very strong, lose the battle with someone of a much lower level but with a winning strategy. Don't you love this?
La estrategia
     Me encanta cuando el fuerte no le puede ganar al débil y ello es especialmente posible en este juego, si no me creen, vean una partida que compartió @michelcamacaro en nuestro servidor de Discord: Un tipo con monstruos armados hasta los dientes y muy fuertes, pierde la batalla con alguien de un nivel mucho menor pero con una estrategia ganadora; ¿no aman esto?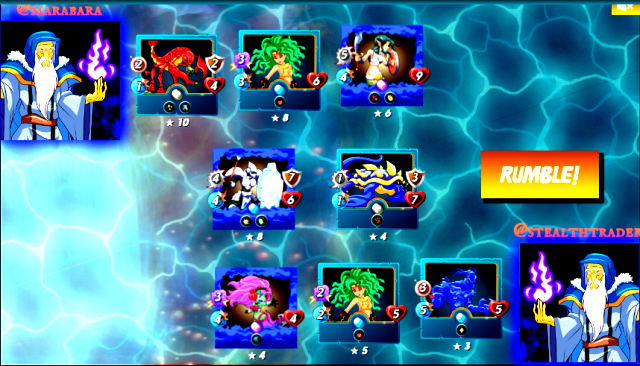 Screenshot: a battle // Captura de pantalla: la batalla
Copyright // Derechos Reservados: SteemMonsters ©


The surprises
     When you open a SteemMonster Booster Pack, you don't open it right away, no, you can flip each card until all are exposed and you will marvel or resign yourself, but you will not be indifferent. There can be a huge surprise every time you open one pack, isn't that wonderful?
Las sorpresas
     Cuando abres un SteemMonster Booster Pack, no lo haces de inmediato, no, puedes ir volteando cada tarjeta hasta que todas quedan al descubierto y tú te maravillarás o te resignarás, pero no quedarás indiferente. Puede haber una enorme sorpresa cada vez que abres un sobre, ¿no es maravilloso?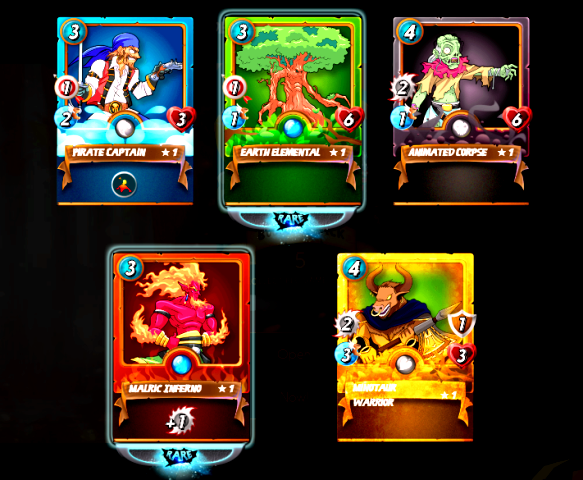 Screenshot: My last booster pack open // Captura de pantalla: Mi último booster pack abierto
Copyright // Derechos Reservados: SteemMonsters ©

The opportunities
     Not everything is money in SteemMonsters, there are many opportunities to get free cards or booster packs and all you have to do is play or be aware of users who make publications (with the tag #steemmonsters) to give or raffle cards among their followers and users who are alert to complete tasks, isn't that great?
Las oportunidades
     No todo es dinero en SteemMonsters, hay muchas oportunidades para obtener tarjetas o booster packs gratuitos y lo único que tienes que hacer es jugar o estar pendiente de los usuarios que hacen publicaciones (con la etiqueta #steemonsters) para regalar o rifar tarjetas entre sus seguidores y usuarios que estén alertas para completar tareas, ¿no es genial?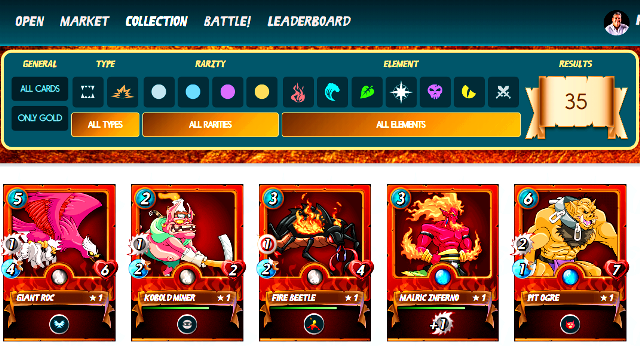 Screenshot // Captura de pantalla
Copyright // Derechos Reservados: SteemMonsters ©


The Scalability
     There's no time to bored, the game was imagined for card owners to grow their monsters to obtain more lives, punching force, defense, special abilities, etc. combining repeated cards or buying in the market those necessary to combine and grow the creature that interests us, isn't that brilliant?
La escalabilidad
     Aquí no hay tiempo para aburrirse, el juego fue imaginado para que los dueños de tarjetas hagan crecer sus monstruos para obtener más vidas, fuerza de pegada, defensa, habilidades especiales, etc. combinando cartas repetidas o comprando en el mercado las necesarias para combinar y hacer crecer a la criatura que nos interesa, ¿verdad que es brillante?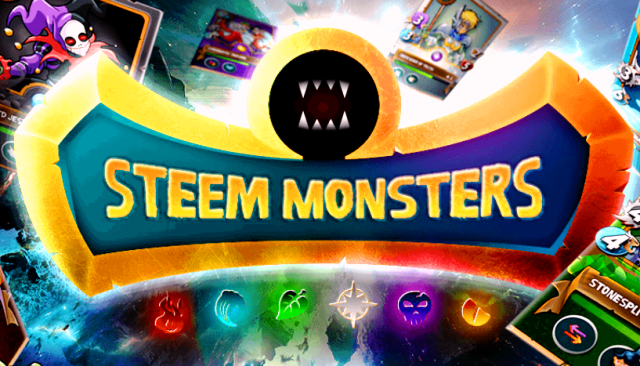 Screenshot // Captura de pantalla
Copyright // Derechos Reservados: SteemMonsters ©


Design
     The great variety of creatures, the shapes they can take, the animations, environments and the different values that the cards have, make you enter a world of infinite possibilities; the colors are vivid and the creatures recall a greater variety than the famous card game "Magic: The Gathering"; It's almost impossible not to see a different card every day, isn't that creative?
El diseño
     La gran variedad de criaturas, las formas que pueden tomar, las animaciones, ambientes y los diferentes valores que tienen las tarjetas, hacen que entres en un mundo de posibilidades infinitas; los colores son vivos y las criaturas recuerdan una variedad mayor al famoso juego de tarjetas "Magic: The Gathering"; es casi imposible no toparse con una tarjeta diferente cada día, ¿no es creativo?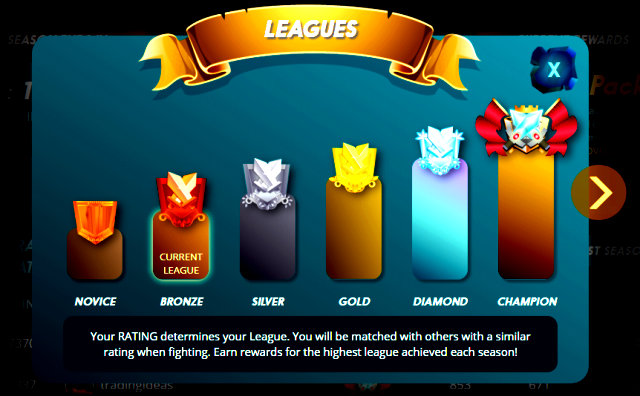 Screenshot // Captura de pantalla
Copyright // Derechos Reservados: SteemMonsters ©


Parity
     There are countless leagues and although you can face some strong contenders, the game ensures that you find enemies with chances to beat them; As you advance, you have a ranking that will classify you according to the results obtained in the battles, so: to fight ..!
La paridad
     Existen innumerables ligas y aunque puedes enfrentarte con algunos contendientes fuertes, el juego se asegura que encuentres enemigos con posibilidades de vencerles; a medida que avanzas, tienes un ranking que te clasificará de acuerdo a los resultados obtenidos en las batallas, así que: a pelear..!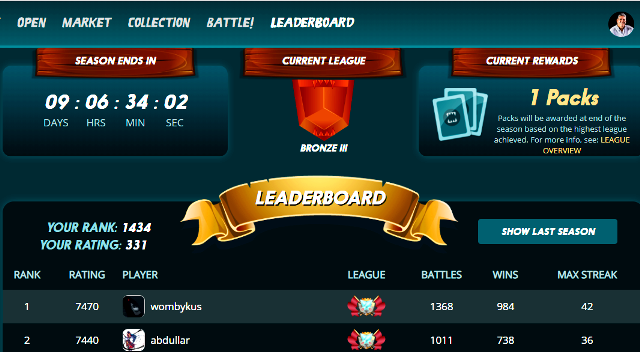 Screenshot // Captura de pantalla
Copyright // Derechos Reservados: SteemMonsters ©


Epilogue
     I barely have 4 days playing and I can say with propriety that we have an immense opportunity to have fun; we can meet friends, exchange cards and make community. When @amanardis introduced me to the game, I thought it was just another one... but now she is responsible for sleepless nights. Thanks to @the01crow for their advice on my hazing. From the heart I wish to congratulate @Aggroed y @Yabapmatt for making the steemians so unbeatable fever ..!
Epílogo
     Apenas tengo 4 días jugando y puedo decir con propiedad que estamos ante una inmensa oportunidad de divertirnos; podemos conocer amigos, intercambiar tarjetas y hacer comunidad. Cuando @amanardis me presentó el juego, pensé que era uno más...pero ahora ella es responsable de noches de insomnio. Agradezco a @the01crow por sus consejos en mis novatadas. De corazón deseo felicitar a @Aggroed and @Yabapmatt por poner al alcance de los steemians tan inmejorable fiebre..!

Gracias por leer...

Fonts flags // Fuente íconos banderas

No olvides votar a @cervantes como witness: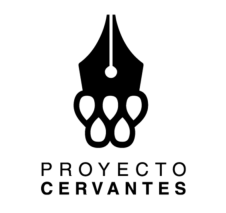 en este enlace
¿Cómo hacerlo y por qué?