Mujer hermosa caminando, arte Aranda, Venezuela / Beautiful woman walking, Aranda art, Venezuela.
Hola amigos, mi obra de Mujer hermosa caminando, está pintada al óleo con textura de cemento y goma en relieve sobre tela, sus medidas son 27 x 17 cm, me llamo Carlos Alfredo Aranda, soy artista plástico de Venezuela.
Hello friends, my work of Beautiful woman walking, is painted in oil with cement texture and rubber embossed on canvas, its measures are 27 x 17 cm, my name is Carlos Alfredo Aranda, I am a plastic artist from Venezuela.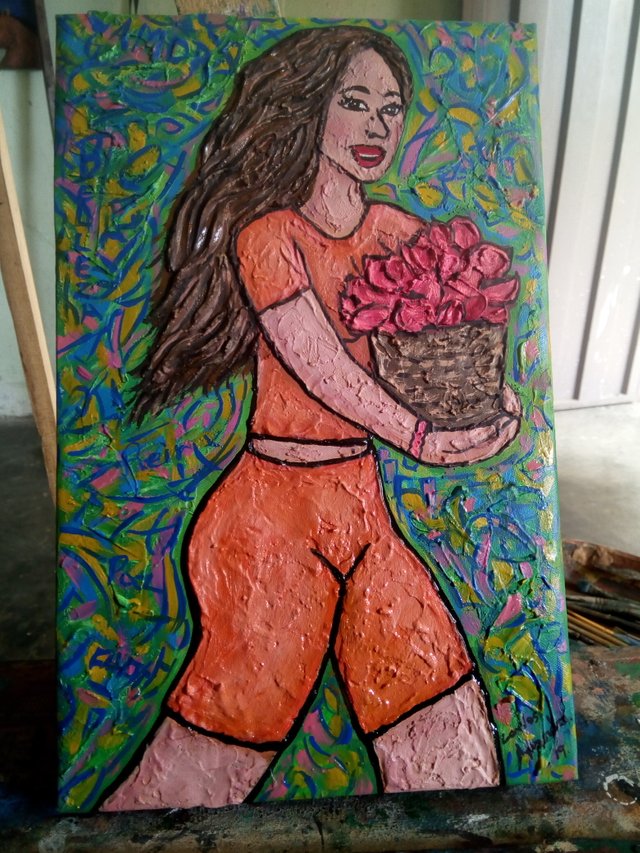 En su primera fase coloqué el relieve de cemento con goma blanca con una espátula, y luego fui cubriendo las partes más grandes con óleo, realizando las manchas generales para hacer detalles al secar.
In its first phase I placed the cement relief with white rubber with a spatula, and then I was covering the larger parts with oil, making the general stains to make details when drying.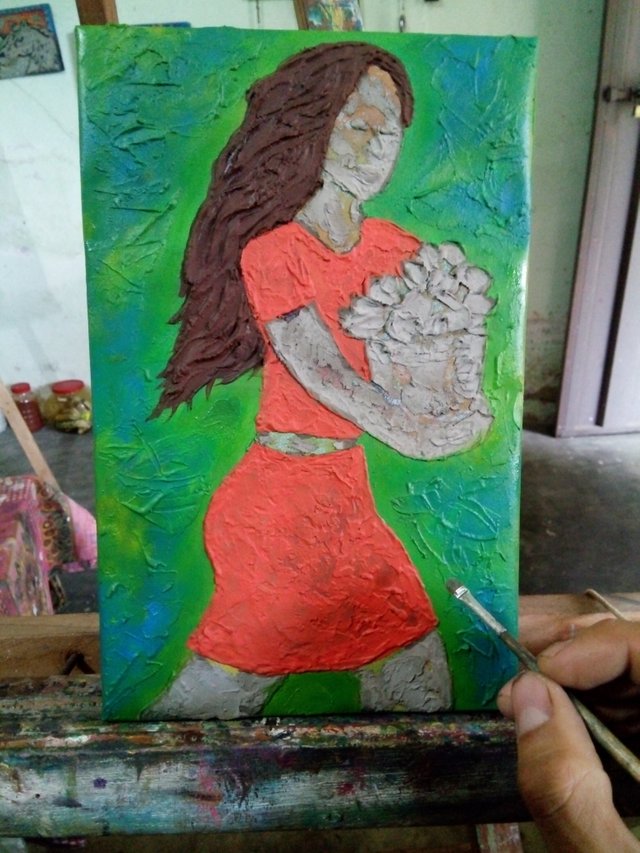 Poco a poco fui agregando más colores alegres y detalles a la obra.
Little by little I added more cheerful colors and details to the work.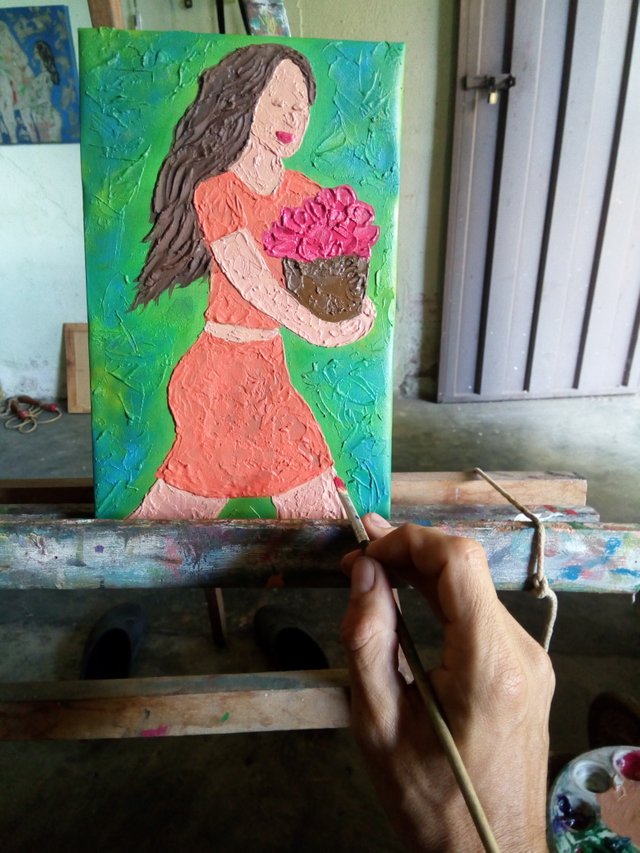 Después hice el rostro que fui tratando de mejorar, y pues deseaba que la mirada me observara mientras pasaba caminando con un gesto de sonrisa.
Then I made the face that I was trying to improve, and I wanted the look to watch me as I walked with a smile.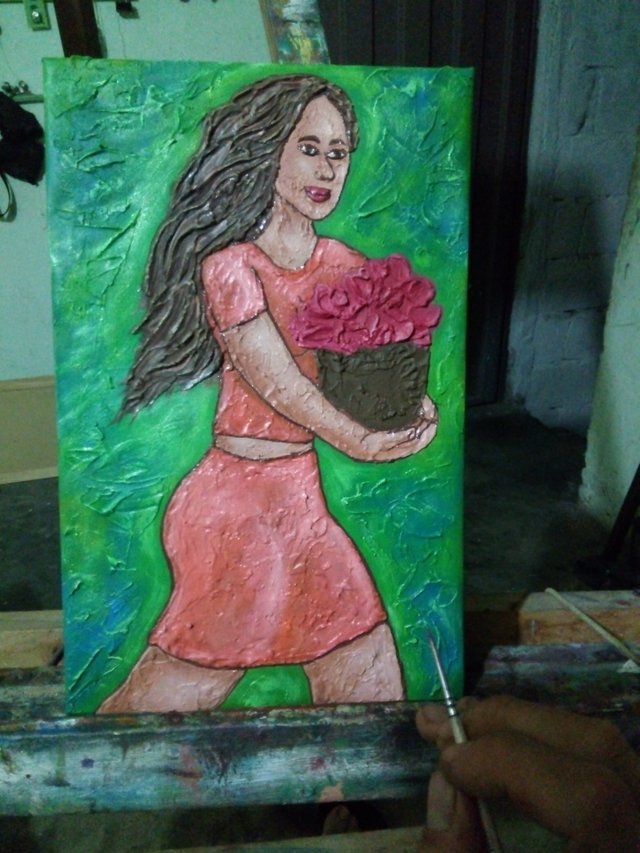 Luego al fondo le hice un tramado de líneas y colores variados para generar dinamismo.
Then at the bottom I made a plot of lines and varied colors to generate dynamism.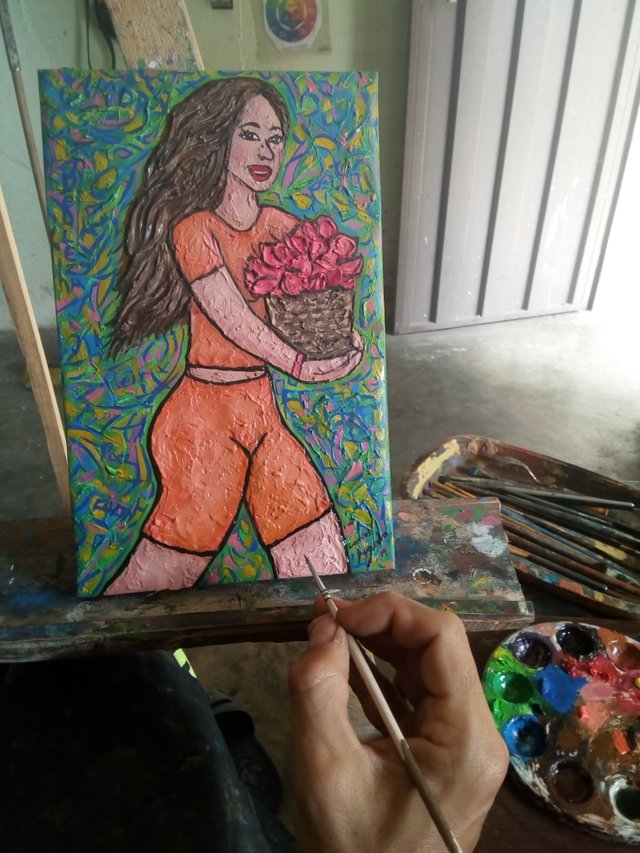 Espero les guste mi obra, soy artista plastico de Venezuela, vivo en el pueblo de Chiguará frente plaza Bolívar del casco central, visiten mi galeria taller en casa 3-26. También me pueden escribir a mis redes sociales para más contactos, Gracias.
I hope you like my work, I am a plastic artist from Venezuela, I live in the town of Chiguará in front of Plaza Bolívar in the central town, visit my gallery workshop at home 3-26. You can also write to my social networks for more contacts, Thank you.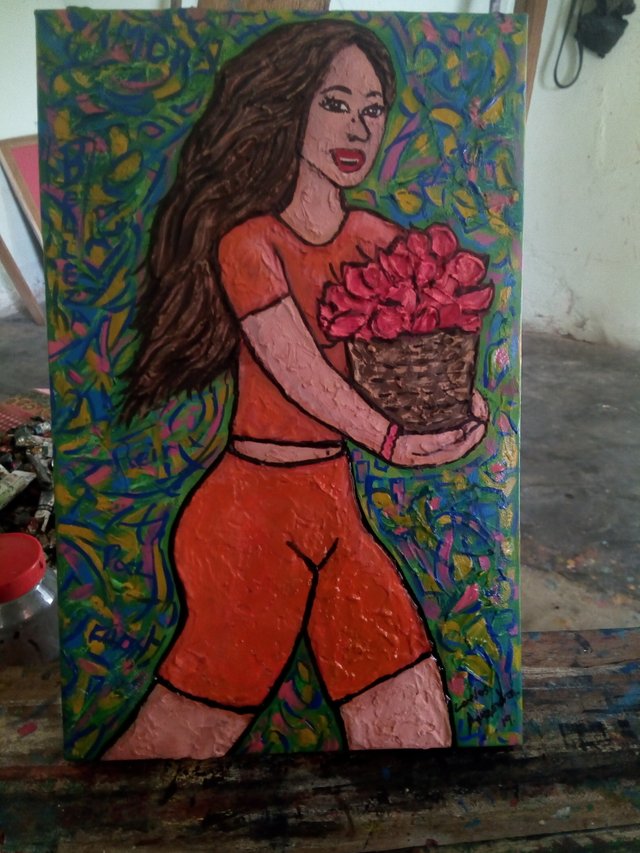 Carlos Aranda / Artista Visual.
https://www.instagram.com/carlosaranda.arte/
https://www.facebook.com/carlos.aranda.artes
https://steemit.com/@carloscaat
Enero 15 del 2020. Gracias.