It is strange that Natural News censors comments... You'd think Mike Adams - creator of Brighteon.com would not censor truth. [UPDATED 4/10/2019]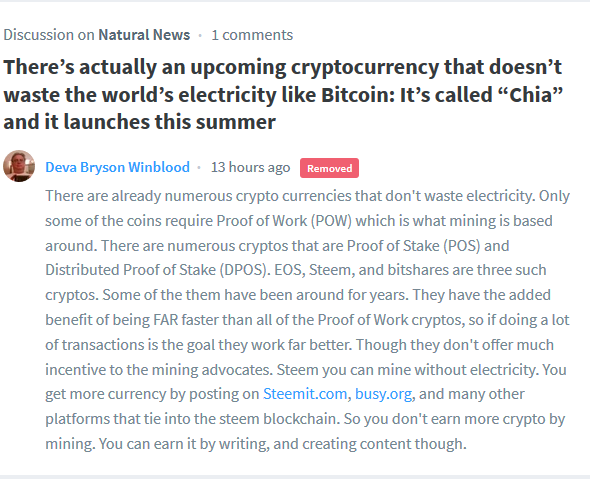 All I can say is I really like dissenter.com. Great plugin!!!
My comment they censored was to this article:
There's actually an upcoming cryptocurrency that doesn't waste the world's electricity like Bitcoin: It's called "Chia" and it launches this summer
UPDATE: I received the following email last night in response to my complaint ticket.
"Dear Reader,

Thanks for your e-mail. I used your e-mail address to check Disqus database and found your comment which was deleted. I'm not sure why but our admins might have considered your comment as spam because of posting links. I've approved it. Please verify.

Please note that all comments need to be approved by our moderators due to the high spam comments that we receive that might affect our website. The approval should not take more than 1 hour in business days.

Sorry for the inconvenience!

Best regards,"