Nature provides everything to support life. Nature saves beautiful gift, as well as save the most destructive calamity of living things. The choice of nature as a gift or as a disaster, as a paradise or as a hell of a world is in the hands of man, as a leader on this earth as well as being a rational creature.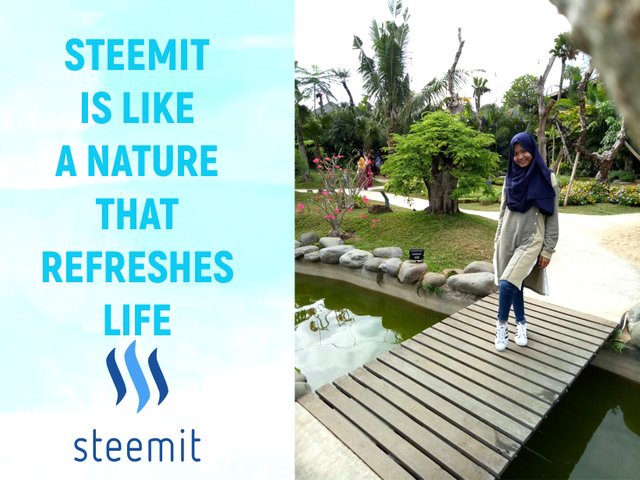 When Nature is guarded by us, then nature will also take care of us. So, saving nature means saving the lives of mankind.
My writing on this occasion is choosing a Natural Theme for me to entry in First Writing Celf Magazine Challange. I will share with you all about Steemit's philosophy as a refreshing realm of life. In particular, I likened Steemit as a field with different types of seeds that produced trees of different value.
Rewards Means The Oxygen Generated By Trees.
If the forest is the lung for the world, then content of post is the lungs for the Steemit ecosystem.
Steemit is created like a field that grows trees as a short-term and long-term investment: that makes life better. Rewards generated as additional income for Steemians, valued as oxygen produced by trees, make the ecosystem even better.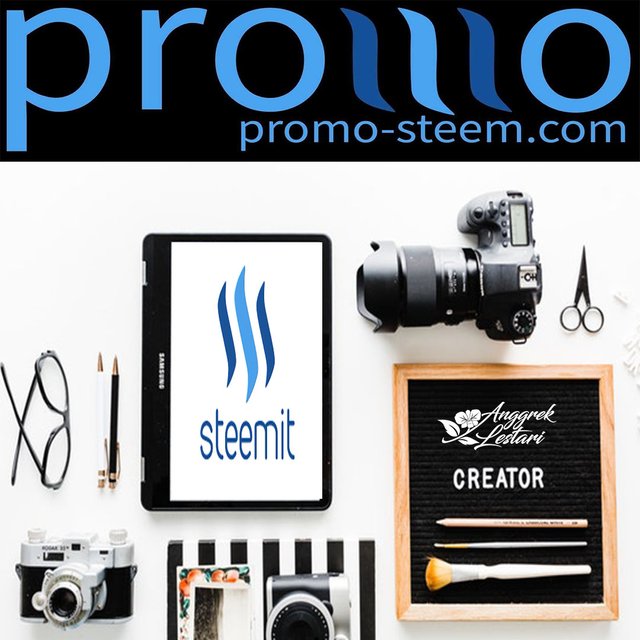 To Generate Rewards, Quality Content Is Required
Just imagine, when the trees begin to be logged, ecosystems also come worse as the arrival of floods, landslides, the most dangerous is to increase the temperature of heat in the earth's surface.
That's why for maximal oxygen, it takes a lot of quality trees. And, to generate rewards in Steemit's nature, it needs quality content.
Rewards will always be there and Steem blocks will continue to be produced when quality posts are always there.
To Make Posts Successfully Creating Rewards, It Takes Hard Work Like Growing Seeds
Steemian is like a planter spreading seeds of content in the Steemit field. Not all sown content can eventually flourish and can be harvested to produce something for life.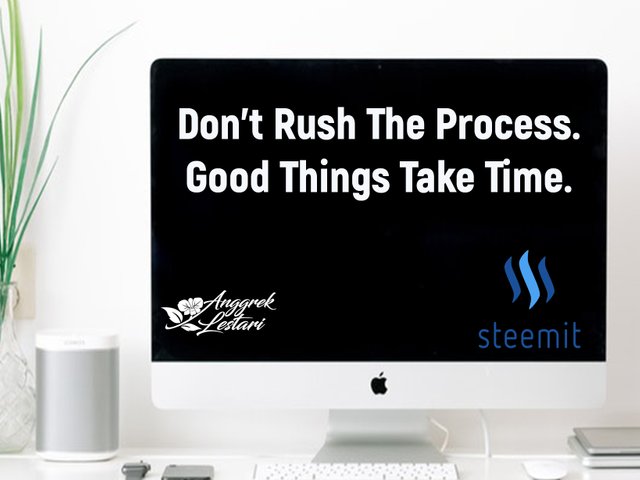 Why are seeds of sowing content failing to grow to produce rewards?
Actually, this failure factor is not only in seed quality. When content seeds are good, but incorrectly choosing the right planting medium, of course it will fail!
Place Content Seeds In The Right Places Using Tags
Tags are like an appropriate planting medium for your content, and will grow your content seeds into fertile and generate maximum rewards!
So, if Steemian incorrectly uses tags, the postings will fail to find the curator and will not generate any rewards.
Steemit provides a variety of planting land for any Type of Content Seed
Steemian does not need to worry, because Steemit will grow up and flourish the various types of content because there are so many curation projects that support various content topics.
Steemian's job is to choose exactly where the content will flourish to generate maximum rewards.
Give Your Content Good Nutrition
When your content is in the right place, then the content needs another factor to be able to generate maximum rewards. What is that?
Do not forget to use your ability to communicate with friends and relationships to bring in growth nutrition for your Steemit content and account.
Stealing The Owned Content Of Others Is An Action of Destructing The Steemit Ecosystem
Plagiarism is like cutting parts of plants in the fields of others, to be grown in the fields of their own.
Plagiarism will not grow new trees, butdestroy existing trees. The impact will be very detrimental. Not only one affected Steemian, the Steemian community can be affected by this personal act.
So let's make Steemit a field to grow investment for a better life change. Keep Steemit, then all Steemian will be calm and comfortable to be in this blockchain system.
Steemit, For A Better Life: More Than Posting and Investing; Not Just A Dreaming.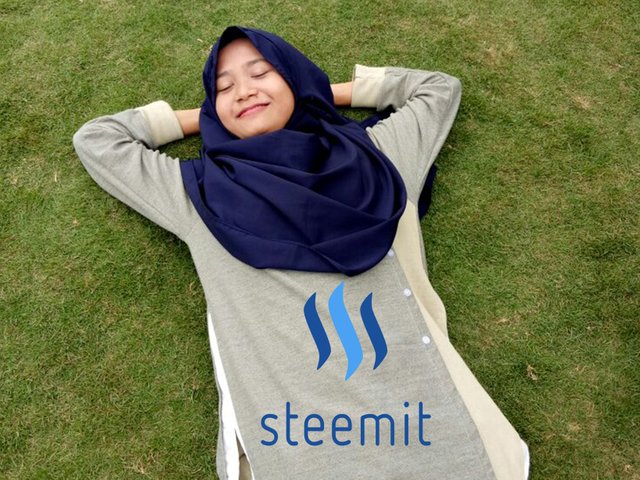 ---
---
---
INDONESIAN: Steemit Ibarat Alam yang Menyegarkan Kehidupan
Alam menyediakan segalanya untuk mendukung kehidupan. Alam menyimpan anugerah indah, sekaligus menyimpan musibah paling menghancurka makhluk hidup. Pilihan alam sebagai anugerah atau sebagai musibah, sebagai surga atau sebagai neraka dunia berada di tangan manusia sebagai pemimpin di muka bumi ini sekaligus menjadi makhluk berakal.
Bila Alam dijaga oleh kita, maa alam juga akan menjaga kita. Maka, menyelamatkan alam berarti menyelamatkan kehidupan umat manusia.
Tulisan saya pada kesempatan saat ini yaitu saya memilih topik alam untuk saya sertakan dalam First Writing Celf Magazine Challange. Saya akan membagikan kepada kalian semua tentang filosofi Steemit sebagai alam yang menyegarkan kehidupan. Topik khususnya pula, saya mengibaratkan Steemit sebagai ladang dengan berbagai jenis tanah yang menghasilkan pepohonan bernilai berbeda.
Rewards Berarti Oksigen yang Dihasilkan Pepohonan.
Bila hutan adalah paru-paru bagi dunia, maka konten postingan adalah paru-paru bagi ekosistem Steemit.
Steemit diciptakan layaknya ladang yang menumbuhkan pepohonan sebagai investasi bernilai jangka pendek maupun jangka panjang: yang membuat kehidupan lebih baik lagi. Rewards yang dihasilkan sebagai penghasilan tambahan bagi para Steemian, bernilai seperti oksigen yang dihasilkan pepohonan, membuat ekosistem lebih baik lagi.
Untuk Menghasilkan Rewards, Dibutuhkan Konten yang Berkualitas
Bayangkan saja, bila pepohonan mulai ditebangi, ekosistem pun ikut memburuk seperti datangnya banjir, tanah longsor, yang paling berbahaya adalah meningkatkan suhu panas di permukaan bumi.
Itulah sebabnya agar oksigen yang dimaksimal, butuh banyak pohon yang berkualitas. Dan, untuk menghasilkan rewards di alam Steemit, maka dibutuhkan konten yang berkualitas.
Rewards akan selalu ada dan blok-blok Steem akan terus diproduksi bila postingan berkualitas selalu ada.
Untuk Membuat Postingan Berhasil Menciptakan Rewards, Dibutuhkan Kerja Keras Seperti Menumbuhkan Benih
Steemian ibarat penanam yang menebar benih-benih konten di ladang Steemit. Tidak semua konten-konten yang disemai pada akhirnya bisa tumbuh subur dan bisa dipanen menghasilkan sesuatu untuk kehidupan.
Mengapa benih-benih konten yang disemai gagal tumbuh menghasilkan rewards?
Sebenarnya faktor kegagalan ini bukan hanya ada pada kualitas benih. Bila benih konten sudah bagus, tetapi salah memilih media tanam yang tepat, tentu saja akan gagal!
Letakkan Benih Konten di Tempat yang Tepat Menggunakan Tag
Tag ibarat media tanam yang sesuai untuk kontenmu, dan akan menumbuhkan benih kontenmu menjadi subur dan menghasilkan rewards yang maksimal!
Jadi, bila Steemian salah menggunakan tag, tentunya postingannya akan gagal ditemukan kurator dan tidak akan menghasilkan rewards apa pun.
Steemit menyediakan berbagai lahan tanam untuk segala Jenis Bibit Konten
Steemian tidak perlu khawatir, karena Steemit akan menumbursuburkan berbagai jenis konten karena banyak sekali proyek kurasi yang mendukung berbagai topik konten.
Tugas Steemian hanyalah memilih dengan tepat di bagian mana kontennya akan tumbuh subur menghasilkan rewards yang maksimal.
Berilah Konten Anda Nutrisi yang Baik
Ketika konten Anda sudah berada di tempat yang tepat, maka konten butuh faktor lain untuk bisa menghasilkan rewards maksimal. Apakah itu?
Jangan lupa gunakan kemampuan Anda berkomunikasi menjalin pertemanan dan relasi untuk mendatangkan nutrisi pertumbuhan bagi konten dan akun Steemit Anda.
Mencuri Konten Milik Orang Lain adalah Tindakan Merusak Ekosistem Steemit
Plagiat ibarat memotong bagian tumbuhan di ladang milik orang lain, untuk ditumbuhkan di ladang milik sendiri. Sungguh licik, kan?
Plagiat tidak akan menumbuhkan pohon-pohon baru, merusak pohon yang telah ada. Dampaknya akan sangat merugikan. Bukan hanya satu Steemian yang terkena dampak, komunitas Steemian tersebut pun bisa terkena dampak dari perbuatan pribadinya tersebut.
Yuk, kita sama-sama menjadikan Steemit sebagai ladang untuk menumbuhkan investasi bagi perubahan kehidupan yang lebih baik lagi. Jagalah Steemit, maka semua Steemian akan tenang dan nyaman berada di platform bersistem blockchain ini.
Steemit, untuk Kehidupan yang Lebih baik Lagi. Lebih Dari Sekadar Menanam Investasi. Bukan Hanya untuk Bermimpi.