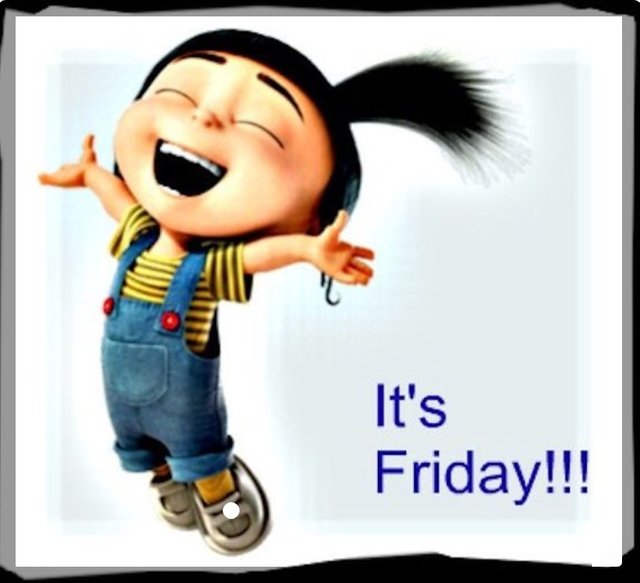 Happy day everyone!!
This is my entry to My Thursday Favourite #6 Contest, My Favourite day of the week hosted by @marblely. Everyone has a favourite day of the week. Which day is my favourite day of the week 🤔? Not difficult to guess 🤭, of course is Friday 😍!!!. Because it is TGIF!! For me, Friday is always the day to anticipate the coming of weekend 🤗, and it makes the favourite day of the week for me 🎊🎉. Monday to Thursday always are never ending days 😵 for me with all the endless working hours 😓😢.
Friday night is the first day of the week where you could stay out late night 🤩😎 and have fun👯💃🕺👯‍♂️ and not worry about getting up early the next day since Saturday is the start of the weekend and I don't have to worry about doing anything or being anywhere as in weekdays 😛😝.
Every Friday morning, I wake up energetically. Start with my morning walk 🚶‍♀️🚶, before preparing to work 🙇‍♀️. Even in office, you also could notice that each of the colleague carried with a smiley face 😆and full of laughter 🤣 in their cubicle. Lunch time 🍜🥘in Friday always longer than other weekdays, I think is a tradition in my country 😜. Then all the conversation 🗣would be surrounding of how they plan to spend their Friday night and weekends.
I believe🙄 Friday would be the less favourite days for all the bosses 😹🤭, it would be a less productive day 😬 for the employee because all the proclivities start to slow down especially after lunch.
So, what is your favourite day of the week🤗?
---
This is an Invitation to join #ccc for Guaranteed 👍 Daily Income 💵 and Payout 💸 for Newbies (2.0) 🐟 🐜 🐛 in #ccc 👣 and Follow 👣 the Honor Code 🏅 - the Creed (Conditions and Limits Inside)
AND
the latest update <<< please click to read.