Looking Back/ Look Forward SBI Contest #10 - #ccc 2.07
Hello friends :)
I am so sorry that I missed last week's contest. Things have been really hectic for me these past two weeks. After I missed getting it done on Saturday, I was still really busy and then felt it would be too late to warrant. Hopefully, I will figure out a good pattern for my life in the next few weeks and can make the time to post more consistently.
The point of this contest is to write a post following the #ccc rules about something that you either enjoyed doing over the past week, or are looking forward to doing in the coming week.
Here are the rules for your post:
200+ words of original writing or 3 photos taken by you to answer this prompt
must use the #ccc tag
must include the invitation (see code below to copy and paste at the end of your post - as it is in this post)
This is an Invitation to join #ccc for [Guaranteed &#128077; Daily Income &#128181; and Payout &#128184; for Newbies (2.0) &#128031; &#128028; &#128027; in #ccc &#128099; and Follow &#128099; the Honor Code &#127941; - the Creed (Conditions and Limits Inside)](https://steemit.com/ccc/@freedomshift/guaranteed-daily-income-and-payout-for-newbies-2-0-in-ccc-and-follow-the-honor-code-the-creed-conditions-and-limits-inside) <br>AND <br>the [latest update](https://steemit.com/ccc/@freedomshift/an-update-v2-1-to-guaranteed-daily-income-and-payout-for-newbies-2-0-in-ccc-and-follow-the-honor-code-the-creed-conditions-and) <<< _please click to read._
I know that this is a little more in-depth than normal SBI giveaway contests, but part of the point of #ccc is to generate good content on the Steem platform.
Here is my response as an example of what I am looking for.
---
Well, this one is looking back on my past two weeks. A lot has happened. A big part of the time constraints I have been facing is that my girlfriend and I have been looking for a tiny house to buy and move in to. So far we've looked at two, and the second is quite promising. We're planning on getting it.
Looking at these places has required a lot of driving around in the area, and I'm realizing more and more that long drives on the freeway are not something I enjoy. It's stressful. Though I think I am reacclimating to it. I used to drive on freeways daily so maybe it'll just take some time.
On one of the outings, we stopped by a rock/ mineral shop that had a lot of beautiful stuff.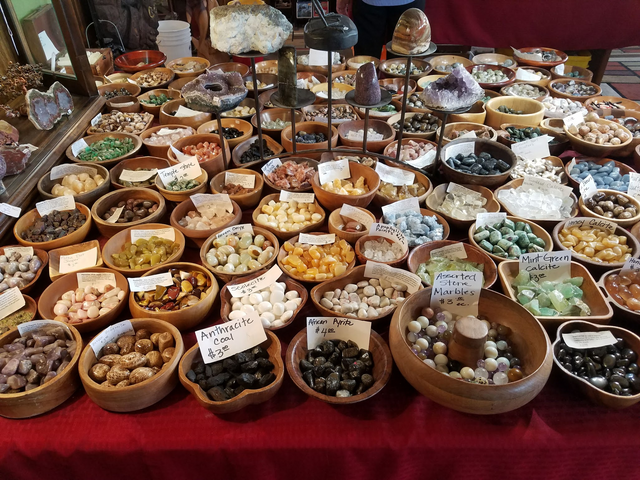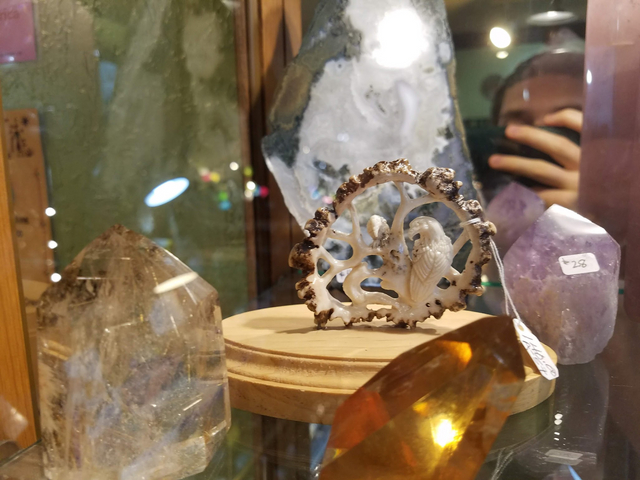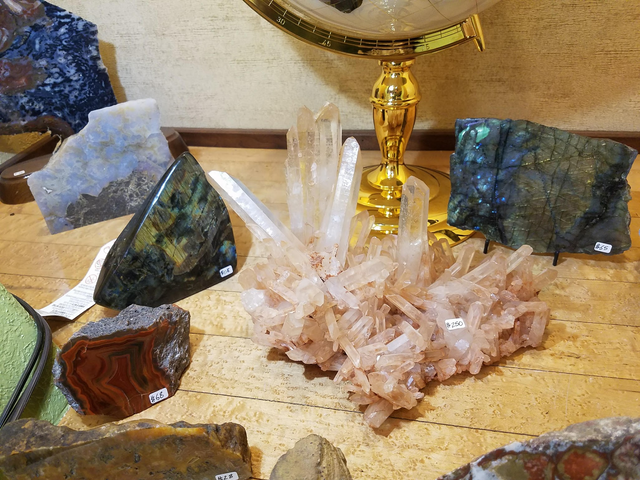 I am finding that I really enjoy looking at stones and have to check myself so that I don't buy a bunch. They're so beautiful though. I think rock collecting could be something I pursue as a hobby, going out with a pickaxe and digging to find stuff myself. I don't know how ecologically impactful that would be, so it would be something to consider, but I have to imagine harvesting my own stones would still have a smaller footprint than store-bought ones. An interesting thing to ponder.
I've been working at my old training job, doing classes, front desk work, and intake sessions for two people. It's so nice to be working in the fitness field again. I have also luckily gotten back my job at the college I had attended before leaving. I am not planning to continue attending classes there, at least not for this year, so they offered me a wage position. I was truly honored to get that offer, and I think it will be an awesome opportunity.
I've been hanging out with my family a lot, which has been quite nice. While it does really feel like I just paused my life for a year, I am glad that I have been able to get back into most of the important things I had going for me with essentially no major changes.
I'm having a bit of a hard time finding the time to do everything I feel needs doing. That is something I will say that I am looking forward to. Having a schedule that is consistent and allows me to plan out the timing for things. I am usually more productive when that happens. I really should try doing that all the time. Perhaps that will be something I do this coming week.
---
As to the winning process, this will be a random draw. Comment a link to your post on this post, you will be assigned a number, and when the post pays out I will draw a random number and that person will get an SBI share. I am also very open to changing the reward system, so if you have a suggestion let me know. :)
@freedomshift is sponsoring this contest with some generous gifts. With a new year of #ccc, the reward system has changed. There's no longer a particular method for this, so I am just going to do a carryover of 1 week for all non-winning entries, and give 2 SBI for weeks that have 6 entries with the carryover. So if you'd like that to happen more, please let people know about the contest :)
The previous post had 3 entries. Given my discrepancy with the contest, I am giving all three of you SBI shares. That will be it for this contest, but next week (fingers crossed) will get back to the normal system.

Thank you @freedomshift for sponsoring this contest, I hope that this particular system is acceptable :)
---
Here is a list of participants, so that you can be notified. If you'd like me to not tag you, please let me know:

@marblely, @fitinfunfood, @wakeupkitty, @fraenk, @getru
Thank you for entering, and I hope you will continue to do so :)
---
To repeat, simply write a 200+ word post about something you enjoyed doing last week, or are looking forward to this doing this coming week, and put the link in a comment here.
I'm looking forward to seeing your responses :)
Until next time,
Aloha
---
Part of being a member of the #ccc community is having this footer on my posts. If you'd like more information about what that is, check out @freedomshift, @team-ccc, or any of the links below.
This is an Invitation to join #ccc for Guaranteed 👍 Daily Income 💵 and Payout 💸 for Newbies (2.0) 🐟 🐜 🐛 in #ccc 👣 and Follow 👣 the Honor Code 🏅 - the Creed (Conditions and Limits Inside)
AND
the latest update <<< please click to read.
---