♥ Bienvenidos a mi vida ♥
Hola comunidad de steemit y #ccc nuevamente disfrutando de este encantador concurso que nos brinda la amiga @marblely siempre es un placer compartir mis experiencia y gustos con todos ustedes para conocer así un poco de cada uno de los que conformamos esta comunidad.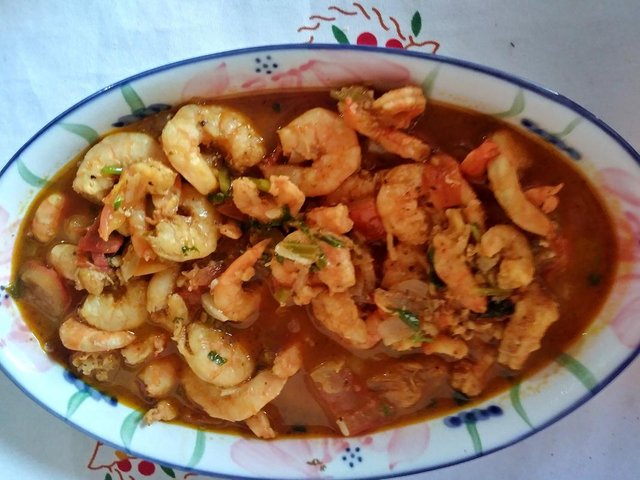 Fotografía tomada desde mi cámara Lumix DCM-LS6, Panasonic.

🐚 Camarones de mar o río 🐚
---
Pensar en un plato de mariscos preferido es algo complicado, pues amo mucho las cosas del mar y esta sección es una de las más especiales, he vivido toda mi vida en una zona costera rodeada con mucha agua, mi casa queda cerca de la playa, aunado a eso también es importante mencionar que la principal actividad laboral aquí es la pesca, de hecho es el hobby y pasatiempo favorito de mi padre.
Para muchos aquí en mi tierra los mariscos más populares son todos aquellos que componen la paella, el cual es un plato típico de Venezuela, para mí el preferido es el camarón, lo puedo consumir en ensaladas, fritos, rebosados, guisados, al ajillo y hasta en hervidos. Su increíble carne blanca lo hace especial al paladar, sin duda alguna lo escojo siempre para mis comidas.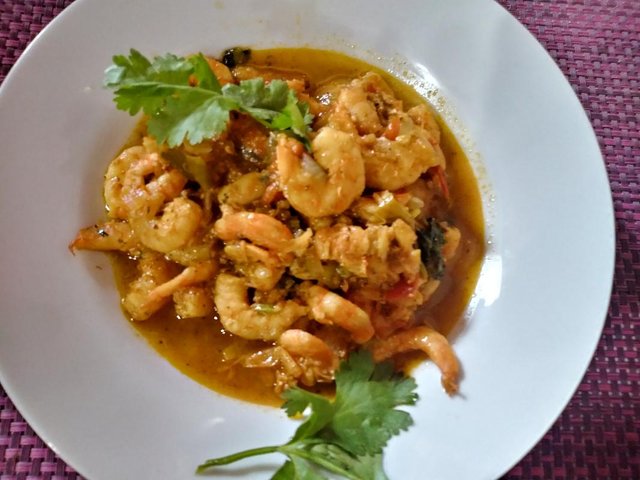 Es tan delicioso comer las especies del mar en la categoría de mariscos, debemos entender que llamamos mariscos a todos aquellas que son invertebrados y los cuales se pueden comer fácilmente, unos necesitan más cocción que otros pero al final son una delicia, entre los más comunes tenemos: camarones, langostas, langostinos, cangrejos, mejillones, ostras, pulpo, calamares, caracol, ostras, vieiras entre otros. También en Venezuela es muy popular escuchar estos nombres: vuelve a la vida, rompe colchón, arrechón, estos son platos bastante surtido en estas especies y se dice que tienen propiedades afrodisíacas, es muy popular encontrar en las playas a cualquier persona vendiendo estos vasos de mariscos.
Fotografía tomada desde mi cámara Lumix DCM-LS6, Panasonic.
---
¿Cuál es tu preferido? ¿Porque?
Con los mariscos podemos lograr suculentos platillos, su textura, su sabor, su carne blanda y blanca hacen de este tipo de especie sea la predilecta a la hora de degustar un buen platillo de mar. En Venezuela es muy particular tener mariscos en nuestros refrigeradores y disponer de ellos cuando tengamos ganas de algo rico, es muy típico ver familias hacer una paella con todos los ingredientes, es lo máximo.



Gracias a la comunidad #ccc por premiar estos concursos tan bonitos y llenos de experiencias para todos, en donde podemos compartir, explorar y conocer parte del mundo de cada ser humano. Gracias a ti por pasar por mi blog y disfrutar mi preferencia en los mariscos.


---
---

---
---
This is an Invitation to join #ccc for Guaranteed 👍 Daily Income 💵 and Payout 💸 for Newbies (2.0) 🐟 🐜 🐛 in #ccc 👣 and Follow 👣 the Honor Code 🏅 - the Creed (Conditions and Limits Inside)
AND
the latest update <<< please click to read.


---
El texto es original de: nathyortiz

// Todos los Derechos Reservados / © Nathy Ortiz //

Separadores realizados en power point por: nathyortiz




---

Sponsored ( Powered by dclick )

특정 매체'만'을 접하지 말고 다양하게 접하는걸 추천합니다.