This giveaway is closed.
Please come back on next Friday.
このギブアウェイは終了しました。
また次の金曜日(日本では土曜日)に!
Caturday SBI Giveaway #10
Join me every Friday for a cat theme Caturday quiz and complete an easy task to win @steembasicincome share!
キャタデー SBI ギブアウェイ#10

毎週金曜日(日本は土曜日)@steembasicincome のギブアウェイを開催しています。
猫をテーマの簡単なクイズ & タスクに答えて @steembasicincome シェアを当てよう!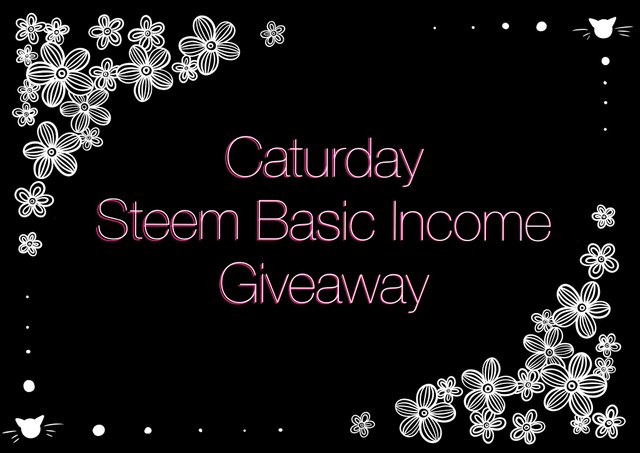 ⭐️ The quiz for this week : What is the name of Kiki's cat from the Japanese animated movie "Kiki's Delivery Service"?
⭐️ The task for this week : Tell me one international cat sound other than English (meow) and Japanese (nya, nyan...I'm Japanese hehe).

Rule
● Please leave your answers in the comments section.
● You must follow the rules, ⭐️ complete the task and ⭐️ answer the quiz correctly to be qualified.
● 3 giveaways go out this week
● Giveaway starts on Friday and will be closed sometime on Sunday. I will edit the post with "This giveaway is closed" when ended.
● Upvote and resteem is not necessary but would be appreciated.
● The winners will be drawn and the announcement will take place the following week.
● When you are asked to share photos, it must be your own.
That's all!
Hope to see your entry!
⭐️ 今週のクイズ : 映画 魔女の宅急便、キキの猫の名前はなんでしょう?

⭐️ 今週のタスク : 日本語で猫はにゃー、英語ではmeow(ミャオウ)… 擬声語は国によって違うので面白いのですが、他の国では猫は何と鳴くんでしょうね。1つ教えてください。

ルール

● 答えはコメント蘭にお願いします。

● エントリーの条件はルールを守ること、⭐️ タスクをこなし、そして⭐️ クイズに正解していることとします。

● 今週のギブアウェイは3つ

● 期限は金曜日から日曜日(日本では土曜日から月曜日かな)終了した投稿には編集で "このギブアウェイは終了しました" と追記します。

● Upvote、Resteemは出来たらお願いします。しなくてもOKです。

● 当選者は抽選です。発表は後日行います。

● 写真をシェアするお題の時は、自分の写真でお願いします。

以上です!
みなさんのエントリーをお待ちしています!

Thanks for visiting!
いつもありがとうございます!