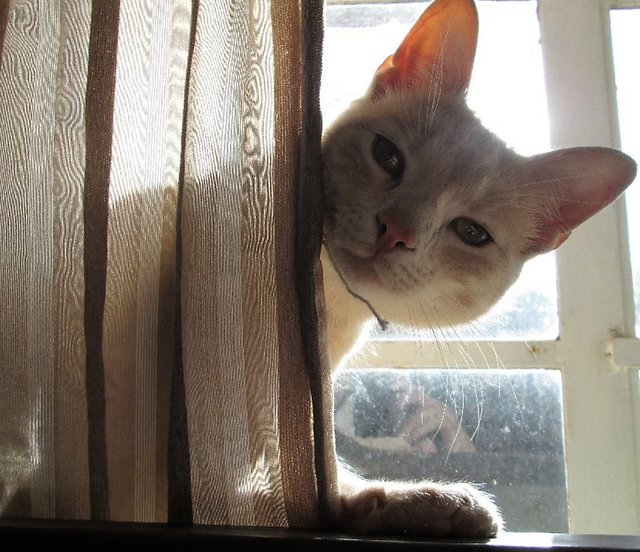 I've been meaning to do a "cat post" for @kaminchan for a while now, but I have been so distracted by various new interests. Also, my phone camera is damaged and I always leave my other camera at work! However, last night we had another strange cat-related incident which I would like to share.
Yesterday while I was browsing through facebook I saw a post about a missing tabby cat. I always feel sorry for people who lose their cats as it has happened to me, I even added a sad face to the post and then, as you do, I went on with my day. Quite late yesterday evening my daughter and her boyfriend were leaving to go to his house and I heard them calling me. Somewhat reluctantly, it was cold and late!, I went to see what they were on about. 
A tabby cat had come strolling up our driveway and greeted them extremely affectionately. In the dark he bore a striking resemblance to a tabby cat of ours who had disappeared about 2 years ago and my daughter was beside herself! The cat happily followed me inside and I quickly saw he was not our long lost cat, but a beautiful and unbelievably affectionate male tabby. I could see he was well socialised and very trusting of people. I fed him and he quickly made himself at home, much to the disgust of our other cats. I thought of the facebook post I had seen, but couldn't seem to find it with my phone.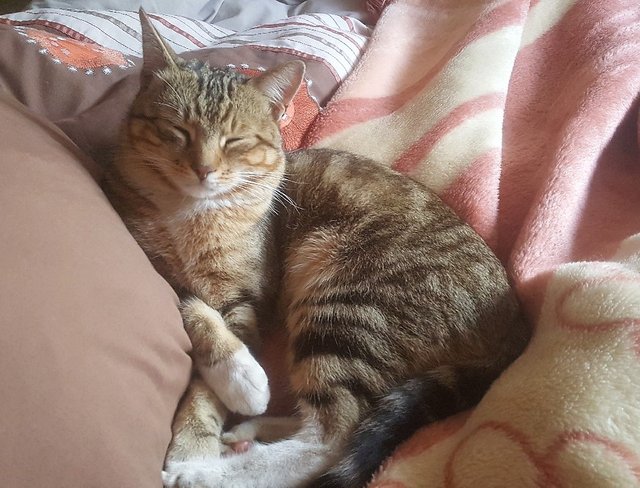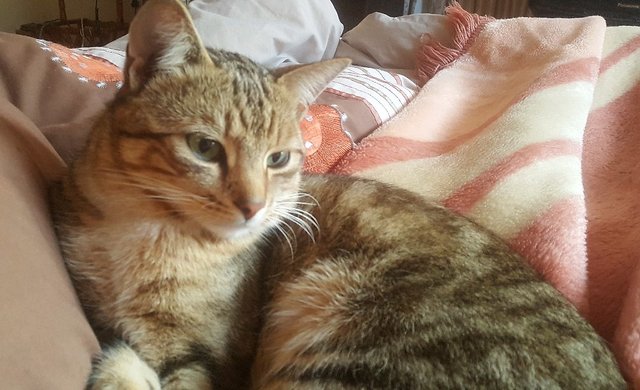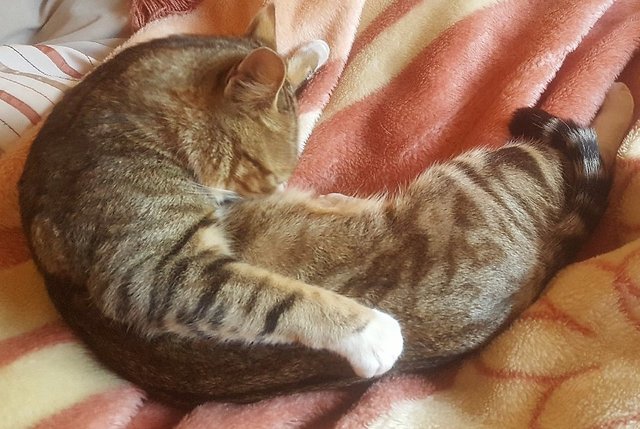 The happy tabby!
When we went to bed, I left him in the lounge area with a couple of open windows, hoping he would make his way home on his own, but during the night I heard him crying every now and then. As soon as we opened the door to get breakfast, he came running through to our bedroom and leaped onto our bed, as happy as can be. As soon as I got to work I searched for the facebook post I had seen yesterday, and the cat really did look like the missing cat! I quickly contacted the owner and we were both in tears!
The owner is out of town until this afternoon and I hope the cat stays put until then, but I suspect it will, like all cats he loves my husband! The lady told me she had recently moved from a farm into town, but the house she had moved into was not suitable, and had moved quickly again. The cat has been missing two weeks, but it must have been staying with someone else, as he was in good condition. We stay about 6km from where the cat went missing. My other cats will just have to put up with him until then!
Here are some additional pictures of our four cats.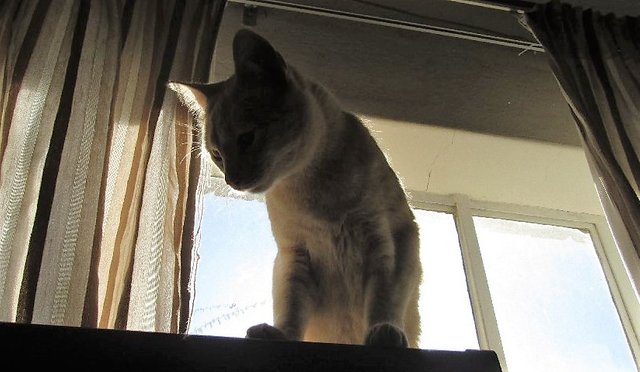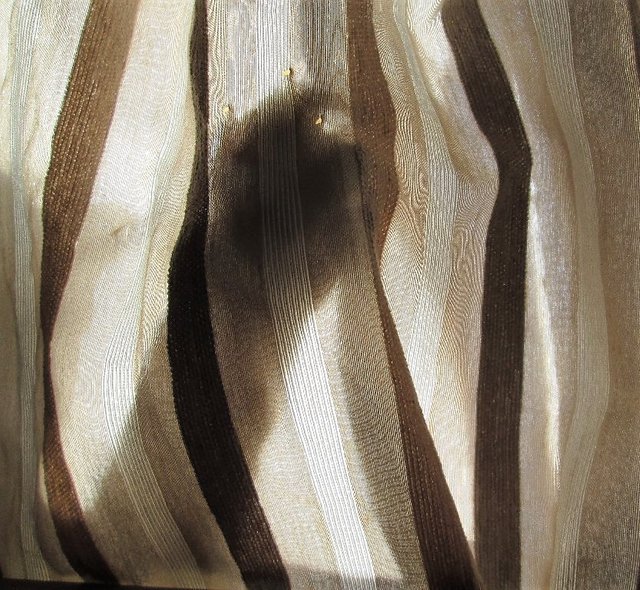 Peaches is my daughter's cat and spends his time at both our house as well as her boyfriend's house. He is quite well traveled!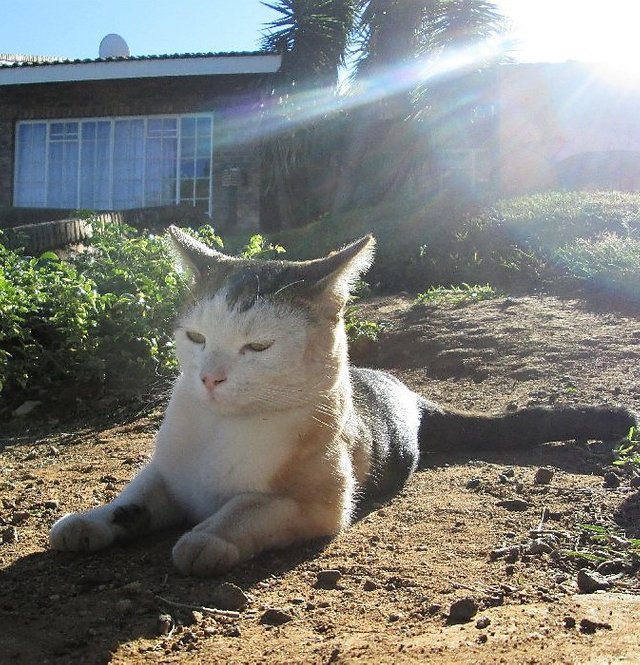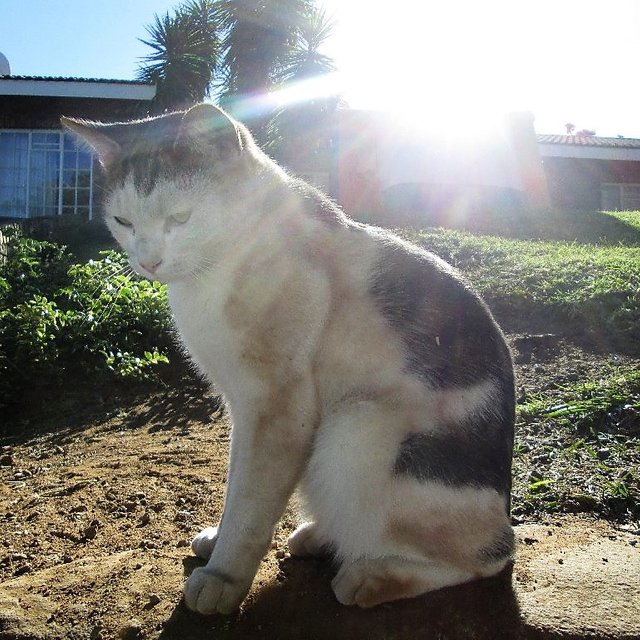 Andy is our other boy, and had been rolling in the sand when I took these pictures. He is always happiest outdoors.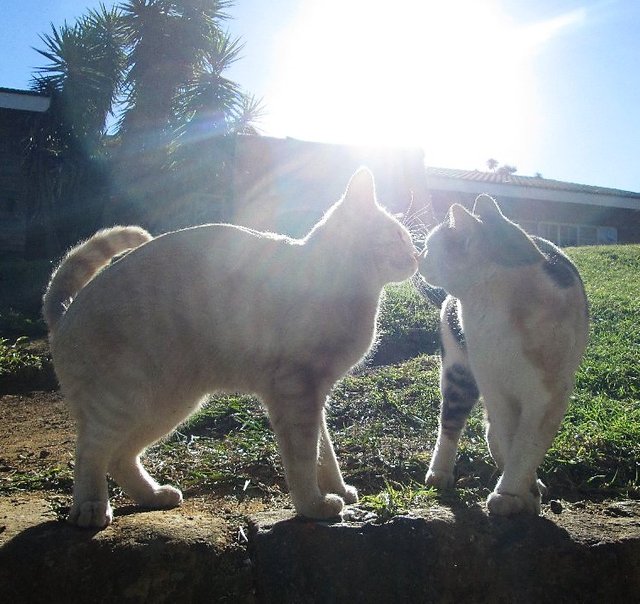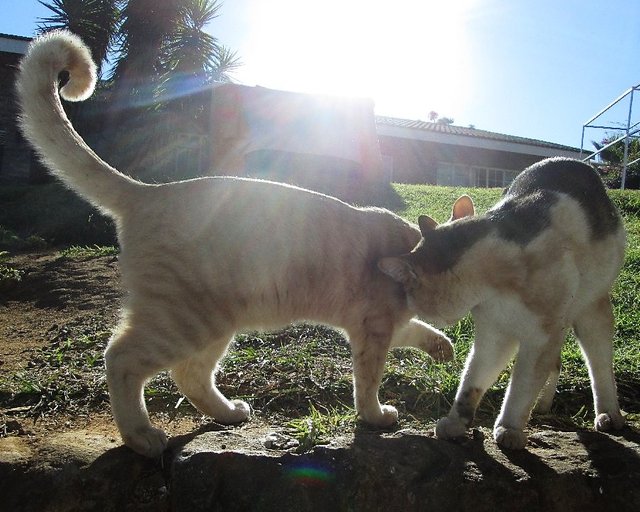 A moment between Peaches and Andy in the sun.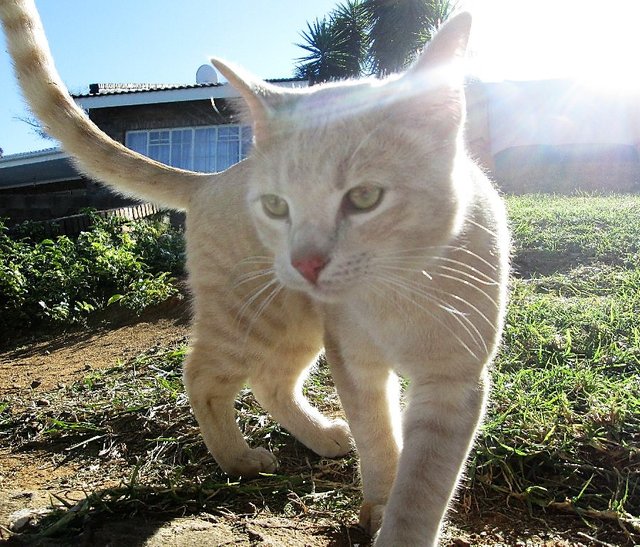 Peaches looking rather beautiful!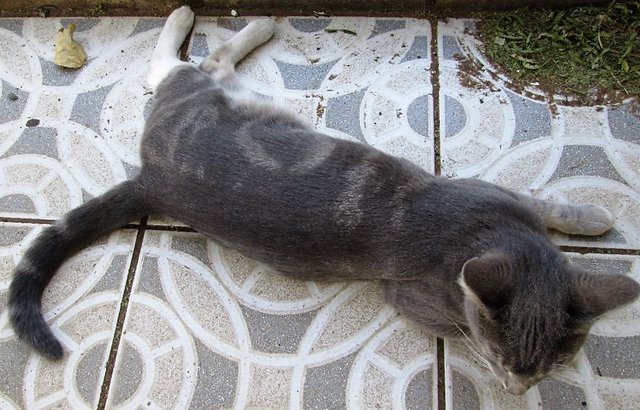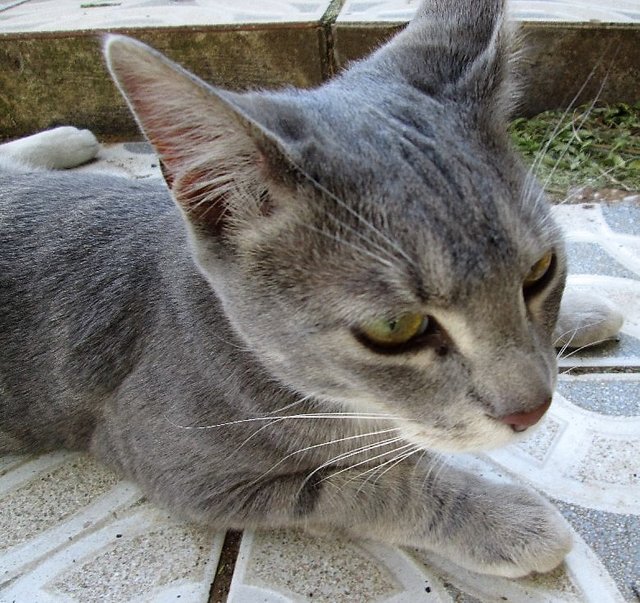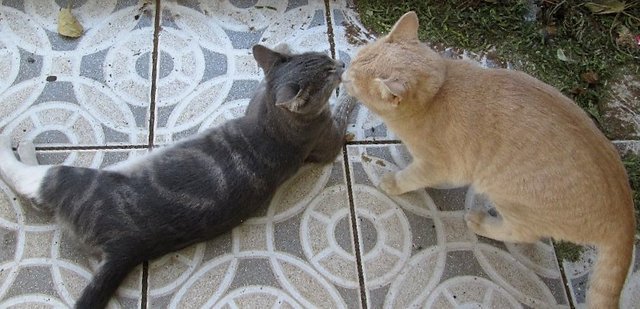 Smokey is mine and my husband's special, VERY spoilt baby!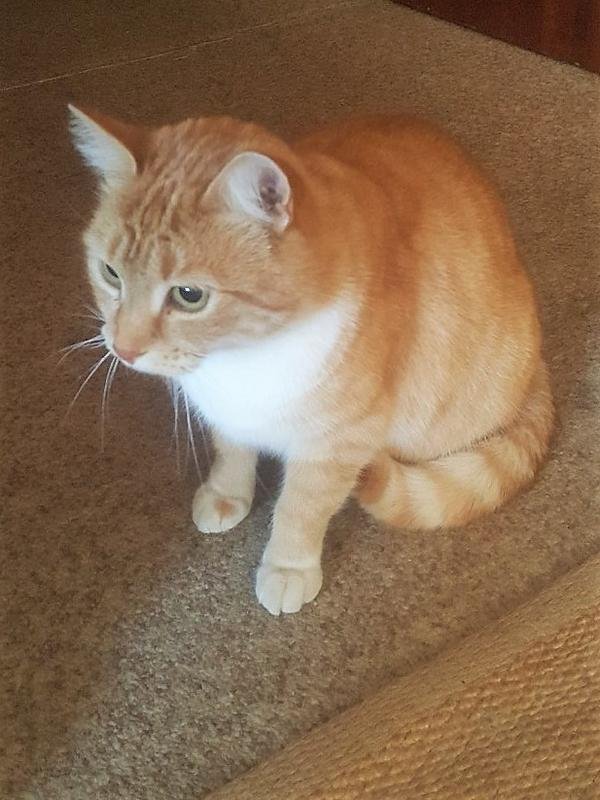 Gary, who is a girl, is our ginger female. At the moment she is exceptionally grumpy as she hates winter and I have been struggling to take a photo of her. This phto doesn't really show it, but she is quite overweight and has a sore joint in a front leg, which is worse in the winter.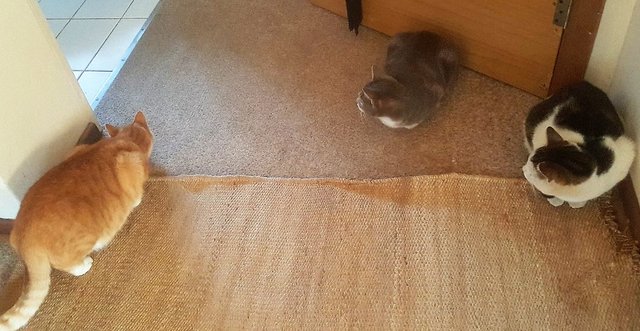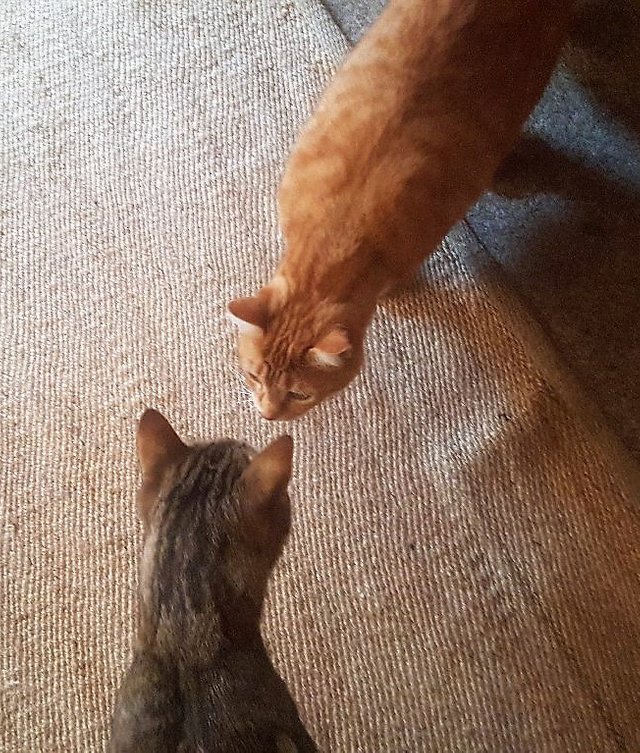 Here my other cats are trying to figure out what this interloper is all about, but Gary made some overtures of friendship. I would have been sorely tempted to keep the tabby if I had not found her owner, but I am happy, four cats is more than enough!