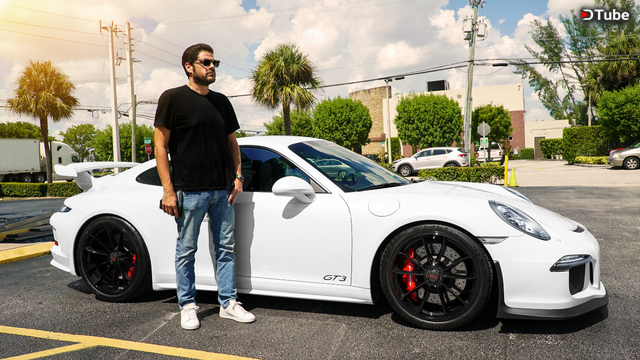 ---
Join me as I pick up my new Porsche GT3 at The Garage in Miami, Florida and let me know if you consider it a supercar or not.
I spent a lot of time doing researc before I went ahead and bought my first Porsche 911 GT3, a luxury sports car that I acquired because of its value retention, performance, engine and transmission (the PDK Sport Transmission and the tricked out 3.8 that revs 9000 rpms).
It took me a while to find a white GT3 with low miles. The glossy black wheels were actually an added kick that I didn't care to go with initially, but then loved how they enhanced the look of the car when I finally saw them. They look amazing!
Also, I'm wearing a 44-millimeter Audemars Piguet Royal Oak Offshore in rose gold while doing this Porsche review, a luxury watch that actually goes very well with the style and look of the GT3. Maybe my AP Carbon would have been ideal, but I feel like APs go naturally well with Porsches.
In terms of value retention, the GT3 actually holds its value better than the Carrera, Carrera S or the Turbo. That was a determining factor in my buying decision for me because I treat every luxury purchase like I do watches: like an investment! Value retention is crucial in my book! Furthermore, the GT3 is one of the most affordable luxury sports cars that you can also daily drive (prices range from about $115k to $145k).
One thing about this supercar is that it rides a little rough, but I'm OK with that. In reality, any car that looks bad-ass and has a low profile is going to ride a little rough. Who cares, right?! Vrrrrrmmmm!!
Porsche has always been the luxury car brand that I've preferred and even though I'm not someone that's really into racing, I'm definitely going to have fun with my GT3!
Thank you so much Eddie and Eddie Jr at The Garage Miami for taking care of me!
So what do you think of my new Porsche 911 GT3?
Please make sure to share this video with someone that's into men's fashion and luxury!
Instagram
https://www.instagram.com/crmjewelers/
Facebook
https://www.facebook.com/crmjewelers
Google +
https://plus.google.com/+Crmjewelers/
Steemit (where you can also watch our new videos)
https://steemit.com/@crmjewelers
Take a Selfie with our Cuban Link App
https://www.crmjewelers.com/cuban-link-app/
Join Our VIP Club and Save!
https://www.crmjewelers.com/vip/
---
▶️ DTube
▶️ IPFS