Cards & Tokens - alpha-0.1.1 version
Cards & Tokens
Cards & Tokens alpha-0.1.1 version has been released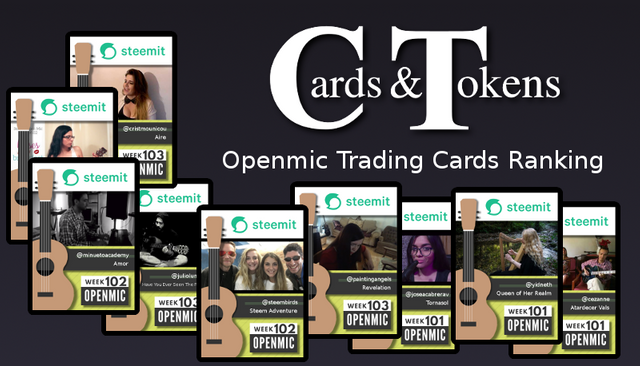 Hello everyone. These last two weeks I have been working on this project to deliver to you a new version of Cards & Tokens, which is already online and available to everyone.
The big objective of this stage is to motivate all Steemit Openmic participants who have won within the last weeks, to claim the authorship of their cards and thus start participating in the card contest of Cards & Tokens.
For those who do not know, Cards & Tokens is organizing a Steemit Openmic card contest. The winners will be chosen based exclusively on the number of votes each card received. For that the competitors must first claim the authorship of their card, which will generate a new POST that will leave reflected on the steem blockchain the data of the card and thus it will be enabled to receive votes.
Once the final date is reached, tokens will be awarded to the top first positions in the ranking.
NOTE: only the number of votes of each card and not the money collected will be taken into account. Both the final date and the number of tokens of the prizes will be announced in subsequent posts.
versión alpha 0.1.1
login with google account
trading cards ranking
17 new cards (including weeks 101, 102 and 103)
---
Authors who have not claimed their card yet
If you are one of the many great musicians who have won the openmic weekly prize but you have not yet claimed your cards, I invite you to do so and start participating in the Cards & Tokens contest.
@zipporah, @abelfernandez, @mariajruizb, @kimugas23, @samidbarid, @lisamalletart, @joseacabrerav, @chaifm, @paintingangels, @daily-musings, @lillywilton, @silentscreamer, @tomashofficial, @juanhobos, @ilazramusic, @jotadiaz12, @ill-esha, @gabriel8ar, @darrenclaxton, @kjablonski, @moderndayjester, @drewsmusic, @elainefaye, @novumorganon, @siomarasalmeron, @mayneth, @pedromrmourato, @dreamrafa, @lecocoramos, @armandolnrs, @fax4u, @arigenevieve, @alcoholisedbsoul, @katrina-ariel
How to claim your cards?
The simple answer is to login using your steem account and then the system will redirect you to the page where you can claim your card by simply clicking a button.
You can find more info about claiming your cards in this post.
---
Thanks...
Again... thanks to all of you that are supporting me with this project. I find the strength I need to continue working on every word of encouragement that you give me.
Thank you !