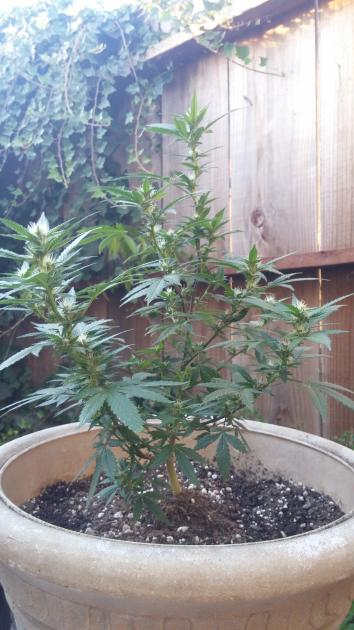 Blueberry Muffin
Long time no see, Steem! Or should I say #newsteem. So the new Hard Fork did not cause the world to come to an end, like everyone was thinking. Well at least a loud minority. You know, those people who love to complain, and cry, "The sky is falling, the sky is falling!". I say this new Hard Fork, was one that was due a long time ago. With free down votes, it is nice to see the large stake holders coming out and fighting what many consider abuse with shit posts and bid bots. Now as far as the 50/50 curation. I really like the concept. Also to make 50% is still not bad in my book. Where else besides a few other block chains can I get paid in crypto for what I write? 50%, I will take it! Hell it's not like they are taking away 50$ from my 100$ posts. It is pennies. Also the way I am looking at it, is the more my curators make, the more there up vote will be worth in the future. Besides we have to many content creators, but not enough content consumers. I am just very great full to be apart of this wonderful community, and even though I don't post everyday like most of you, I will be here for the long haul.

Time for another outdoor cannabis grow update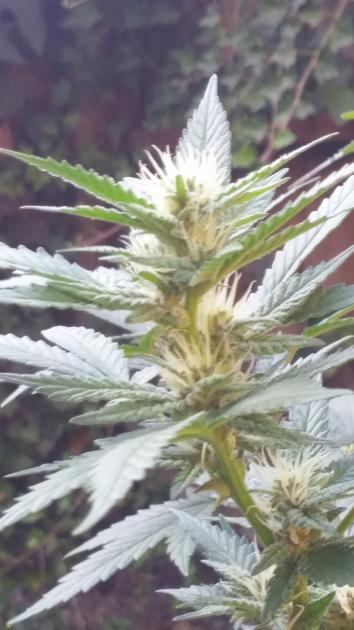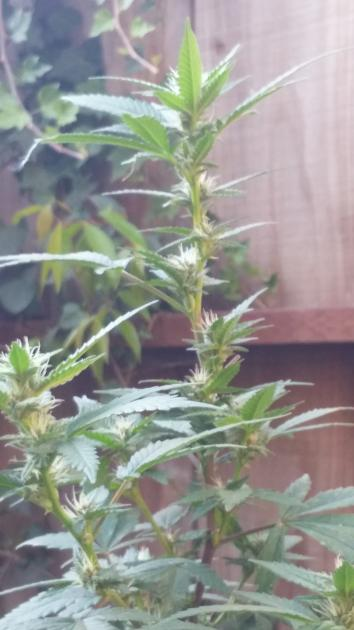 ---
I am very happy with the progress of my two Blueberry Muffin's. The first 3 pics is of the same plant. This is a clone I took a few months back, that I just let it grow without any training, besides a FIM job early on.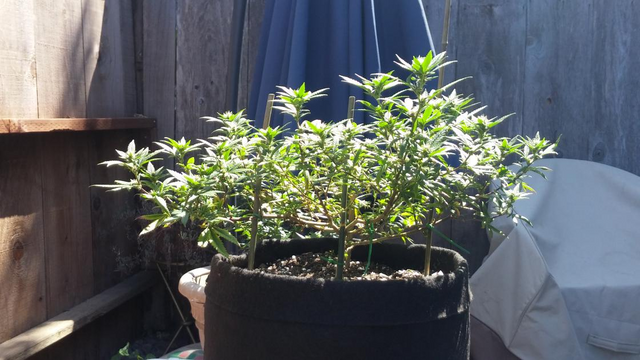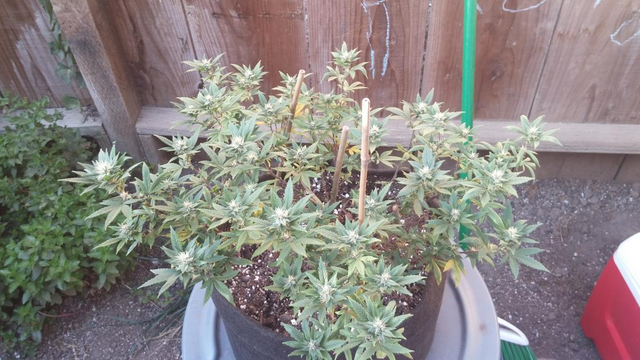 These two pics are of the other Blueberry Muffin, but as you can see I did some training on this one. I did have to cut lots of branches, since I had to many, and was risking the chance of mold. What is interesting, this is a clone from the same exact mother as the BM above, but the leaves are smaller. I am thinking maybe the deficiency it had from the start is the culprit. Regardless, this plant is also doing great. My backyard is starting to smell like the muffin man's Blueberry farm! I can not say enough, on how I am blown away from the uncanny smell of Blueberry Muffins this plant emits. If you can get your hands on this strain, grow it! You can find where to buy seeds on Humboldt Seed Company's Or if you live in North California, you can pick up clones from Dark Heart Nursery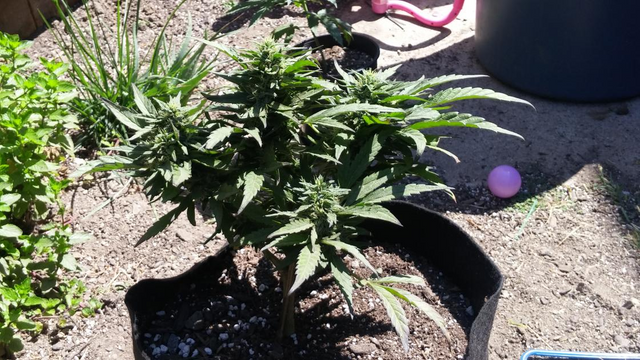 Peanut Butter Breath
I have one more strain being grown. This is from a seed I got from a dear friend, @bluntsmasha. The one I have is a clone I took from the mother that was grown indoors. This is a short stubby gal, due to it being thrown outdoors to early, and it started to flower, then re-verted back into vegetative stage. It since has gone back into flower mode, and is doing quite well. (Just FYI it is hard for me to grow big plant's in my back yard due to my apt blocking the sun for a good part of day, and I would attract thieves if I where to have trees, instead of bushes.) So it is a good thing that these plant's are not any bigger. I am not going to lie, I do get a bit of penis envy when I see my good friends here on Steem growing trees, just like our very own Martha Stewart of Steem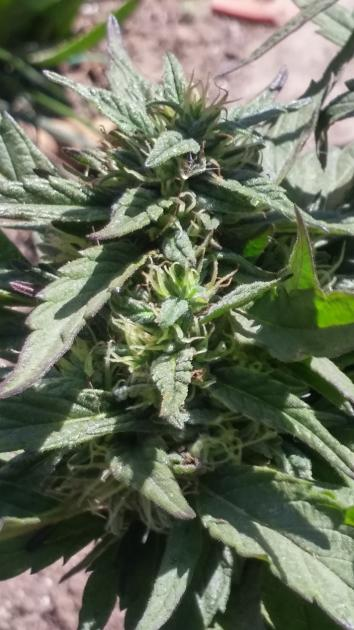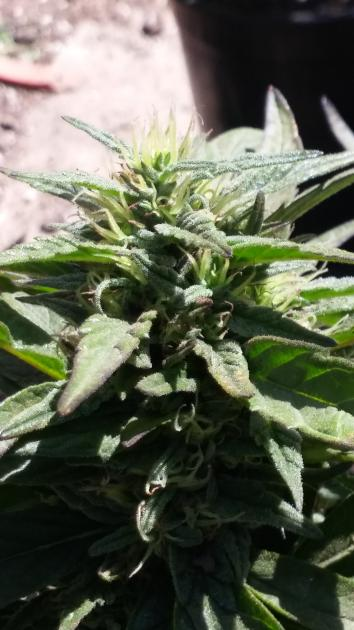 ---
The PBB has a smell of earth, with a little skunk sourness to it. Nothing that really impresses me as much as Blueberry Muffins. What really impresses me about this PBB, is the resistance to mold! All other plants that I have had that re-verted back in to vegetative stage, had mold issues. Heck even regular plants I have had gets a few spots of powder mildew. It does get foggy here on the coast. But this PBB does not get any powder mildew. Even when I had it indoors, it never got a spot. It is a shame I was unable to breed this strain.

Next up
I have another 40 days or so till I can start to think about harvesting these plants. By then hopefully I can have a better indoor setup. This way I can start to grow the F3 of Steem Og, and there has been a strain that I have my eyes on. Vanilla Frosting. This strain was picked from 10k plants, as the best one! Go check out the link to learn more about it. So much cool projects involving breeding cannabis, now that it is legal. Oh I would love to leave you all with a little update on the Steem Og project. For those that are just learning about this, last year I created a strain by crossing a female Tahoo og x og kush female, to a male Inca Gold, and I dubbed the new cross Steem Og.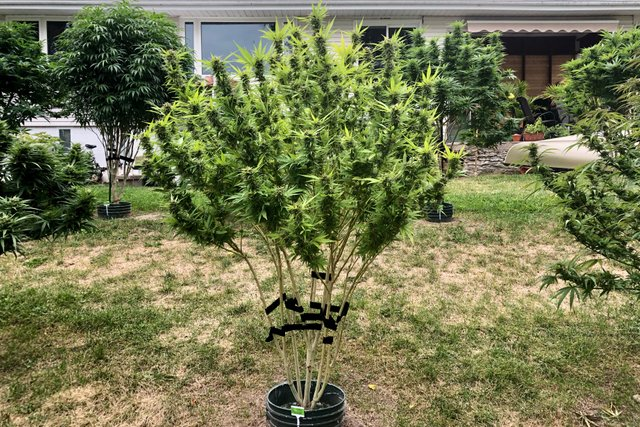 This is a Steem Og, grown by @rebeccaryan! She say's her Pheno smells, Like fresh grapefruit mixed with pineapple, a hint of diesel and just a tease of coffee. I also have got a report back from another grower of Steem Og, that it is a strain that really helps his PTSD! I could not be any happier to hear this. Steem Og is now grown in 3 countries, and 6 States in the US!! Once I stabilize the Steem, I will do my best to get it listed on https://www.leafly.com/. Hopefully this will entice more cannabis people to join the best crypto social media site there is! Viva Steem!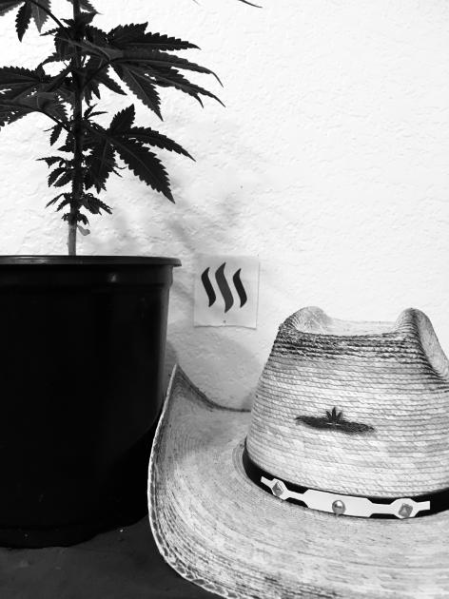 #newsteem, #newme