Today is going to be a busy day for the ABC board office in Arkansas. 4:30pm today marks the deadline to turn in completed applications for medical marijuana dispensaries and cultivation centers for Arkansas' new medical marijuana program.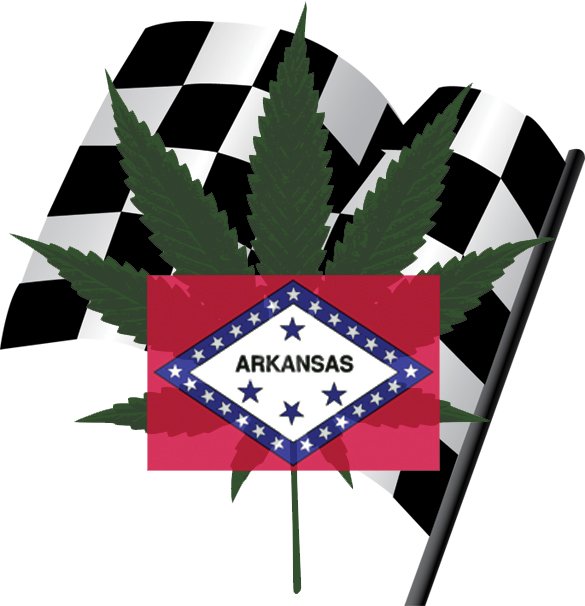 The Arkansas Times reports that by the end of the day on Friday 19 applications for cultivations centers and 52 applications for dispensaries have been submitted.
The Arkansas Cannabis Industry Association, ARCannabis.org, put these numbers higher on their Facebook page last Friday. However, their Facebook page seems to have disappeared over the weekend. Their website claims a total of 1182 approved medical cannabis patients as of this morning.
The Arkansas Medical Marijuana Commission set the number of dispensaries in the state at 32 (I incorrectly stated this number as 35 in a previous article) and the number of cultivation facilities at 7. It was also reported that a line began forming on last night at the state office where the applications are filed. Licenses will be awarded on a merit system devised by the AMMC. The system consists of points, up to 100, and the applications awarded the highest number of points will be awarded the licenses.

Arkansas is one of the first states in the deep south to legalize marijuana for medical purposes. Florida also passed medical marijuana on the ballot during the last election. 29 states in the US plus the District of Columbia (you know, that place with all the politicians) have legalized medical marijuana in some form while the federal government still maintains that marijuana has no medicinal value, despite the National Cancer Institute (part of the US Dept of Health) listing cannabis as a an effective treatment for some forms of cancer AND the patent owned by the US government on the medicinal compounds in the cannabis plant. Attorney General Jeff Sessions is begging congress to allow him to use federal funds to go after medical marijuana businesses and patients.
However, cannabis is gaining friends in high places. Republican senator Orrin Hatch, a staunch opponent of recreational marijuana legalization, has come out on the side of medical cannabis.
"While I certainly do not support the use of marijuana for recreational purposes, the evidence shows that cannabis possesses medicinal properties that can truly change people's lives for the better," the senator said. "And I believe, Mr. President, that we would be remiss if we threw out the baby with the bathwater." (source)

Today's deadline draws Arkansas' fledgling medical cannabis industry one step closer to operation.
---
Sources:
http://www.thv11.com/news/local/marijuana-business-applications-flooding-into-abc-board-office/475321679
https://www.arktimes.com/ArkansasBlog/archives/2017/09/18/deadline-arrives-for-medical-marijuana-permit-applications
http://www.disclose.tv/news/us_government_confirms_marijuana_kills_cancer_cells_its_about_time/135541
https://www.forbes.com/sites/tomangell/2017/09/13/mormon-gop-senator-pushes-medical-marijuana/#53199261527c
http://www.thecannabist.co/2016/08/22/marijuana-patents-6630507-research-dea-nih-fda-kannalife/61255/