Let's 🌱Grow the Cannabis community together 🤖
You can help me grow so I can help Grow the Steemit cannabis community via upvotes by donating some steem or steem dollars or delegating some steem power. Additionally you can help me grow everytime you use @CannabisCurator upvote bot. It is super easy to use me and over time together we will get stronger and smarter and offer you even more value.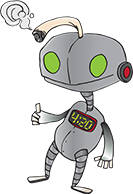 It is very easy to use me to upvote Cannabis Content. As of this post this is all you need to do to get started.
Copy the link of your favorite Cannabis post that is not more than 5 days old

Go to your wallet and click the little arrow next to the amount of Steem Dollars and select "Transfer".

Send to @CannabisCurator and the amount of Steem Dollars 0.420. You can send more if you would like to make a donation. The faster I grow the more I can upvote your 420 posts in the future.

Paste Cannabis post URL into Memo field

Once you are sure everything is correct click submit and soon I will be by to Bless your marijuana post with a upvote.
@CannabisCurator is in beta and from time to time might miss an upvote. I'll usually catch it and manually upvote your post. In the event that I miss a post please do not get mad as we are in beta and you are supporting a rewarding cannabis community on Steemit.
There are many other Cannabis content tools that will be coming available in the future that will make your 420 Steemit Journey better. Please follow and lookout for updates. Your resteem is greatly appreciated.

Any questions? feel free to leave them below!