Canada like most modern capitalist nations has its own currency called the Canadian Dollar or $ CAD. This includes bills and coins. Today, I want to discuss the Canadian coins. I'm not going to get into the history, so if you want old coins, I'm sorry, I don't have any to show you today.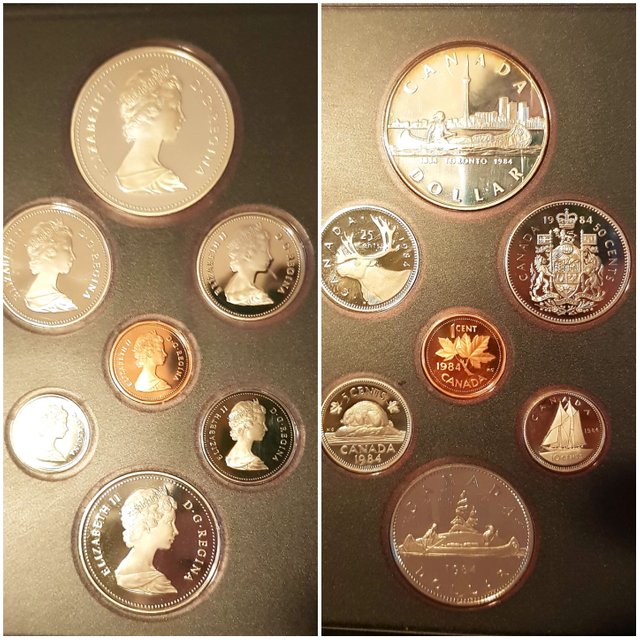 I bought this at a garage sale, the 50cent and 1 dollar coin are collectors coins. 1984, good year!
As a member of the British Commonwealth, Canada's Head of State is Queen Elizabeth II. her head is on all of our coins.
Nowadays, Canada has a 5 cents, 10 cents, 25 cents, 1 dollar, and 2 dollars coins. However, this wasn't always the case and doesn't include coins, not in general circulation. For example, the 1 cent coin or the penny was in circulation until recently. Also, the 2 dollars coin has only been in circulation around 2 decades and the 1 dollar coin has only been in circulation around 3 decades.
Actually, in the above image, there are two special coins. There is the silver dollar which has a First Nations person (Indian) in a canoe paddling in the Toronto harbor. And the 50 cents coin has the Candian coat of arms. To be clear, the regular dollar coin was not in circulation at that time.
It is a cool set that I got at a garage sale for 10 dollars. It is the Toronto 150 years edition (Toronto was named Toronto in 1834). People are selling it on ebay for like 20 to 30 dollars.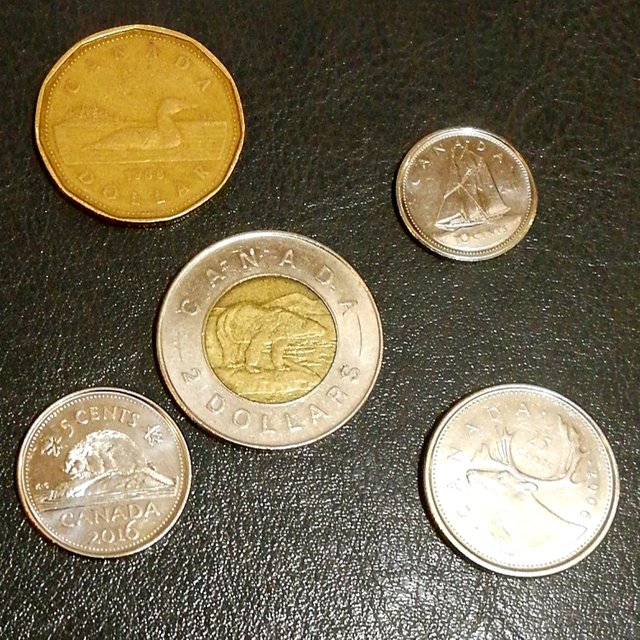 These are the Standard Canadian coins currently in circulation. They sometimes have funny pictures, but always the Queen is included
Above are the coins currently in circulation. I found these in my pocket and just removed non-standard ones.
As you can see Canada favors animals, with the exception of the 10 cents coin.
The 5 Cents Coin
The 5 cents coin is called the Nickle, this is because it is made from nickel, or at least was at some point. The animal on this coin is a beaver. Beavers were important for the fur trade in Canada. Today they are just known for building dams and chopping down trees.
The 10 Cents Coin
The 10 cents coin is called the Dime, this is from the Grecko-Latin word dim/deci which basically means 1/10th. This coin has a picture of a boat on it. The Boat is called the Blue Nose II and it was a fast sailing Schooner.
The 25 Cents Coin
The 25 cents coin is called the Quarter, this is because it is 1/4. It has a caribou on it. A caribou is a French Canadian / North American name for a Reindeer. In my opinion, Santa's Reindeer were actually caribou.
The 1 Dollar Coin
The 1 dollar coin is called the Loonie, this is because it has a picture of a loon on it. A loon is a type of black and white duck that has a really noise call and likes to dive to eat fish.
The 2 Dollars Coin
The 2 dollars coin is called the Toonie, this is because it is worth two loonies. Actually, it is the weirdest name for a coin. It has a polar bear on it. These animals are very dangerous, but they are endangered, too.
---
I hope you enjoyed my presentation on Canada's Canadian Coins.
Thank you for listening/reading!