Byteball Bot War - Week 3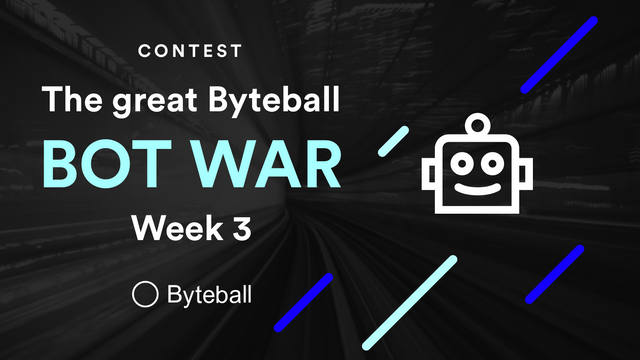 )
Halfway through the contest period, our contestants are starting to feel the heat. There has been some remarkable progress the past week and 4 of the contestants submitted progress reports, allowing everyone to follow their work.

But before we move to the weekly progress reports, please allow us to remind everyone of the Byteball Grants Program. We are absolutely confident that there are great potential in the bots being made, and the experience earned from developing their first bots, will likely have sparked other ideas for use cases that could be interesting to pursue.
The Byteball Grant Program
In late June 2017,
Byteball officially announced the Byteball Grant Program
- an initiative allowing developers to apply for funding for projects. There are of course requirements for who can apply for funding and how applications must be made, but generally, Byteball welcomes all projects.
So if participants or spectators of this Byteball Bot War has found a liking to the platform, and has come up with new ideas for projects during this contest, the Grant Program might be just what you need. Whether you assemble a team to work on a long term project or you have a brilliant idea that just need a small push to get realized, you are encouraged to write a grant proposal. And it doesn't have to be monetary support for your project.
With that important message out of the way, let's move on to take a look at this week's progress reports and announce the winner of this week!

Error fare alert bot
A new contestant has joined the contest and posted a report describing the idea to
build an "error fare alert"-bot
. Simply put, the bot will allow subscribers to receive notifications of deals that are mistakes made by travel agencies, airline companies, hotel bookings etc.
The idea might seem unethical - to exploit other's mistakes - but such services already exists, and as
@angr
also mentions in his first weekly progress report:
"I think the bot can finally also serve as a template for similar content curation businesses and newsletters, that want to monetize their content. Also you could monetize API calls with the same structure."
The idea is very well explained and the progress that has already been made looks very promising. We hope you survive long enough for the bot to get completed.
Carpooling service
Last week's winner of the weekly progress reports, Petermiklos, made remarkable progress this week too, on his project aiming to build a
completely trustless carpooling service
that does not only involve a Byteball bot, but also requires an oracle to feed data to the Byteball DAG as well as GPS location from drivers and passengers.
It is obvious that careful thought have been put into a lot of details in the project to avoid fraudulent uses or possible abusive behavior from both driver and passengers. The report on last weeks progress shows impressive amounts of work getting done.
While there might be existing alternatives for carpooling already out there, there will definitely be places where particularly the trustless design will prove very valuable and be a better alternative to the existing services.
SocialBoost
One of the most consistent contributors to the weekly progress reports has been Andrii (
@opposition
) with his SocialBoost project, aiming to provide a solution allowing social media content creators to buy upvotes, likes, claps etc.
This week's report
not only contains two excellent videos, showing the actual bot as it works right now, it also manages to describe the struggles of getting "under the skin" of developing for the Byteball platform. That will be highly useful to content managers of the developer site, but also to other developers wanting to start develop for the platform.
One hint from the jury will be to skip the .split('/')[5] and instead use .match(/
regular expression
/) to capture the Steem username and the actual link to the post. The reason being, that Steem frontends might differ and have more or less slashes that Steemit has. Since users provide their own links, they might link to other than Steemit and therefore the number of slashes in the URL cannot be trusted to always be the same.
Know-it-all bot
Like Andrii,
@whoisterencelee
has provided a steady progress and never failed to allow us to follow his work. This week,
the report goes into details on topics
indirectly related to the actual bot.
Reflecting on topics as the development process, fundamental data architecture/data persistence and general economics proves vast knowledge of developing and all its tightly connected topics, that many often fail to pay attention to or even consider.

The Weekly Award
With no less than 4 reports to evaluate, the decision was definitely not easy. They all provide great insight to their progress and manages to explain it in an interesting and engaging way.

It is obvious that we are starting to see some actual bots flesh out with all contestants, and their various state of completeness also makes it very difficult for us.

However, we came to the conclusion that this weeks winner and the 2 GB goes to:
Congratulations on winning 2 GB which we hope will come in handy in your continued work with the bot.
This is the transaction showing the award being sent