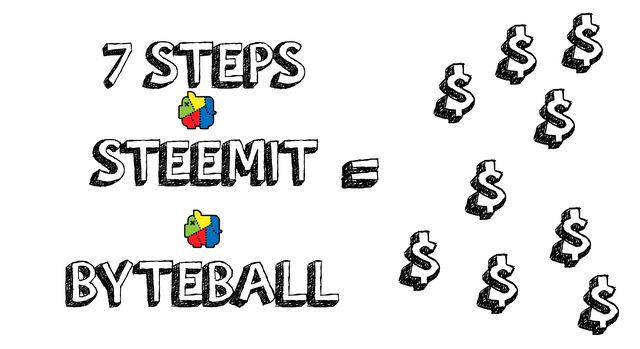 Byteball and steemit have an agreement where when you register with your steemit account you will receive a reward in bytes, a cryptocurrency that is in bittrex and you can change to any other, equivalent to your level of reputation. In the end you can see the equivalence table between the reputation and the dollars. Then I leave you the seven steps you must follow to get your dollars in bytes.

Steps to get reward with byteball and steemit 
The first thing you have to do is download the wallet or byteball wallet. In the following link you will find the latest version (V.2.4.1). Download the link Byteball-win (bits of your computer) .exe. Once downloaded, install the wallet.
Close the wallet and now you are going to copy the following link and place it in the google bar to search: byteball:A7SqDnEgwYOEhPDtJDZUVS4YtBfDwe42DVKGWaOX7pUA@byteball.org/bb#RCHADQMH7ILDFX5J2L7WGBCN7XQKZB32  Copy it completely, that is, from "b" to "2" and paste it in the top search bar. That will open a window, when you click on "open byteball", it will take you to the wallet you have already installed but directly to a chat with a bot.
Once in the chat you will see some instructions similar to those of my publication, which point out the reward you can get. Select the three points in the lower left corner of the chat, select the first button (enter my address) and send it to the bot. 
The next step is to select the link that the bot sends you and there it will ask for your steemit data, enter them, and after completing that it goes back to the wallet.
In the next bot message select "private".
 When you get to that part, you will be asked to make a payment of 49000 bytes ($ 0.1); At this point pass me your address to this email abacosteemit@gmail.com to send you the money. The address is the same that you send to the bot at the beginning, copy it completely.
You must wait until the money sent to you is verified (5-10 minutes). When confirmed, select "Payment request: 49000 bytes".
And you'll already have the dollar equivalent to your reputation in steemit but in bytes. The equivalence table is as follows:
Level in Steemit over 30: you get $ 5 usd in bytes. More $ 5 in a smart contract
Level in Steemit over 40: you get $ 10 usd in bytes. More $ 10 in a smart contract
Level in Steemit over 50: you get $ 20 usd in bytes. More $ 20 in a smart contract
Level in Steemit over 60: you get $ 40 usd in bytes. More $ 40 in a smart contract
Level in Steemit over 70: you get $ 80 usd in bytes. More $ 80 in a smart contract
I guarantee that it is a simple and real process. For any questions I am to order in the comments or email abacosteemit@gmail.com.