Final Match Analysis - France vs Croatia
France 4 - 2 Croatia
English
La grande finale of the world cup is here and success and glory didn´t make one of these teams wait. The decisive match after one whole month of effort, hard work, dedication and discipline... There is only honor and glory for the winner and history, including fans and books only remembers the victor. Both teams know this and they knew they had to play at their best during the last 90 minutes of the World cup celebrated in Russia.
---
Both national teams came to the fields with their best man and their best formations:
France came out with Hugo Lloris as goalkeeper, a line of four defensive players with Samuel Umtitti and Raphael Varane in the central court and Benjamin Pavard and Lucas Hernadez on the sidelines; the midfield had N´Golo Kante as the recovery man and Blaise Matuidi and Paul Pogba as game creators, recovering some balls but more focused in creating goal opportunities for the forward men, and in the midfield sidelines Kyllian Mbappe and Antoine Griezman were in charge of disrupting and unbalancing the Croatian defense and lastly, Olivier Giroud serving as post for the latter and to cause the most damage with his dangerous shots.
Croatia started with Danijel Subasic under the three posts and with also a line of 4 defensive players leaded by Dejan Lovren, Domagoj Vida, Sime Vrsaljko and Ivan Strinic who eventually would go out to give place to an offensive player given the game conditions; we already know the magicians in charge of Croatia´s midifeld, Marcelo Brozovic in his best destruction mode giving some space to Ivan Rakitic from Barcelona and Luka Modric from Real Madrid to work their magic; in the side midfield we saw Ante Rebic from Frankfurt and Ivan Perisic from Inter de Milan, leaving Mario Mandzukic from Juventus alone in the forward position waiting for his chance to destroy the french goal net.
Croatia started with a very intense style and didnt stop attacking France´s goal net and for the first minutes of the game, those watching it started to believe that Croatia was controling the gam eso much they would actually be capable of taking the cup home. On the other side, France being faithful to their game style managed to resist all the Croatian attacks and even though they almost let one or two scores go inside their net, little by little they started to gain control of the game and by yielding the ball possesion but containing the other team´s attempts to go further than the midfield, they manage to make the other team become desperate and out of options.
As its supposed to be in a final match, the game was very intense and the first goal only came by a Mario Mandzukic´s mistake where he tried to repell with the head a ball that was going directly to goal, but he didn´t do it right and he only deflected it making it impossible for Subasic to stop it. This was a hard low for the Croatians, but as they have us used to, they didn´t surrender that easily and only ten minutes late Ivan Perisic, the man who always appears in crucial times tied the game.
But the Frenchmen thanks to the VAR technology got a penatly kick in favor and at minute 38 Antoine Griezman put the French ahead in the score board again. This penatly kick was very important because it allowed France to finish the first half winning, something helpful for the mind and the will of the players and forcing Croatia to remake their strategy.
The second half didn´t disappointed either because for the whole 45 minutes France never backed down trying to protect the score, they kept being faithful to their style, unlike a lot of teams during this world cup that when they were ahead in the scoreboard they retracted their lines and played with a cowardly style. Croatia also didn´t let us down and they fought until the end with an intensity that made every fan cheer for them in the last minutes.
In the end the game France showed prooved to be superior to the Croatian tried to create and the french men completely dominated their Croatian peers, this was shown in the possesion statistic where, even when France is a team that doesn´t hold the ball, they ended up having more ball posession. Minute 59 came and after a beautiful play involving many French players, Paul Pogba dribled and shot, it got deflected but he shot again... it looked like an easy grab for the goalkeeper but after the replay we could see it was so well performed and so angled that the goallie had no chance to even fly for it.
The game continued and the key note of the game was the same: France controling the ball and defending and containing as experts. Six minutes later the score was 4 - 1.
But Croatia wasn´t dead yet despite being dominated by the French and they kept trying to narrow the score even if it seemed impossible to achieve it... in the end Mario Mandzukic found redemption and after a play featuring an overconfident Hugo Lloris, Mario got the ball from the goalkeeper and scored Croatia´s 2nd goal... but it would be to late for the Croatians and the game ended 4 -2.
France managed to get their second World cup Trophy exactly 20 years after that one obtained by Zidane and company in France 1998. This world cup features a worthy champion and a more than worthy sub-champion.
Español
La gran final de la copa del mundo llego y el éxito no espera, el partido decisivo de un mes de trabajo al máximo nivel y con exigencia del mas alto nivel, en la larga historia de las copas del mundo solo los vencedores son recordados por los aficionados a través de los años, y eso lo saben perfectamente Francia y Croacia, que acudían a la cita en el estadio de Luzhniki para comenzar la batalla por su lugar en la historia de este hermoso deporte.
Las dos selecciones salieron al campo con equipo completo y alineando a sus mejores hombres:
Francia salio al campo con Hugo Lloris en la portería, una linea de cuatro defensas teniendo a Samuel Umtitti y Raphael Varane en la defensa central y a Benjamin Pavard y Lucas Hernadez en las laterales, en la media cancha la recuperación corre a cargo de N´Golo Kante con Blaise Matuidi y Paul Pogba fungiendo como volantes mixtos aportando a la recuperación del balón pero mas enfocados en la creación de juego, en los extremos Kyllian Mbappe y Antoine Griezman causando desequilibrio por las bandas o ya bien enganchando al centro para disparar a puerta o lograr una triangulacion, y adelante sirviendo de poste para el equipo el delantero del Chelsea Oliver Giroud
Croacia salia con Danijel Subasic en la portería, y también una linea de cuatro defensores comandada por Dejan Lovren, Domagoj Vida, Sime Vrsaljko jugador del Atlético de Madrid y e Ivan Strinic que saldría de cambio para ingresar a un jugador de ofensiva mas adelante en el partido; En la media cancha ya todos conocemos a los magos, Marcelo Brozovic en su mejor modalidad de destructor de juego dejando mas libres a Ivan Rakitic del Barcelona y a Luka Modric del Real Madrid, por las bandas del lado derecho Ante Rebic del Frankfurt de Alemania e Ivan Perisic del Inter de Milan, dejando a Mario Mandzukic de la Juventus solo en la delantera esperando su oportunidad de acabar con los franceses
Croacia salio mas intenso y durante los primeros minutos no paraba de acercarse a la portería francesa, los espectadores que miraban el partido por momentos sentían que Croacia podría lograr la gran hazaña de vencer al favorito, y Francia, fiel a su estilo estuvo a punto de empezar el partido en desventaja pues los ataques croatas se acercaban cada vez mas a la portería de Hugo Lloris. Sin embargo los franceses lograron contener a Croacia y poco a poco fueron dominando el encuentro siendo fieles a su estilo, ceder la posesión del balón hasta que el equipo rival se desespera y a partir de ahí empezar a crear jugadas de peligro , ya sea verticales o con el traslado del balón de lado a lado del campo.
El partido era intenso, como se debe de jugar una final y fue en un tiro libre al minuto 18 que Mario Mandzukic delantero de Croacia, en su intento por desviar el balón con la cabeza clavo un gol imposible para Subasic y adelanto a Francia en el marcador, definitivamente un duro golpe para el animo croata, aunque rápidamente 10 minutos después al minuto 28, Ivan Perisic, el hombre de Croacia que sabe responder en momentos importantes, empato el marcador y ponía las cosas parejas en este intenso partido, sin embargo, de nuevo 10 minutos después, al minuto 38 y gracias a la ayuda del VAR, el arbitro del encuentro marco un penal en el que Antoine Griezman dio el salto a la grandeza y no le fallo a sus compañeros marcando el segundo gol para Francia, así terminaba el primer tiempo y los equipos se irían al descanso a replantear sus estrategias
El segundo tiempo tampoco defraudo a los espectadores pues en ningún momento bajo de intensidad como si Francia tuviera intenciones de guardar el marcador o algún otra cobarde estrategia bastante común en muchos equipos en esta copa del mundo, Croacia seguía sediento de goles y Francia buscaba liquidar a los incansables Croatas que sin embargo al final fueron inferiores en el fútbol desplegado y Francia fue tan dominante que incluso mantuvo mayor posesión del balón por momentos del partido, cuando en una jugada al minuto 59 con varios toques en ataque fue que Paul Pogba tras un rebote de un 1er tiro de su parte, mando un zurdazo que parecía fácil pero al final fue imposible para el portero croata; el partido continuo y la tónica fue la misma, Francia controlaba el balón y el mejor jugador de Francia en este torneo, el joven del París Saint Germain mando un de-rechazo esquinado a raz de piso que sentencio a los croatas al minuto 65 del partido. Croacia no bajo los brazos a pesar de verse dominados e ir en contra de un marcador prácticamente imposible de remontar, y Mario Mandzukic logro redimirse con su afición y tras un exceso de confianza de Hugo Lloris alcanzo a taparle un balón al portero de Francia que fue directo a portería, logrando recortar el marcador y sacar un ultimo empujón de energía con el cual los croatas intentaron pero sin mucho éxito remontar empatar el marcador.
Francia consiguió su segunda copa del mundo exactamente 20 años después de aquella conseguida por Zidane y compañía en la copa del mundo Francia 98, un digno campeón y un mas que digno subcampeon.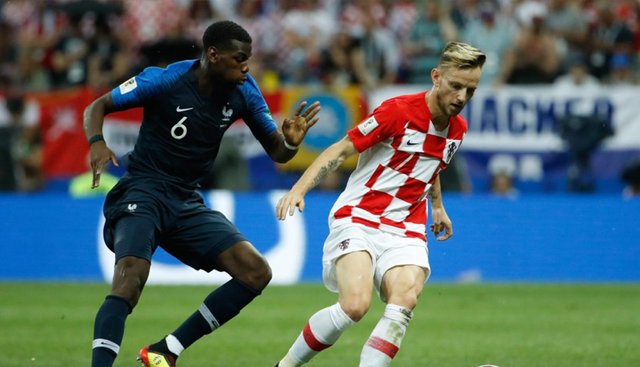 Fuente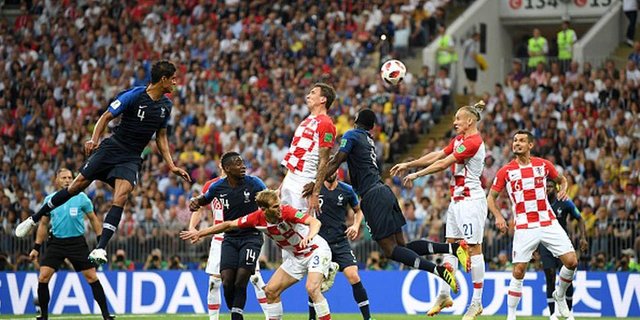 Fuente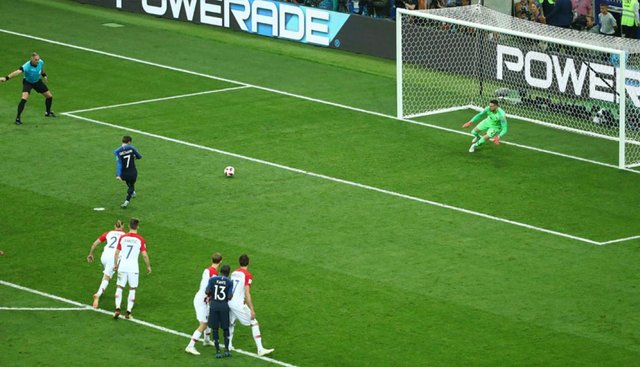 Fuente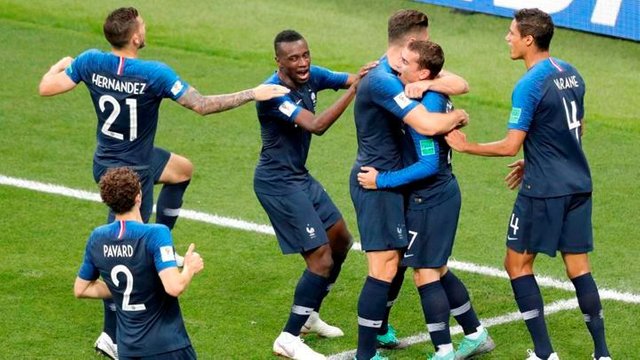 Fuente
---
---
In the last post we published the standings, we noticed some people didn´t show in the list we had. If your name wasn´t shown then and, after the 64 games your predictions made more than 45 points please state it here in the comments so we know if we are missing someone. This doesn´t mean every Steemian with more than 45 points will get a price, but we want to consider every one of them for that decision. Thanks in advance.

---
---
---
This is a @blocktrades sponsored contest, if you like what he is doing, vote for @blocktrades as witness here
This is an @anomadsoul & @acidyo organized contest, if you like what we are doing, vote for @ocd-witness as witness here
Translations kindly provided by:
Spanish: @zlatan-spielberg
Deutsch: @lizanomadsoul