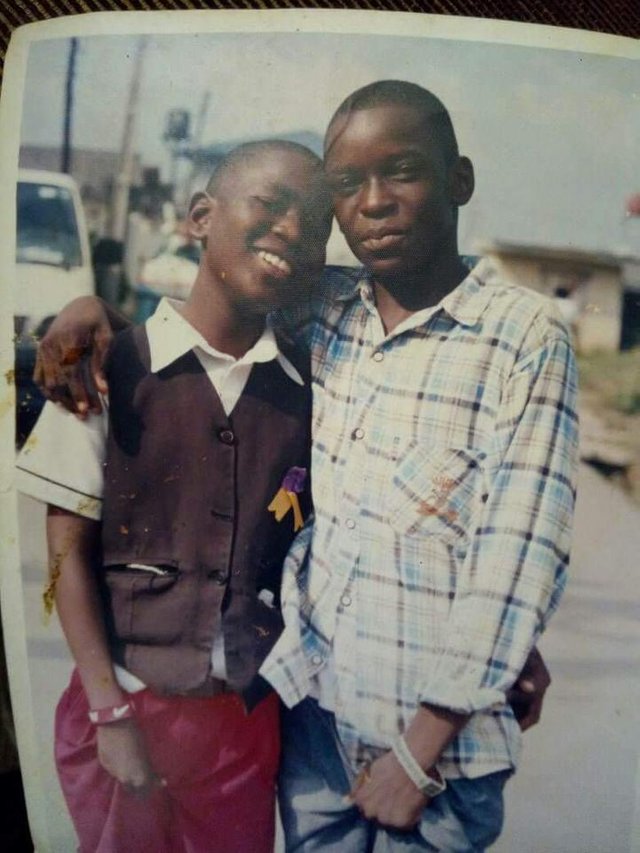 Sola Jimoh, wearing school uniform and my humble self. 2007 End of Year School Party
Do you have people in your life that are just immovable? No matter what you do or fail to do, these people just won't move. I do! I Have a friend like that and his name is Sola Jimoh. I'm grateful for the kind of relationship we have. I have not spoken to him for months now. Yet when we see it would be as if we talk everyday. We have tolled very different paths. We attended the same Secondary School and University. While we were in the University of Benin we didn't talk much but during the holidays we would visit each other and catch up on old times. The joy and the friendship would still be there and even when we disagree or have a conflict, we would still protect each other. When I need help he is one person I cannot be too shy to call and vice versa.
Today I want to thank God for the gift of Sola my childhood friend. He is not on Steemit. He doesn't like magical internet money, lol... He believes in earning his money through more conventional means. I respect his decision.
What is Gratitude Day
Everyday is gratitude day.
@tojukaka
Special thanks to all these lovely people who took partook in my gratitude challenge yesterday. Thank you!
@esttyb
@maribelquere97
@gloeze
@harctor
@fadiji09
@botefarm
@gracehills
@damoen
@morgangreat
@mutiarahmi
@oredebby
@andre93
@josyweed
@uche-nna
@julietisrael
@iamthegray
@ohakfarm
@okoro
@jo5h
@timmyeu
Gratitudeday is all about being thankful for the things that are happening in your life. A lot of us go through life taking things for granted. The goal is to challenge you to make a blog post about something you are grateful for. It could be big or small. It doesn't matter. Little things matter. I'll be doing this for 62 days (62 is not a random number). It's not an endurance game, you can join in anytime you want and opt out anytime you want.
How to Participate in #GratitudeDay Challenge
Upvote my #gratitudeday post
Resteem my #gratitudeday post(not compulsory)
Write a post about anything you are grateful for.
Use the tag #gratitudeday10
Please use the tags, #gratitudeday10(for today), #gratitudeday11(for tomorrow), #gratitudeday12(for next tomorrow) e.t.c. so that I can easily see your posts.
This is what I will do in return.
I'll upvote your post
I'll note your name in my spreadsheet, that you qualify for the grand prize of 62SBD. The grand prize is now unknown.
Thank you very much