A Cool Bar "Wolfpack" Near Queen's Park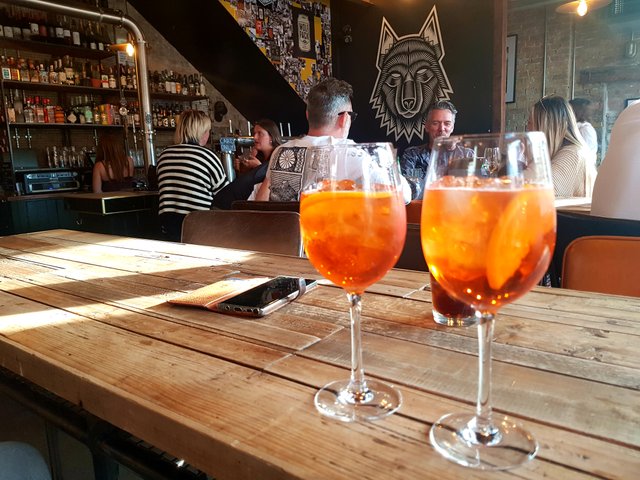 ---
Craft beer I hear quite a lot these days, but never encountered with a craft lager until I discovered the "Wolfpack Lager" near Queens Park.
The brand of "Wolfpack Lager" was founded by two rugby players Chris Wyles and Allstair Hargreaves. This was originally their side project until it turned out to be £1 million in sales this year! This craft lager is now selling to almost 300 bars and the grow continues.
If you are a fan of Lager beer, do come and check out the Wolfpack bar in Queen's Park. The place was converted from a former garage with beer barrels displayed all over the place providing a very cool vibe!
Most importantly the bar is dog friendly. Not only dogs are allow to come in, they are even provided with water and biscuit treats, lol. So this is a regular place that @ezzy and I often drop by for a beer or two after a long walk with our husky "Sky".
Last weekend we went there again, and it happened to be a promotional event with Aperol Spritz too! There was a great offer which is 2 for 1 at price £8.50. Amazing value indeed! We spent a lazy Sunday afternoon there with a perfect cocktail to enjoy the last bit of British summer!