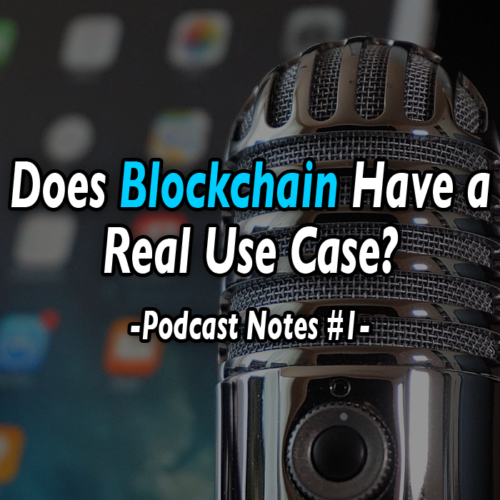 I've always been a fan of Gary Vaynerchuk ever since I first stumbled on his Ask Gary Vee series a few years back.
I still watch/listen to his content intermittently and I saw that he released a podcast titled "Future of Esports & Sports Betting". Both of these subjects are interesting to me so I loaded the podcast up and was surprised to hear them bring up the subject of blockchain around 15 minutes.
Gary has mentioned blockchain a few times in the past that I can recall. He bought a little Bitcoin a few years ago by recommendation of a friend but doesn't actively invest in crypto other than that.
He has said that he thinks the technology will be huge, but questions the value of the current cryptocurrencies.
As a pioneer in internet marketing and personal branding, Gary would love the Steem blockchain. At least, I believe he would if someone were on his team to explain it to him and get him obsessed with it.
---

---
They only talked about crypto briefly in the podcast, but a good point was brought up that I'd like to take a stab at. First I'll give the context from the episode followed by my own answer to the points brought up in the conversation:
---
@15:00
GaryVee -> "How do you feel about blockchain?"
Strauss -> (Paraphrased):
The idea of a distributed ledger is fine. The problem lies with incentivizing people to run the nodes. So far the incentive has been currency.
The internet, on the other hand, had a built-in incentive for people to use it and run it:
Transact with people
Share with people
Connect with people
In the absence of a currency, it's hard to see how you would get the blockchain to work. How would you incentivize people to run the network?
Strauss goes on to talk about big companies approaching him with ideas about integrating blockchain with their business, especially video game companies.
He's intrigued to hear what they have to say, but he remains skeptical.
He said that he doesn't currently believe in cryptocurrency. The main reason for his disbelief in crypto as a currency is due to Bitcoin going from $10 to $20,000 to $3,600 in just the past few years.
---
What's the Built-In Incentive?
I think this is a great question for anyone in crypto to ask about whatever project they are researching.
For me, I wonder what the built-in incentive is to both use Steem and run nodes.
There is a small inflation attached to the STEEM cryptocurrency which allows a small portion of newly minted STEEM to go into the pockets of witnesses who run the blockchain nodes.
Yes, that is a currency incentive, but I don't see why there is a problem with attaching this type of incentive to running the network. Especially in the early days that we are still currently in.
In the not-so-distant future, I see a built-in incentive for individuals (or more likely, dApps/apps/tools/interfaces) to run nodes regardless of the inflationary payouts on the Steem blockchain.
Incentives will vary, but if you have a highly profitable dApp that is built on the Steem blockchain, then your incentive is obviously to keep the underlying technology running smoothly and securely.
Imagine that a gaming dApp such as Steem Monsters or Drug Wars built multi-million dollar per year revenue streams out of ads, brand sponsors, users, etc… They would have a major incentive to pay a relatively small amount of money each year to run nodes.
Now amplify that out to hundreds… thousands of dApps. The incentive to run nodes now may largely be due to the inflationary reward, but I see a clear path to changing that in the future even though I don't see it as a problem now or any time soon.
The built-in incentive for users to use the network and the dApps built here is a more interesting question.
This question also lies directly on the shoulders of the dApps:
how will gaming dApps draw in new players?
how will social dApps draw in new and engaging users/content creators?
how will tools provide the right value to their users and keep them coming back for more services?
Every dApp will have to come up with answers to questions such as these. They'll have to figure out exactly why people should use their dApp in the first place.
Here are just a few examples off the top of my head why anyone would want to use certain dApps that we already have here on the Steem blockchain:
DTube — Video content creators who are making next-to-nothing for their hard work on youtube could switch to DTube or just cross-post and tap into an engaged audience on Steem as well as an instantaneous revenue stream. While the revenue may not be much, especially at first, 1 is better than 0!
Actifit — Fitness is in style these days. People love tracking their steps and competing with friends. Why not join a great app like Actifit and start tracking your steps and earning a little crypto for it simultaneously
Steem Monsters — people love playing games and they love to compete. What's more? Because of blockchain technology, you actually own your cards and can actively trade them for real-world value across the globe. You can compete in tournaments. Compete against your friends. Level up your decks. Earn crypto while having fun.
There are many more dApps and many more reasons to use them here on Steem. This is just the beginning, but I believe that the answer of why should anyone give a shit about cryptocurrency and why anyone should use these dApps is a very valid one and one that needs to be addressed more.
Q&A:
What's Your Reason for Using Steem? What motivates you to login each day?
---
Signup for a Steem Account on Khaleelkazi.com, earn a 90 day delegation!
p.s. you can now sign up for a Steem account directly on my website, https://khaleelkazi.com. The signature at the end of each of my posts will have an option for instant account creation, powered by steem.ninja.
Steem.ninja gives a 90 day delegation of 15 SP with your account. I'm going to match their 90 day delegation for the first 3 people who signup for a steem ninja account through my website! (I'll edit this post here and announce the winners when the first 3 spots have been taken)