Steem Monster Rules - 101 (The Beginning)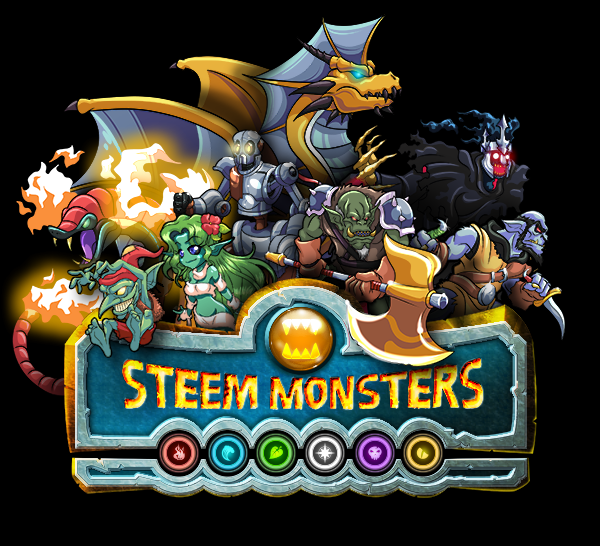 I have a lot of my friends that have asked me how Steemmonsters works. Different people have various knowledge levels of the game, so I decided to do a series of different posts to break it down and simplify it. If you are familiar with it, then you will find this boring. But if you are new, then hopefully I can make it simple to see how it works.
Steem Monster Rules - 101 (The Beginning)

Rule #1 - Nothing Starts Without A Summoner
A Summoner is the person on your team that "calls" your other monsters to the game. The Summoner is like the captain and doesn't play, but "supports" his/her teammates. The Summoner can call any monster in his splinter (color), for instance Malric Inferno can call any of his "red" teammates. (Note: with a limit of mana, discussed below)

A Summoner will have a certain amount of "Mana" that he can use for each game. Each of his players have a "mana cost" and he will have to make the total of his team's mana fit within the game's mana cap. (See picture)
Initially we've been told we will have 20 mana games, so for now you should think about what cards you would want to play that would add up to 20. Think in terms of 20 mana being the "salary cap" for a match.

Rule #2 - The Matches Will Be Played With Predetermined Rules
When you pick your team you will do so with the understanding that the computer will fight based on certain "rules". Once you understand these rules, then you will know how to build your team and set your lineup. (Note: I won't go into this in much detail on this post, but I wanted to point out this concept so that you know there is some logic and strategy involved)
Order of Play is the first rule that you should know exists. That means that your players on your team will go in the order of their "Speed". The faster a monster, the faster he will strike the other opponent (and thus maybe eliminating a player first).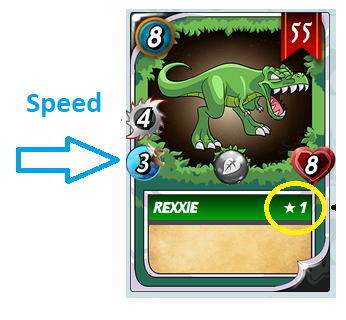 Rules of Engagement is the second rule that you should know exists. This is a little more complicated, but essentially means that some cards will attack the front guy while other cards will attack the back guy. Also some monsters might have "melee" attack, while others have "range" or "magic". Again I won't go over this in depth, but I want you to know that it is a factor that will need to be understood. It is part of strategy and we will cover in a followup post.
Different Roles is the third rule that you should know exists. Basically what this means is that certain cards will serve certain functions. For instance, the first such role is a "tank". A tank is the card that has the big amount of health to take a beating and usually also has a big amount of attack power to deliver damage to the opponent. (See Rexxie as an example below)

Other roles that we will go over in other posts are healers, assassins, sorcerers, and general support players. You can tell by the stats of each card what a individual monster's function is likely to be, but there is some cool strategies to figure out some great combinations. You will also notice different "abilities" that many cards have like heal, poison, retaliate, etc..., these are also important and will play a big part in your strategy.

Rule #3 - Size Of Summoner Determines Size Of Team Play
Each card has a level that goes from level 1 to level 10 (for commons) up to level 4 (for legendaries). The higher the card level, the more powerful it is. More on this topic in a future post.
In the beginning when you get a card it will be at level 1. Then you can either combine it with another card and make it a level 2, or you can play it and earn experience points and eventually also move to level 2. Each card will have the level marked on it to let you know what level it is. (see pic of Rexxie below)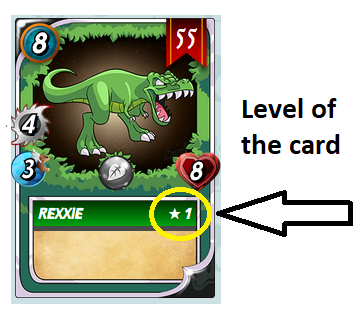 So once you know the level of your summoner, then you can match the size of the monsters to meet the size of your summoner. In other words, if your summoner is a level 3 then you want your other monsters to be equivalent to a level 3 summoner. Remember the higher levels of your cards, the more abilities and stats your card will have. But you must always remember that your summoner must keep up with the other cards or you will be wasting extra power of them if your summoner isn't strong enough to get their full benefit.

This ends today's basic lesson. These are 3 rules that I think everyone should know when first starting out with this very cool game. There are other posts that you can get more info if you feel you are ready to go to the next step, like this one:
Steem Monsters Gameplay Mechanics Revealed!
I will be doing a followup where I expand on the topics discussed soon. I like to give out info in smaller bites so that people can consume it easier. But I also encourage anyone to ask any questions below in the comment section and I will be happy to answer to the best of my ability.
Also if you haven't seen a match with the cards yet, check out this match with me and @yabapmatt. It shows how awesome this game is going to be, and just remember we are all still very much in the beginning! No real gameplay has even started yet ;)
(Note: run in 0.25x speed)