I have been sick in bed on my vacation since yesterday morning. Today was the second day I visited the doctor because my throat was severely swollen. Originally the doctor thought it was just allergy enduced, but considering my fatigue my wife and I knew something else was going on . During the second visit today they confirmed I have an infection and gave me antibiotics.
It gave me a boost in confidence that I will beat this thing quick enough and thus I decided to walk back to the hotel and do some extra exploration on the way in Larnaca . Even though I felt very fatigued I just can't stay away from these cool alleys, they are filled with culture and stories that only the walls can tell you if you listen carefully enough.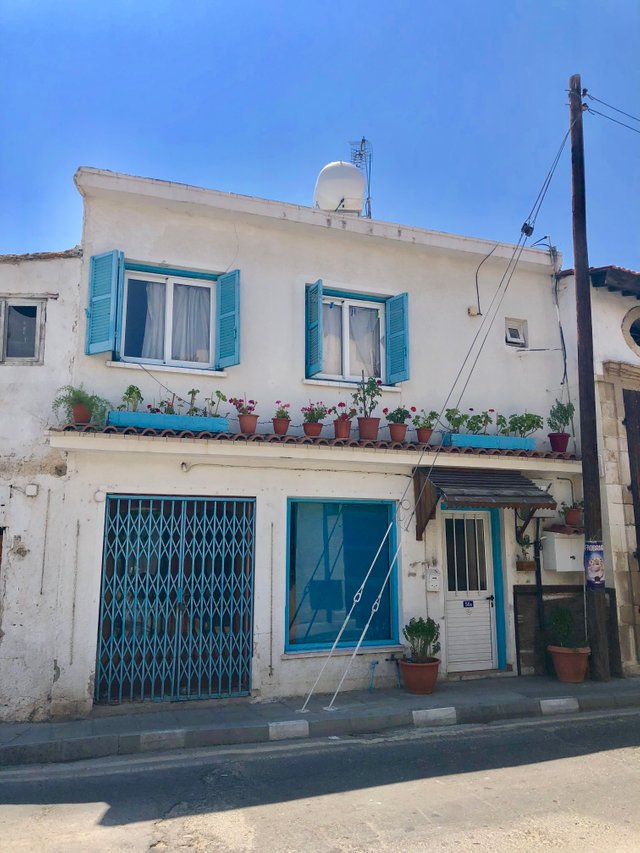 The light blue with the white is probably my favorite architectural color combination in the world. So simple but yet so so beautiful!
The architecture and colors resonate so well with the surrounding Mediterranean Sea, blue and white colors both in the fluid form with the rolling waves and then the solid form of these beautiful buildings, it's harmonious and peaceful.
Many parts of the street looks like nothing happened in decades, the same lifestyle continues and it's almost like the place is immune to big changes, which I happened to like.
It's not hard to see that most things revolve around tourism here. Cyprus has been a popular tourist location since the 70s.
You get people from all over the world coming here but especially Britain and Northern Europe. Considering the fact that it was once an English colony there are hints of this both in the architecture and the traffic where they have left hand driving.
Some of the architecture looks a lot like the narrow tall houses which you can see in London.
All Of these amazing small alleys are just a stone throw away from the ocean, so it's convenient to go there whenever you want to cool down.
This is all I have to offer right now but I will be making more posts soon with more cool photos of the picturesque surroundings in Larnaca Cyprus !
How about you what is the best place you have been in the Mediterranean Sea area ?