Busy v2 Final Updates, Pivot Strategy And Plan For Busy v3 MVP And Token, Team Update & Partnership
What's New With Busy?
First, we are proud to report that Busy v2 is nearing completion! Boasting all the features you've come to expect, from editing to the enhanced vote slider and notifications, Busy both achieved and maintained status as the #2 most used app on the Steem blockchain, right behind Steemit.com itself, almost immediately upon launch. After continuous feature updates and improvements, the whole team at Busy considers it a great success, and the user numbers say you all have too!
Truth be told, there are few features left we feel we can add to our Steem-blockchain interface. It's time for Busy to continue expanding our footprint at the center of blockchain-based digital communication and social media. Everyone at Busy appreciates all the hard-work of the developers who have worked to finalize Busy V2, such as @sekhmet, @jm90mm, @kpdesigns, @gregory.latinier and of course, @fabien and @ekitcho. We also want to thank our generous moderators and contributors.
We hope that all of you agree that we have almost met the spirit, and most of the letter, of our initial announcement almost 21 months ago: https://busy.org/@busy.org/busy-your-next-gen-social-network-platform-based-on-steem-blockchain
What Have We Accomplished Recently In Busy V2?
Our original goals for Busy were to:
Ensure compensation for the creators of value.
Create a true sharing economy with an open, peer-to-peer marketplaces for goods and services.
Ending the remittance rip-off of high transactions fees and low-value middle-men.
We are pleased with how Busy V2 has accomplished the first part of our vision, but we realize that it may not be preferable, or even practical, to attempt to achieve all these goals with a singular focus on one blockchain protocol.
Not Every Goal Can Be Reached (At Least, Not Immediately!)
Though we are all satisfied with our efforts on Busy over the last year, we did not completely realize all aspects of our initial vision. We still have much work to do!
Some proposed features remain unimplemented; chief among them, the development of a free marketplace for products and services within the Busy social ecosystem. Accomplishing this goal will give us the power to "end the remittance rip-off" of high-fees for transactions for peer-to-peer economic transactions of all types by removing these low-value middle-men. Who wants to pay Airbnb, Uber, or Ebay 10%+?
Furthermore, competition continues to increase on the Steem blockchain. Very competent alternatives continue to emerge for Steem-related communication, such as e-steem and Steempeak. The value Busy can add as a solely-Steem focused product appears to be reaching the point of diminishing marginal returns.
Thus, we are moving forward with expanding our vision into Busy V3. Once Busy V2's final release is complete and polished, development on Busy V2 will be confined to bug fixes and external contributions via Github.
An (Additional) New Direction - Busy V3!
To that end, we are excited to discuss our plans with you for our continued positioning as the "Next-Gen Social & Communication Open Platform of Apps/Blockchains". With exciting new projects dazzling us all with recently successful launches, and the enabling of new "competitors" to the Steemit use-case, it is an exciting time and opportunity to position Busy.org as a true hub for inter-blockchain, peer-to-peer communication.
As Busy has expanded and added more developers over time, so too do we need to find more applications and ways to add value to the cryptocurrency community. With the emergence of popular new networks such as EOS with potential social applications, it's not enough to simply confine our efforts to one blockchain.
There are hundreds, even thousands, of new blockchains all competing to provide the best technology, decentralized exchange, smart contract or payment product. There's no telling which codebase or protocol will prove to be superior, or those which our current Busy user-base will choose to add to their portfolio and create their own user experience within our app.
A New Vision
Imagine a singular suite of apps with the power to do almost everything you need within a single, compatible ecosystem. Order and pay for clothes or food on the same platform you invest your finances, then turn around and review that same food on the very same network. Share that review with your merged master contact list without needing to jump between various protocols or channels. Take your same user profile and enter it into an online dating portal, a marketplace or a game and challenge your friends, pay or bet with any cryptocurrency. The possibilities for interconnecting social apps are nearly limitless.
A pivot into serving a wider variety of blockchain users than simply those on the Steem network will also provide distinct advantages to funding and provide alternatives for continuing development from token sales or an ICO.
The way forward is clear - find ways to add additional value to the loyal Busy users and crypto community at large in a way that is as platform agnostic and all-inclusive as possible. Solve real-world problems, such as the difficulty of communicating between distinct communities on different technical platforms, that need not be confined to a single algorithm or blockchain. Create flexibility and interoperability that will merge and strengthen blockchain communities, rather than polarize and separate them. Maximize potential value added for our current and future investors, including the valuable users who have invested their greatest asset in creating content with us - Time.
What Can Busy V3 Do For You?
A greater commitment to blockchain agnosticism means Busy V3 can implement exciting new features that may not have made strategic sense when Busy was a solely Steem-focused community.
We want Busy V3 to not only support applications from Steem and SMTs, (Steem's proposed Smart Media Tokens) but also applications that use other blockchains or cryptocurrencies such as Ethereum, Byteball, EOS, etc.. We want to bring networks, and the people in them, closer together.
Core among these opportunities for improvement are our ideas for the Busy SDK, or software development kit. Essentially, the Busy SDK will allow developers to create applications that easily integrate with Busy and the various proposed blockchain communities we hope to support. Once integrated, developers can enable direct interactions through busy, independent of outside networks.
Busy Platform MVP - What to Expect?
Busy Platform MVP (A minimum viable product, is a product with just enough features to satisfy early users, and to provide feedback for future product development) is an ambitious attempt to bridge the disparate communities across separate blockchain protocols in a way that creates a sum greater than the individual parts. The truth is, innovation is so fast and furious in the cryptocurrency sphere that it is very difficult to predict which technology will succeed in each individual niche. Who will become the penultimate payment coin, smart contract provider, or decentralized-app network?
Why not bet on all of them? Our vision is to allow connection to a communication and social layer, (Busy) regardless of their blockchain. These apps would use the Busy SDK, ensuring compatibility with Busy's existing functions and APIs, while enabling placement on the Busy App store - a substantial benefit for developers. For Busy's users, complexity is reduced as a single "all-in-one" platform of apps can be used in place of a myriad of potential options.
Consider the current state of blockchain communication, divided across Discord, Twitter, Bitcoin Talk, Reddit, Telegram, Between Blocks. Not only is tracking these many options an inefficient use of time, the fragmentation in the social and communication networks around cryptocurrency lead to substantial amounts of lost investor value as critical coin updates or potential forks are missed.
Busy MVP will eliminate much of this friction by enabling a core-layer with one universal set of contacts, user profiles, chat, settings and preferences, key linking between blockchains (at least 2 for the MVP version) and customized user experiences via dapps. Managing accounts across your cryptocurrency experience will become more integrated.
Mobile support from the ground up is a core design philosophy, allowing the widest range of possible users to access the social layer at Busy anytime, anywhere. The platform agnostic nature of the upcoming Busy SDK should allow development across and on both mobile and typical platforms. Integration should be seamless.
The Busy Incubator!
At Busy, we don't just want to provide the tools for developer success. We also want to provide more direct support for the most promising projects and applications being developed on Busy. To that end, we are pleased to announce the planned introduction of the Busy Incubator, coming in two parts.
Busy understands that development is expensive, and monetization in open-source is comparably difficult. For these reasons, and to promote the development of promising projects related to the Busy ecosystem, the Busy Incubator will include a grant program for which meritorious projects can apply directly to for funding. We are hoping to implement the possibility of making the community a key vote in the approval process, but no decisions have been finalized.
The second part of the Busy Incubator will be the "Busy for Developers" package. This will be a ready-made toolset designed to assist developers hop into working on the Busy platform quickly and efficiently. The Busy SDK, additional libraries, a demo, and step-by-step wizard will all be included.
Marketplace On Busy
(Previously Secret) Partnership With SkitBay

For over 3 months, Busy has incubated a new project called SkitBay. A talented team from China is working to build a very promising marketplace that will solve many of the problems plaguing centralized options available today.
Skitbay combines an open marketplace built on blockchain technology with social network functions to bring you a next generation shopping experience. Shop through hundreds of stores and thousands of products, pay using cryptocurrencies, and get financially rewarded with the native $SKT token for posting, sharing or rating products.
At Busy, we decided to partner with SkitBay to create the marketplace App within our Busy all-in-one open platform (Busy V3.) Our users will be able to access the SkitBay marketplace with their Busy account and have a socially-enhanced shopping experience allowing the anonymous purchase and sale of goods with cryptocurrencies including Steem. The project is still secret for now, and we're very proud to reveal this for the very first time here on Steem. (Further updates will be provided directly by the SkitBay team. Follow @skitbay)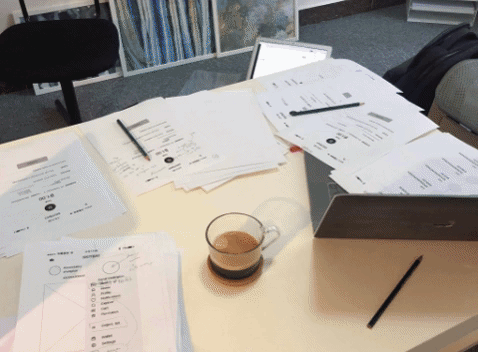 This will be one of the first apps available on the Busy platform and a good example of how we plan to enable the production of new apps and features via the upcoming Busy SDK. Any entrepreneur or developer will be able to integrate their idea on our open platform and access the Busy user base with a minimal amount of development resources.
A Continued Commitment To The Steem Blockchain!
Rest assured, however, that our plans to continue serving the Steem community remain integral to the Busy project. We are simply reallocating resources from attempting to "reinvent the wheel" as a Steem-blockchain portal into ensuring Busy continues to function as an alternative to Steemit as well as it always has.
We sincerely believe that more connectedness between communities is always better than less. We see opening up Busy.org to potential applications from other blockchains as a way not to diminish the values of existing blockchains, but increase them. Bringing the additional eyes, ears, and hearts of users from other blockchains can only help to increase the size of both the pool of talent contributing to Steem, and the pool of investors placing their monetary faith in it. Steem will be able to compete horizontally with other dapps by showcasing some of Steem's competitive advantages, such as transaction speed. Putting new technologies in front of those who have not worked with them before can only lead to increased adoption.
Perhaps more important than giving you what you already expect, are our expanded plans for exhibition at Steemfest (perhaps even with a dedicated app on our Busy Platform MVP!) We have an exciting array of new features focused on the new Busy project that we hope (and plan!) will be ready to show off at Steem's biggest annual event. Streamlined Busy account creation and linking, a Busy-based messenger, and additional features for Steem and EOS (including linking your accounts between both networks) are all on the menu!
Goodbyes...and Hellos!
The additional vision for Busy V3 comes with a necessary reallocation of personal talent.
First, we would like to thank and congratulate Busy's original co-founder/owner @fabien, who after tirelessly contributing to our success in the last year in reaching our goals with Busy v2, will be moving from CTO into an advisory position. Fabien is planning to use his additional time to work on his own project, and will be leaving Busy in possession of 40% of remaining funds and control of Steemconnect V2. (We wish him the best for his projects and hope he will keep bringing value to Steem and the blockchain ecosystem)
The vision of Busy v3 will be carried forward by CEO @ekitcho, and development will continue under the talented hands of @gregory.latinier, @sekhmet, and @jm90mm. All of us at Busy are very grateful for the efforts already put in by each of these individuals, and we expect only the best from them as we move forward!
If you're a talented Designer (UI/UX and Mobile app expert, know blockchain and dApps space and how to work in Agile, using tools like Invision, Zeplin), and willing to contribute to Busy, we're hiring new resources! Email [email protected]
A Better, More Efficient Development Workflow!
Hand-in-hand with our team reorganization, Busy will be implementing an entirely new workflow process for development to ensure feature-rich and bug-free releases come at a timely pace. After experimentation with several Agile hybrid-models, we have settled for now on the "Kanban method", which will provide advantages for scaling development up as Busy reaches a wider audience. We use Zeplin, Invision, GitHub with Gitflow and are back on Trello.

What to Watch For Next From Busy?
We are planning to announce a new corporate structure after incorporating Busy, with a planned date of execution in Q4, 2018. Once the management framework is in place, we intend to move forward with a token sale specifically for Busy.org. Keep on the lookout for updates from the Busy blog if you wish to invest in Busy!
Call for apps developers: we will start a campaign (Q4) to partner with entrepreneurs and developers who are willing to develop all kind of apps (from Steem apps to Games or even using any other blockchain), or integrate their existing apps into the Busy Platform. Few apps example that could be integrated in our platform: Steem Dashboards (steemwhales/steemnow/etc.), Steem (Bitcoin or other crypto) Wallet, Exchange, SMT DEX, SMT Creator, Games (Steemmonster?), Marketplace (Skitbay), Crowdfunding (Fundition? Utopian?) ... allowing users to customize their Busy platform interface and create their own user experience without leaving the app!
---
Bonus: Busy initial vision and strategy overview
https://busy.org/@ekitcho/what-s-next-with-busy-org-my-quick-teaser-before-official-announcement