Is there such a thing as a Guaranteed Income?
Wait for it... This post may raise a few eyebrows and at the same time it may help people take action with achieving their goals and dreams in 2019. I'll get in to the guaranteed income part closer to the end of this post.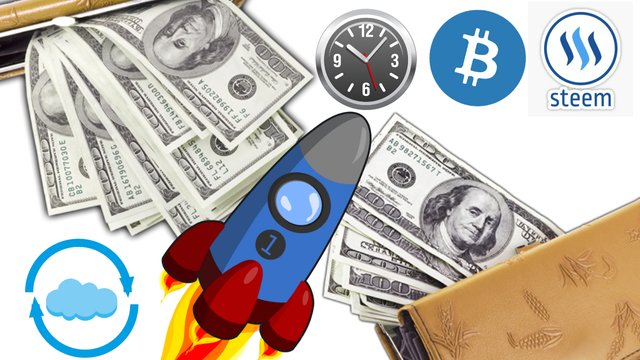 Discover a brand new and exciting fun way to explore the blockchain and get rewarded with a chance to earn, win and claim crypto rewards.

How to Win 100% SP Bonus Rewards and Multiple Crypto Rewards
One of the most simple way's to earn crypto and be rewarded is to take action on incentive's, offers and promotions and of course do your own due diligence before taking any financial risks, I'm often asked if there is a guaranteed way to earn an income working from home or is there any guarantee of income from taking part in challenges etc. So to break those questions down: firstly there is no guarantee of anything except if you don't make an attempt at something you'll be guaranteed to miss the opportunity, "If you think about a thing for too long you'll never get it done" - Bruce Lee.
In terms of Guaranteed income... I'm not sure if there is such a thing, many people refer to "a safe secure job with benefits, car allowance and pension etc..." but is there really such a thing.... The company you work for could fire you or make you redundant at any time, I've seen it happen to countless people over the years, some even claim it was the best thing that ever happened to them because it gave them a nudge to move in a different direction and position themselves better for a better quality of life and more income.
So what kind of guarantee's can we expect with taking part in online challenges and incentives?
Some of the online challenges I've seen offer guaranteed prizes and rewards with opportunities to earn and win for doing the really simple things they would normally do anyway, like viewing ads, opening emails, commenting and sharing on social media, there are also endless business opportunities. The only problem is though.... "lack of education, know how and resources" most people would participate if they knew where to start, most people just don't know the first thing about crypto currency and the blockchain... So I like the challenges that offer education and entertainment making it a fun and exciting challenge where everyone can learn, earn and win. Taking part in fun educational challenges will guarantee that you expand your knowledge and of course it's then up to you what you do with the knowledge.

Really... The only Real Guaranteed Income we will ever have is the income we generate for ourselves and we can do that by either "working the so called safe secure job" or working harder and harder or we can choose to work smarter using smart technology and the blockchain. One of my latest campaigns to launch this year was titled How to leverage the blockchain for profit and rewards and now with the launch of @bitcoinadzclub I'll be sharing some news, reviews and insight's in to how to get rewarded for viewing adz.
So if your 2019 Dreams & Goals include creating a more healthy and prosperous life of financial freedom then take a look at the challenges and incentives below... Explore the Blockchain of Opportunity!

New Challenges & Incentives in January 2019
The Steemit Rewards Quest A simple easy to do 10 step Online Journey + a chance to Win more than $30,000 worth of prizes with the Triple Referral Contest
Also See related post: The Steemit Rewards Quest is not just for Bounty Hunters
Support @bitcoinadzclub for the chance to earn and Win bonus rewards, Win Life Time Advertising and up to 100% SP