Our tools to successfully work remotely
The employees of zauberware technologies live at different locations in Europe. As our company follows the philosophy that competence does not have to be physically bundled at a fixed location, we do not need to restrict our choice of employees on their place of residence. And vice versa, it is no problem for zauberware if a team member changes the place of residence. To be successful with this model, we use certain tools to coordinate our cooperation.
At a fixed company location, the entire team can get together at any time. In a remote team, you need the right tools to ensure that everyone involved is on the same level of information, is working for the same cause and is not feeling left alone or suspended.
In addition to the functionality, it is important that the utilization is fun, the design fits and that you feel at home. This was one of the lessons we had to learn the hard way. Our initial focus on functional scope and flexible adaptation possibilities let us create tools that were not used properly.
Classic tools for the design process and the software development itself, such as Sketch, Zeplin or git will be topic in another article. This article is mainly about cooperation and the execution of tasks.
After an odyssey for years of numerous tools like targetprocess, basecamp, trello and jira, to name really only a few, including a self-development we sometimes used, we are currently using the following tool to organize our tasks:
Teamwork for project and task management
Convincing design and functionality, it's really fun to work with. There are task lists and boards which can be used intuitively and flexibly.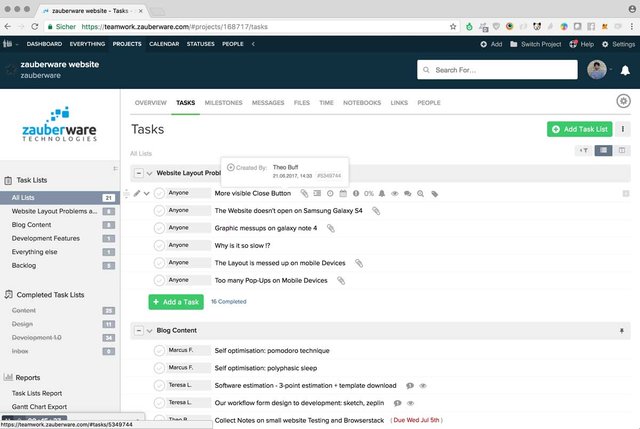 In addition to the pure administration of tasks, we can also directly track the time spent and define it as customer-billable or not. The times can be summarized in invoices and exported appropriately. The export is not yet perfect but sufficient. Ideally, of course, would be the immediate creation of the invoices, but unfortunately is not yet possible. Some accounting programs can already be linked, but these are more focused on the US market.
We integrate our customers directly into Teamwork for larger projects. It is extremely simple to use and has not caused any problems, training has never been necessary. However, the range of functions is very extensive, but a few functions cannot be seen at the first glance and therefore they hardly confuse the user.
Price is almost unbeatable for our requirements, as all available subscriptions allow unlimited users and only limit the number of active projects. At the moment, we have between 30 to 40 simultaneously active customers and internal projects, so the smallest option is still enough for us.
We do not use the additional component Teamwork Chat, as this is currently still in beta state and works rather poorly on Android devices.
There is, of course, a free trial version: https://www.teamwork.com/friend/zauberware (you are welcome to access it via our affiliate link, since it will rain money for us if someone uses it).
---
Thanks for reading: Next episode goes about Teamwork Desk or read the full article here.