📸 Marketing strategy for Instagram.com profile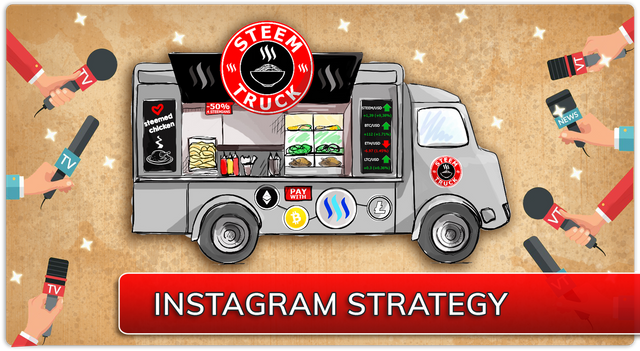 It's time to start promoting the project in the mainstream! The second platform for which I prepared a marketing strategy is Instagram.
It is a platform that is currently beating popularity records. I will try to use it to promote the project and support activities on Facebook.com. Since both platforms are connected I can redirect some fans from Instagram.com to my fanpage.
That's why I've prepared a set of activities that I'm going to carry out to reach a wider audience.
Target group:
Users between 18 and 38 years old
Interests:
Food, travel, cryptocurrencies, diginomad life
Amount of posts per week:
7
Types of posts:
▪ photos of interesting dishes with a short description,
▪ photos showing everyday life in the countries I visit,
▪ relations showing interesting events of the day
▪ posts promoting the STEEMtruck project,
▪ posts promoting the Steem ecosystem,
▪ posts describing the activity of the Fundition.io
For published posts I have already selected a set of 25 hashtags, which I will use regularly to promote my content. Additional 5 tags will be used exchangeably depending on what content will appear on the profile.
The phenomenon of Instagram is that every post you add generates traffic on your profile. Therefore, advertising activities on this portal will be launched after 3 months. First of all, I will try to use the potential of the portal itself, get materials to compare in the future, and then launch paid forms of promotion.
Once a week on my profile I will publish a summary of actions on Instagram.com with current statistics.
If you want to help promote the STEEMtruck project, leave follow on my profile today and let your friends know about it!
Click and visit the profile:
If you want to support the STEEMtruck project with your donation just click on the banner below. I would be grateful for any kind of support.
Send a donation via Fundition.io to support the STEEMtruck Project ⤵