👍 Marketing strategy for Facebook.com profile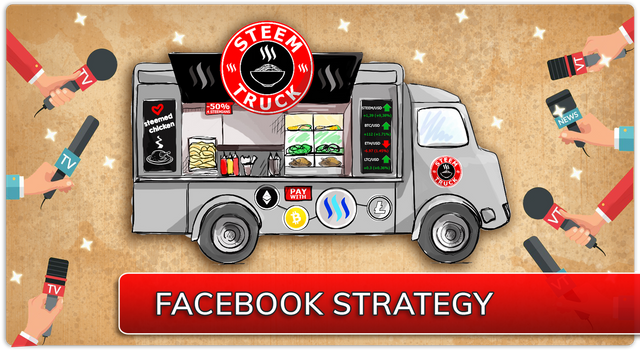 It's time to start promoting the project in the mainstream! The first platform for which I prepared a marketing strategy is Facebook.
Despite the fact that the portal has noted big drops in recent time, it still remains the leader of the promotion, so it is worth use its potential. That's why I've prepared a set of activities that I'm going to carry out to reach a wider audience.
Target group:
Users between 22 and 34 years old
Interests:
Food, travel, cryptocurrencies, technology
Amount of posts per week:
3
Types of posts:
▪ posts with redirection to blog entries on Steemit.com,
▪ posts promoting the STEEMtruck project,
▪ posts promoting the Steem ecosystem,
▪ posts describing the activity of the Fundition.io
▪ photos of interesting dishes with a short description,
▪ Interesting facts about the countries I visit,
▪ games engaging the community.
Because without paid forms of promotion it is very difficult to gain new fans of the site, after completing the profile with content, I will start emitting ads directed to a defined target group.
My biggest concern is the cost of advertising on Facebook, which has recently increased quite a lot, so I will analyze the results to decide after 3 months if this is a good investment.
If after this time it turns out that the costs of advertising are too high in relation to the number of new fans, I will focus more strongly on activities in themed groups, fanpages and posting comments on profiles, which have a large number of fans.
Once a week on my profile I will publish a summary of actions on Facebook.com with current statistics.
If you want to help promote the STEEMtruck project, leave like on my profile today and let your friends know about it!
Click and visit the profile:
If you want to support the STEEMtruck project with your donation just click on the banner below. I would be grateful for any kind of support.
Send a donation via Fundition.io to support the STEEMtruck Project ⤵