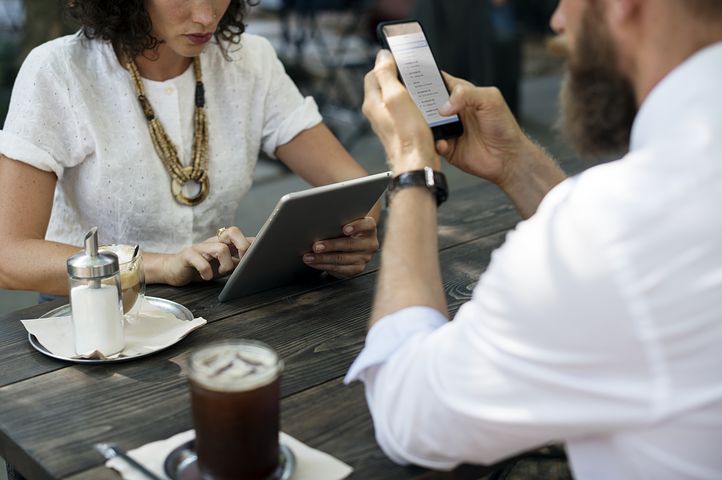 #source
Café have become the most prevalent co-working spaces of professionals and freelancers long before. It is a friendly environment for meet-ups and a cozy place to talk in a less formal way. Aside from the bitter sweet aroma of caffeine that brings the image of a nice, warm fire place where you could sit and read books of your finest interest, it is the most pervasive quality place that people used to dine-in for work over and over again.
Now a days, it's getting hugely popular for new generations, much more with yuppies, students and some contemporary groupies who adorn the milieu surroundings of their taste. The affluent lifestyle of a young professional city-dweller, likes to hang-out at the café to enjoy the comfortable atmosphere while having pep talk with the troops. A free Wi-Fi to dine-in is a plus to their geeky trend. They could have their own well-loved coffee blend, so to speak.
I usually set a meeting place in a cafe' shop when assembling briefly two to five persons, like for instance just a turnover papers to sign up or maybe a quick follow-up deal. Sometimes it would take long hours session whenever the goal is brainstorming an idea on how to cultivate a better concepts while having a cup of coffee on a chat.
I have so many different group of people to deal with, basically the discussions depend on the distinctive character of every group and café shop is one of our on-the-spot venue to meet-up.
As a freelance accountant, I always used to deal with people engaged in business and industry professionals. Everytime we have something to discuss, especially about private matters, the nearest café shop would most often be the perfect place for us to meet and settle things up.
Likewise, café is also the favorite place of my friends in gym to chill and enjoy tittle tattle conversations for some knickknacks topic whenever we get together for road trips as we explore places for experiences.
Quite often, I meet-up also some of my balloon business clientele particularly sealing job orders deal. We normally meet at café restaurant, too.
Moreover, lately, I am frequently attending NUGA treatment for my health, wherein group of people shares the same interest when it comes to healthy lifestyle. I gained some friends there and apparently some of them were coffee lovers as well.
See! A lot of interest to deal wherein cafe' restaurant is our preferred meeting place to spend time for bonding with friends, collaborators and clients while sipping and enjoying the bitter sweet aroma of fresh coffee.