Following Microsoft's acquisition of LinkedIn, the company did a surprisingly good job of turning the platform around in 2017, with many professionals returning to the platform to share ideas, and to make connections.
Much of this renewed interest can be attributed to an adjustment to LinkedIn's UI and activity feed algorithms, which amplify the platform's network effect, giving your posted content a much wider reach.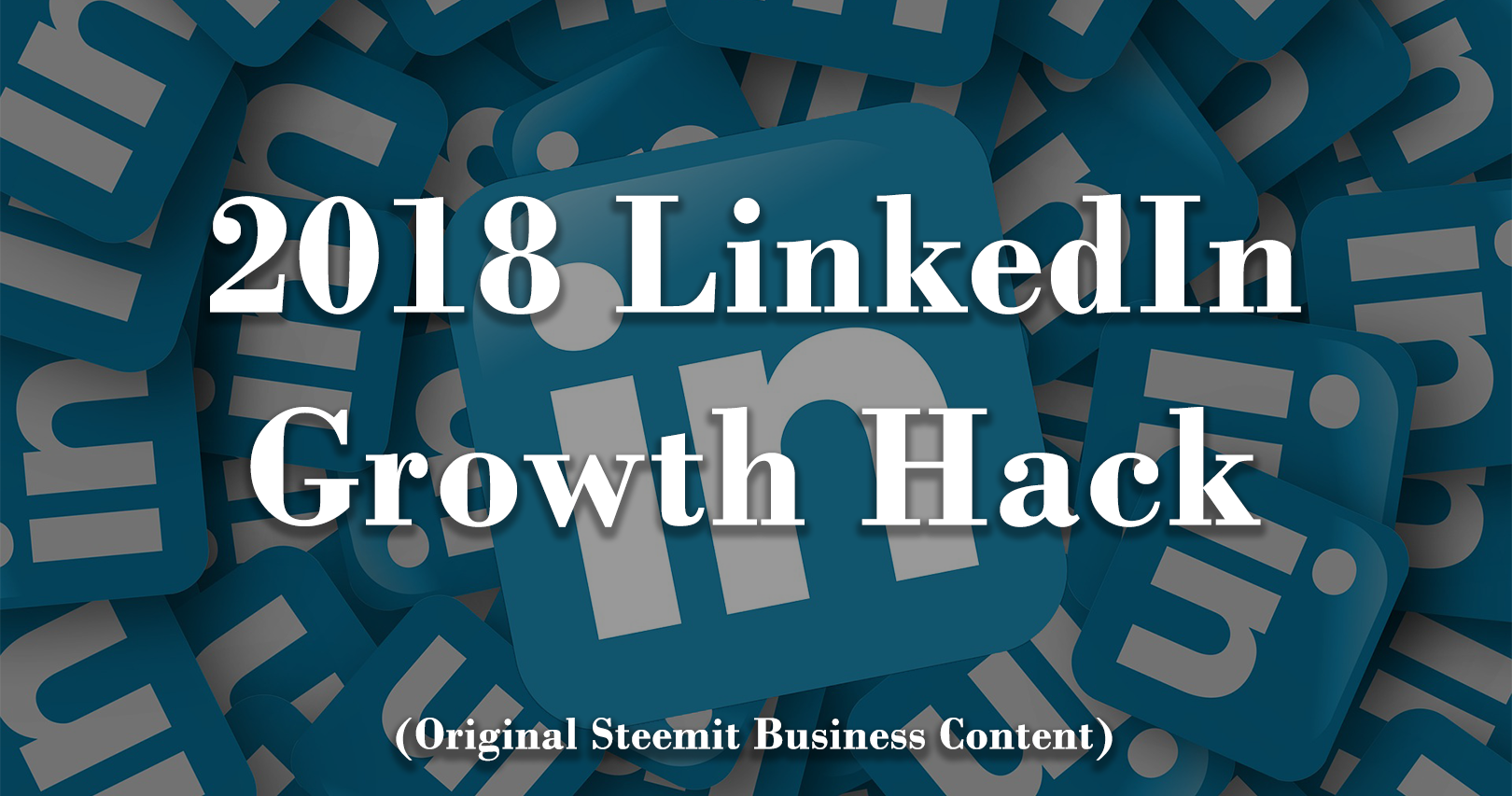 What do we mean by network effect?
If you take a look at your default Steemit news feed, you'll see posts either made, or re-steemed, by the people that you're following. Can you imagine what it would look like if you also saw the posts that the people you're following commented on, upvoted, or were tagged in? You'd see a lot more posts, right?
And if you posted, your post would probably reach a lot more people, particularly the connections of the people you're connected to.
That's what LinkedIn did.
Realising that not a lot of people were posting content to the site, when they made their major UI change in early 2017 to bring the activity feed front and center, they changed the discovery algorithms on the platform to ensure that your activity feed had more posts in it. As a result, any time you post to LinkedIn, it's going to be seen by a lot more people... this means that without even paying for advertising, your posts could potentially reach hundreds of thousands of people.
But doesn't Facebook do this too?
Sort of. Facebook actually had a little window at the top-right of their website that showed you content your friends were engaging wtih... but nobody really used it, and at the end of 2017 they removed it, making the messenger contacts list go full screen.
These days, on Facebook you typically only see your friends engagement on other accounts when you are also friends with that other account, or if it's a public page, but neither of these are really emphasised as much as they are on LinkedIn, where all posts are usually considered 'public'.
"if I comment on your post, my friends see your post"
Why this matters
Well, let's say you want to reach people in a particular industry, and you only have a few people from that industry as connections on LinkedIn. First up, write an article about that industry. Then write a comment tagging the people you know from that industry, and ask what their thoughts are.
Almost right away, their connections are going to start to start seeing your post, and given their connections are probably in the industry you're trying to target, in the geographic area you operate in, you're instantly reaching the exact people you want to market to.
At this level, you get the social proof of being connected to someone that they already know, but what's better yet is that once your connections' connections engage with the post, it's going to reach all of their connections too, and so on, which makes it very easy for your post to go viral.
And the best part? This isn't even the growth hack!
This is just how LinkedIn works in January, 2018
The Growth Hack: Supercharging Your Reach
So, as if that wasn't good enough, you can leverage this effect of LinkedIn's discovery algorithm to drive even more engagement with a really simple strategy: Give people a reason to comment on your post.
Now I'm not talking about those horrible "People with these names are going to quit their job this year, tag a friend" posts that we're seeing all over Facebook at the moment (and which everyone is sick of), but rather about creating a compelling reason for someone to drop a comment on post.
This could be as simple as making an outrageous statement ("Why we think consultants in our industry are overcharging for their work"), or asking a question ("Has anyone got some stories they can share about cost savings by implementing the software we deal with?"), but it will work a lot better if you incentivise people in a meaningful way.
For example, for my side-project BrutalTeardowns.com, which offers brutally honest website and social media strategic feedback, I might say "Post your URL below if you want to receive some free feedback on your website"... anyone who wants free feedback will have to comment on the post, and this will end up showing the post to all of their contacts, which will then give them the option to post on it too.
Upgrading Your Growth Hack To Generate Leads
In addition to having your post read by thousands of people, you may want to actually capture those people as leads for your business. As well as making connections with anyone who engages with your post (after which you can message or e-mail them), you can also use a simple technique that was used by a colleague of mine in the local startup scene to both capture the reader's e-mail address, and compell them to comment on your post.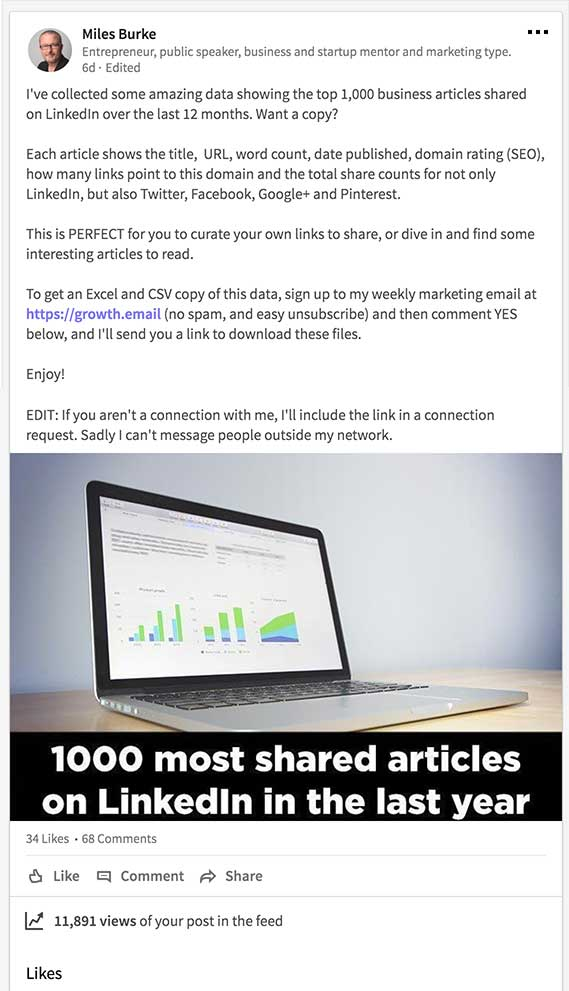 (Source)
That is, offer something of value (in this case a list of the most shared articles on LinkedIn), but then require users to both take an action (sign up for his mailing list) and comment on the post, before they receive the reward.
Obviously, you just need to take care to ensure that the particular thing you're offering is of relevant value to the people in the industry you want to target.
Final Thoughts
LinkedIn is quickly shedding its reputation of being rife with recruitment spammers, and is finally starting to become recognised as a proper professional network again, where people are engaging in meaningful discussion and making actual business connections.
Whether you choose to use the strategies described in this post, it's clear that you need to be there, and that you need to be posting real content that's relevant and helpful to people in your industry, because the opportunity right now is huge, and all it costs you is your time.
We all know that LinkedIn are using this as a strategy to get people using their platform more, and that a day will come when they tighten their algorithm down to push people into paying for distribution.
This is an original content piece written for Steemit, as part of my mission to bring more business, marketing and entrepreneurship content to Steemit. If you enjoyed, please upvote this post, leave a comment, and follow @RossDCurrie, as there is much more to come!