BUILDTEAM Tokens now trading on Steem Engine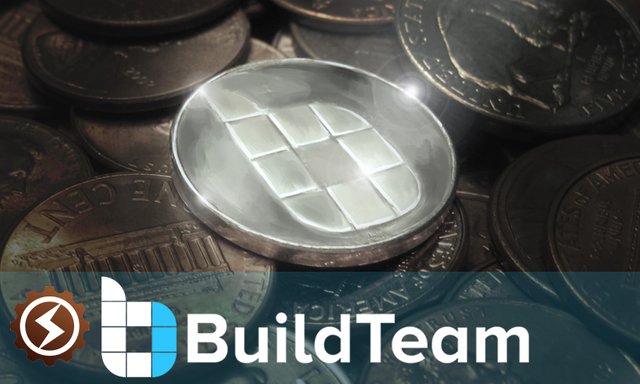 The BUILDTEAM token is how BuildTeam pays developers, translators, and everyone else who contributes to our projects. While it's possible to trade the token, staking it provides you with a passive STEEM income on a bi-weekly basis.
Until now, the BUILDTEAM token has only been tradeable and able to be staked on BitShares. But as a team that's focused on the Steem blockchain, we decided that there should be the option to do the same on Steem Engine.
Because of this, we've worked on a BitShares/Steem Engine gateway which now allows you to convert BUILDTEAM tokens back and forth between the two.
How can I buy BUILDTEAM Tokens on Steem Engine?
If you want to buy BUILDTEAM tokens with STEEM, you can do so via the Steem Engine market, the same way you would buy any other token available there.
You can easily see what the current supply and demand for the token is, including the 24h trading volume.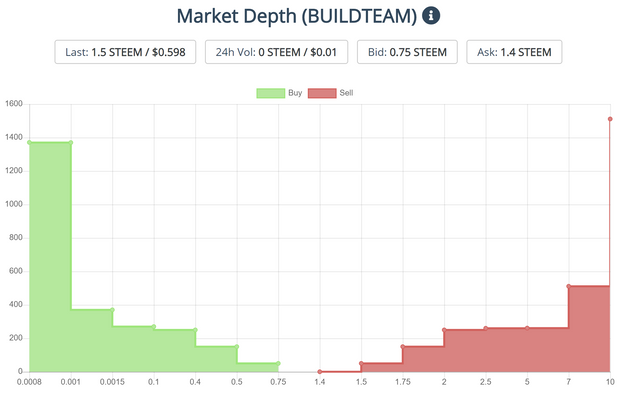 How does a conversion work?
To convert BUILDTEAM tokens from BitShares to Steem Engine, you will have to send them to the buildteam.gate account first.
Simply enter the amount of BUILDTEAM tokens you'd like to transfer, and include the Steem username of the account you want to transfer the tokens to in the memo.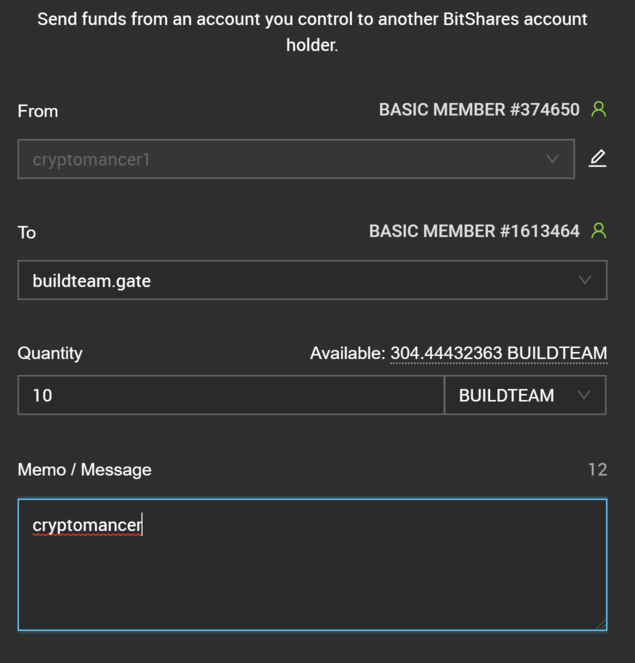 To convert BUILDTEAM tokens from Steem Engine to BitShares, you have the choice between using Steem Engine directly, or using Steem Keychain.
Simply send the BUILDTEAM tokens to buildteam.gate and include the BitShares username of the account you want to transfer the tokens to in the memo.
Steem Engine: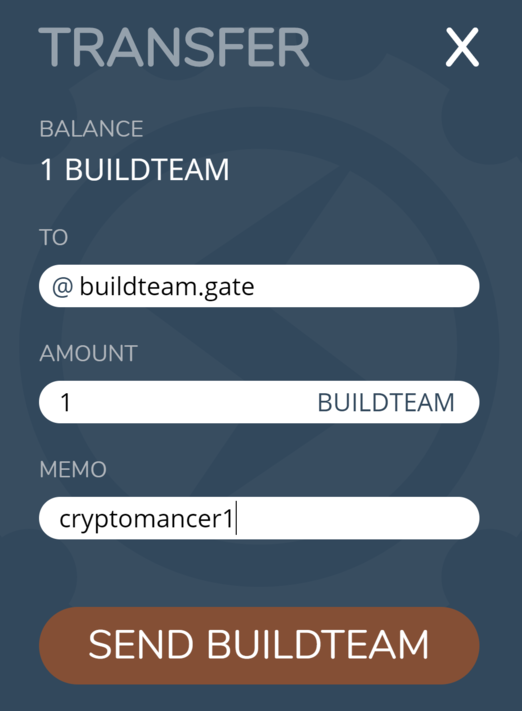 Steem Keychain: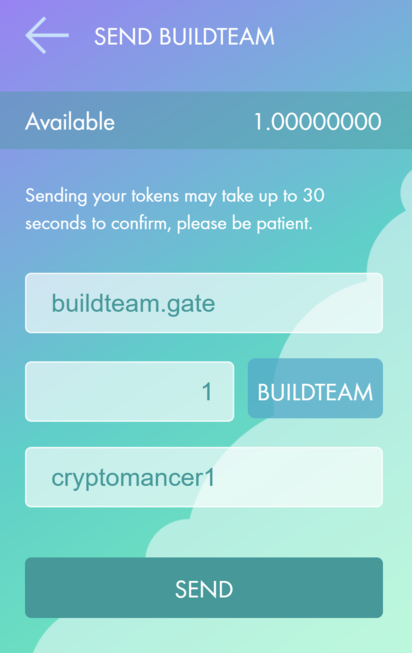 Things to keep in mind
While Steem blockchain transactions only take 3 seconds, our gateway might need a maximum of 10 minutes to process your transaction. It's likely to happen faster, but please keep that possibility in mind.

If the transaction takes longer than 10 minutes, or if you forgot to include the memo/entered an incorrect memo, please contact our customer support on Discord! At this point in time, we can only do manual refunds, but are working on an automatic refund feature for the future.

Please note that, as is the case on every exchange, transfers to the wrong account cannot be refunded. Double check before clicking "send" that all information you entered is correct.

The minimum amount that can be transferred is 1 BUILDTEAM token. If you send less, your transaction will not be processed.

Instead, the gateway will accumulate transactions smaller than 1 BUILDTEAM token and will send the combined amount to the destination account once the minimum threshhold is reached. Your tokens will not be lost!

BitShares has transaction fees which you will have to pay if you send from BitShares to Steem Engine. The gateway itself does not have fees, so if you send 1 BUILDTEAM token, you will receive 1 BUILDTEAM token on Steem Engine.

It's a little bit different if you send it the other way, because then the gateway will have to pay the fee. In that case, the transaction fee will be subtracted from your transaction amount. The fee depends on what the current BitShares network fees are, but is typically close to 0.5 BUILDTEAM tokens.
As a result, you will receive a little bit less on the BitShares side than you sent via Steem Engine.

The staking process is not changed for the moment. Staking can only be done on BitShares, but we're working on a staking option on Steem Engine. Right now, there is no timeline for when this feature will be available, but we will keep you updated!
---
| Visit our website for more! | Subsribe to our YouTube Channel |
| --- | --- |
| | |
Set it up today and contribute to building a better tomorrow!


( Want an easier way? Use our SteemConnect proxy link! )
Get support and connect with us and other BuildTeam fans!



---
This is a @steemvoter subscription payment post. Thank you to Steemvoter customers for allowing us to use your Steem accounts to upvote this post by virtue of your free subscription to the Steemvoter.com bot service. @steemvoter is proudly a @buildteam subsidiary and sister project to @dlease, @tokenbb, @ginabot, @steemsports and @minnowbooster.