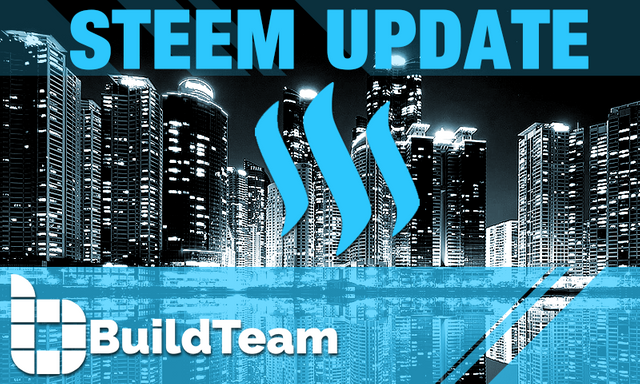 Every once in a while major changes are implemented on the Steem blockchain which require @buildteam to change as well.
This is a situation just like the one described above and as a result of the new improvements made by Steem developers we have made the technological leap in upgrading our nodes to the new and improved Appbase API.
If you are unfamiliar with Appbase here's how the developers have described it:
AppBase provides a robust foundation for meeting all of our future scaling needs. AppBase will allow the platform to grow while managing the resource requirements of third-party application developers, witnesses, and exchanges.
Four months ago, we announced that AppBase release candidate v0.19.4rc1 was ready for community testing. After several months of extensive testing, we are excited to announce that the release is officially ready!
More details of these new developments can be found here:
https://steemit.com/steem/@steemitblog/steem-19-10-officially-released-appbase-rocksdb-unlimited-content-editing-and-more
It is important to note that there are some minor changes required for developers who are interfacing directly with the steemd APIs, as well as for node operators who are running instances of steemd.
Everything you need to know can be found in the release notes located here:
https://github.com/steemit/steem/releases/tag/v0.19.10
As a result of BuildTeam deciding to update our node, people relying on our pre-appbase configuration will no longer be able to do that in 2 weeks from the date of this post being published.
If you'd like to continue using BuildTeam's public node, you'll need to make yourself aware of the new configuration requirements.
Please note that our non-appbase node can be found at:
rpc.buildteam.io
Our new appbase node will be located at:
appbase.buildteam.io
---
BuildTeam Upgrades to Appbase
We are proud to be one of the first groups to offer a brand new, speedy Appbase connection to the Steem blockchain. We are resolved in making Steem the greatest blockchain in the world and major technological upgrades such as the one discussed here give it an even better chance for full scale mass adoption.
We look forward to bringing the Steem community even more releases in the near future.
Together we can make the ecosystem one that rivals even the biggest of competitors!
---

| Visit our website for more! | Subsribe to our YouTube Channel |
| --- | --- |
| | |
Vote Buildteameos for top 21 EOS Block Producer!
Learn how with our EOS-Voter guide
( Click here for more details )


Set it up today and contribute to building a better tomorrow!


( Want an easier way? Use our SteemConnect proxy link! )


Get support and connect with us and other BuildTeam fans!



---
This is a @steemvoter subscription payment post. Thank you to Steemvoter customers for allowing us to use your Steem accounts to upvote this post by virtue of your free subscription to the Steemvoter.com bot service. @steemvoter is proudly a @buildteam subsidiary and sister project to @steemsports and @minnowbooster.