Announcement - BUILDTEAM Token Now Listed on CoinGecko.com!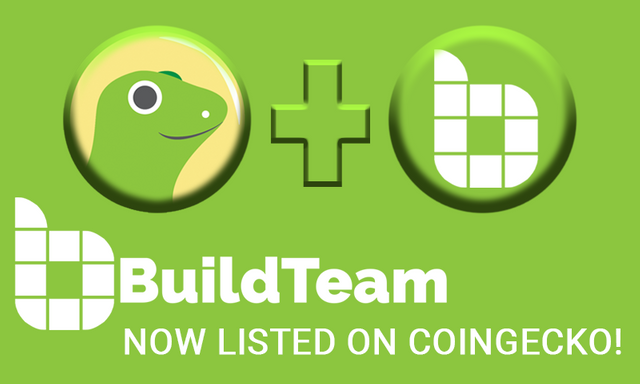 ---
Hello Steemians! Today it gives us great pleasure to announce our recent listing with one of the top cryptocurrency index websites in the world, www.coingecko.com.
CoinGecko is globally ranked with Alexa at 5812. This means it falls in the top 6000 most heavily visited websites in the world. This can be verified here:
https://www.alexa.com/siteinfo/coingecko.com
They have recently integrated the Bitshares Cryptofresh.com block explorer; this has enabled CoinGecko to list the BUILDTEAM Token (currently a native Bitshares Asset) with their index.
---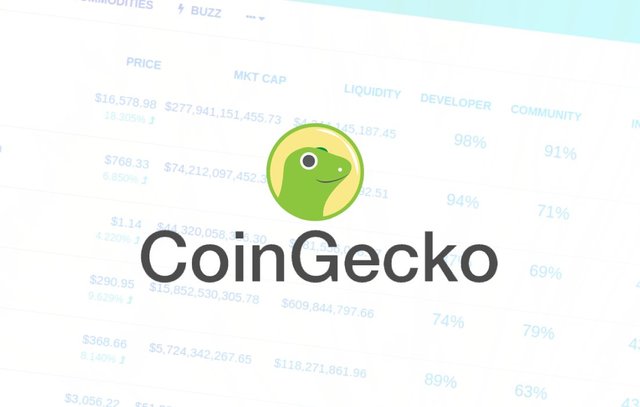 ---
If you'd like to keep track of our token and bookmark the index page, it can be found here:
https://www.coingecko.com/en/coins/buildteam/
---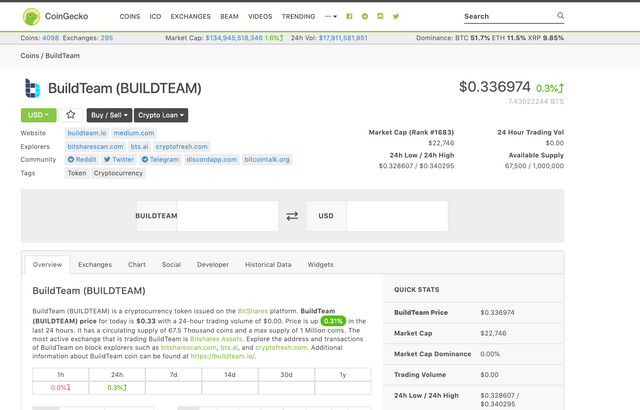 ---
Currently there are several ways to access the Bitshares DEX and trade BUILDTEAM Tokens.
Firstly there is the standard Bitshares DEX interface:
https://wallet.bitshares.org/#/market/BUILDTEAM_BTS
They can also be traded on:
Rudex - https://market.rudex.org/#/market/BUILDTEAM_BTS
Openledger - https://openledger.io/market/BUILDTEAM_BTS
The fact that BUILDTEAM token was recently listed with CoinGecko means that it can certainly be considered a win-win situation for both Steem and Bitshares exposure. Our token has direct ties to both Bitshares and Steem due to it being a native Bitshares asset and due to our projects being mainly Steem based.
If you are unfamiliar with the BUILDTEAM token we highly recommend you read the post below as it covers some of the most important aspects like the innovative 13 week staking system which was originally intended for Steem SMT's and is in play on the Steem blockchain. The post also covers recent performance of the token which many people may find interesting:
https://steemit.com/buildteam/@buildteam/buildteam-staking-performance-review-of-the-buildteam-token
---
BuildTeam is taking broad steps towards the future!
We would like to say that we are very appreciative that CoinGecko.com has taken the time to list our token and look forward to making some major announcements about new and innovative services in the coming weeks!
For more information about BuildTeam go ahead and visit our website at www.BuildTeam.io or jump into our discord and we'd be glad to answer any questions you may have.
Here's to a bright blockchain future!
---

| Visit our website for more! | Subsribe to our YouTube Channel |
| --- | --- |
| | |
Set it up today and contribute to building a better tomorrow!


( Want an easier way? Use our SteemConnect proxy link! )


Get support and connect with us and other BuildTeam fans!



---
This is a @steemvoter subscription payment post. Thank you to Steemvoter customers for allowing us to use your Steem accounts to upvote this post by virtue of your free subscription to the Steemvoter.com bot service. @steemvoter is proudly a @buildteam subsidiary and sister project to @steemsports, @tokenbb, @ginabot, @quicksteem, @minnowbooster and @minnowmonsters.