𝚆𝚒𝚗 𝚄𝚙 𝚝𝚘 𝟷𝟻𝟶 𝚂𝚝𝚎𝚎𝚖 𝙿𝚕𝚞𝚜 𝟷𝟶𝟶𝟶 𝙱𝚄𝙸𝙻𝙳 & 𝙻𝙾𝚃𝚄𝚂 𝚃𝙾𝙺𝙴𝙽𝚂!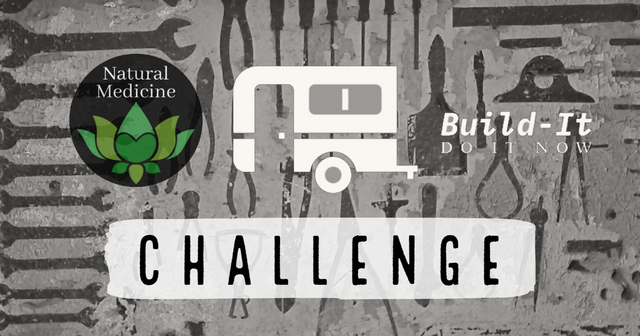 We loved last week's colloboration with Inner Blocks so much we decided another tribe pair up would be equally fun! This fortnight we're hanging out with Build-It, a cool tribe that many of you will resonate with. Build-it are about empowering and strengthening DIY projects, how to tutorials and life hacks. They were set up to reward high quality DIY and 'how to' projects and you can earn 'build' tokens by using recommended tags such as #diy, #build-it, #how-to, #doityourself and #build. They even have a condensor - https://build-it.io/.
Natural Medicine often sees these tags alongside #naturalmedicine because many of our folk are equally into self sufficiency and resourcefulness, making their own rather than buying from a store. We've run challenges like this before where we've seen all kinds of 'make your own' projects such as making your own deodorant or clothes washing powder, and of course lots of yummy healthy food recipes!!

This challenge is a little different because we're going to ask you to 'make' your own project from scratch - something you have never made before but always wanted to. We want you to document it as a step by step 'how to' in an engaging and creative a way as possible.
Try to choose something challenging! We love Build-It's tag line: DO IT NOW! This could be a great opportunity to start that project you've been putting off for ages!
You must 'build' or 'make' something that relates to 'natural health' - this, of course, is very broad! Some ideas:
Build your own altar for meditative rituals
Build an outdoor fire bath for self-care
Make your own deodorant
Make your own apple cider vinegar or try pickling for the first time
Set up a self watering system for your permaculture garden
Make your own still for essential oils
Make a hydrosol out of your favourite herb
Try making your own vitamin pills
Make your own soap
Make your own colloidal silver
Make your own vegan cheese

𝚃𝚑𝚎 𝙿𝚛𝚒𝚣𝚎𝚜!
This ones a HUGE one because we recognise we're asking you to do something quite BIG and CREATIVE!
Both BUILD-IT and NATURAL MEDICINE are contributing 75 STEEM each and 1000 staked tokens to the winners - that's 1000 BUILD tokens and 1000 LOTUS.

We reserve the right to divide the winnings as we see fit - either one ultimate winner, or divided amongst a few, depending on the quality of the entries.

Week 1 entries will receive some bonus tokens.

The first TWENTY resteems will recieve .25 Steem each from Natural Medicine.
The Rules

Oh, and if you're wondering what tags to curate? Our curators look at most of these tags and much more! Check out www.naturalmedicine.io for a full list of supported tags.
| naturalmedicine | health | healing | yoga |
| --- | --- | --- | --- |
| spirituality | herbalism | homesteading | innerblocks |
| vegan | meditation | wellness | cbd |
| qi gong | keto | tai chi | herbs |
Thinking about writing a #naturalmedicine post this week? We have upvotes to burn and will resteem the best of you to nearly 1,000 followers! Go you! We're also resteeming on our @uplotus account, so go give that a follow too! That's the one where you'll see the LOTUS rewards. We also reward users with LOTUS for posting from our front end, and those posts automatically appear in our Discord channel for the chance for more visibility.
All the curation and author rewards in LOTUS for this post will be burnt to help the ecosystem.

We need YOU! Please consider delegating to help keep this collective going. The minimum entry for membership is 20SP (free for members under 150SP), and helps give YOU upvotes, contests, meditation sessions, an awesome discord support group, and so much more!
50SPII100SPII200II300SPII500SPII1000SP