Build-It: Beginner's User Guide
In this guide, we would like to show you how you can obtain an account on the STEEM network which can be used on our website Build-It as well as many others you can see on SteemNavi. If you like to learn more about Build-It, read our introductory post here.
Need help? Live technical support on Discord or Telegram .
---
Section 1: Create a STEEM account
Steem Ninja lets you create an account in less than 60 seconds for a price of 2.5 US dollars.
For more instructions, click here.
Using an Apple account / Google Playstore:
SteemWallet lets you open an account with one-click from your phone. It's a fast and secure way to open a STEEM account. Also, it features a wallet that lets you manage and monitor your transactions with ease. The app is available on Apple App Store and Google play Store.
For more info, click here.
Open a free account (up to 2 weeks waiting period)
Steemit will open a free STEEM account for you but the activation isn't instant. The team will review your request which might take up to two weeks.
---
Section 2: logging in on Build-It.io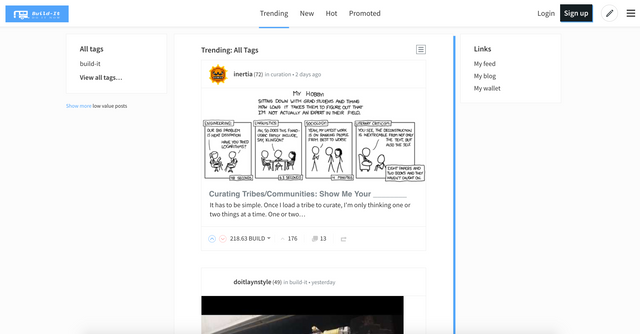 Once you login in the @Build-it website, this is what you will see
Step 2: Fill in your USERNAME and PASSWORD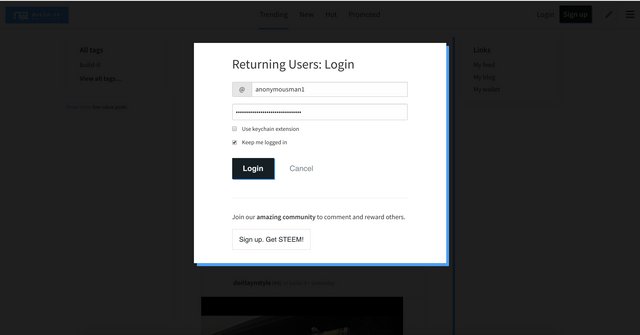 You will be prompted with the following message, click on "Download a PDF with keys and instructions"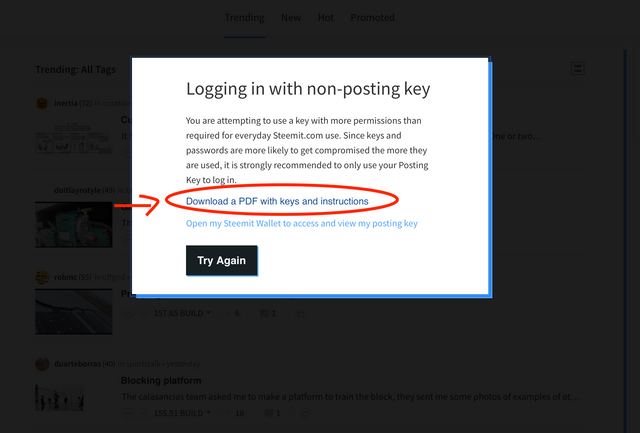 This downloads a document with all your keys including your private posting key. Keep this file safe. Now, login again using your USERNAME and PRIVATE POSTING KEY.
From now on, use your USERNAME and PRIVATE POSTING KEY to login. Alternatively, you can use this handy tool called the Steem, Keychain available for Chrome or Firefox internet browsers.
There you have it! You've successfully logged in our platform. Feel free to explore and share your DIY and How-to related articles.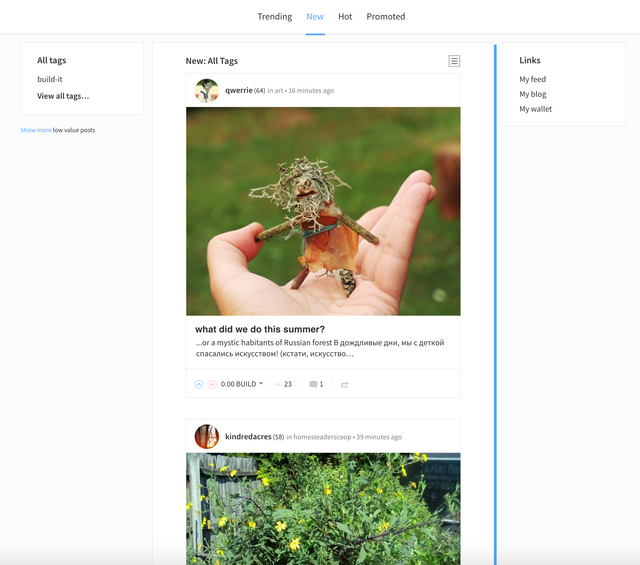 ---
Section 3: Claim your rewards
Build-It is powered by a digital token called the BUILD. You will be rewarded with BUILD tokens for your contributions and curation efforts.
You can claim rewards every 7 days. Thereafter, your earned rewards will go directly to your wallet.
To open your wallet, click on "My wallet" in the right-hand sidebar.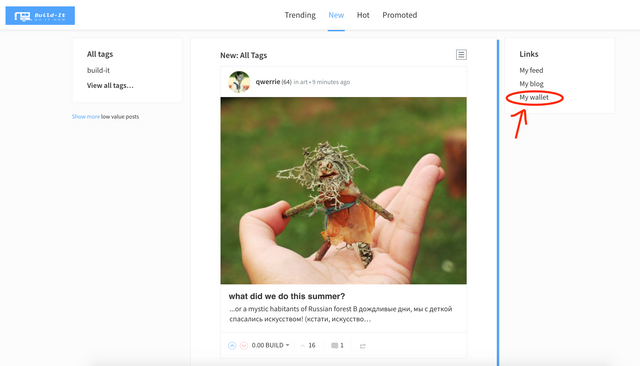 An example is shown below:
Click on "Redeem Rewards" as indicated below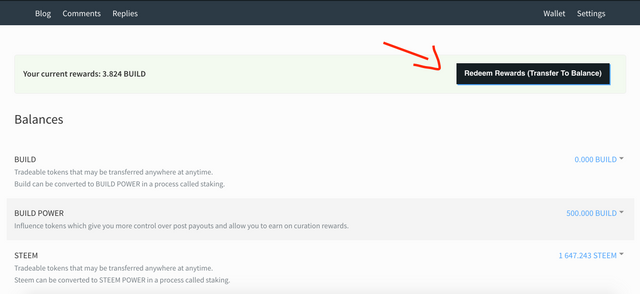 After a few minutes, the claimed amount will show up in your balance

Section 3: Powering-up
After you have claimed your BUILD tokens, you can either power them up or sell them on the market. Powering-up increases the value of your votes.
Here's how you power up your build tokens. First, head over to your wallet and click on the Build tokens you have (highlighted in red).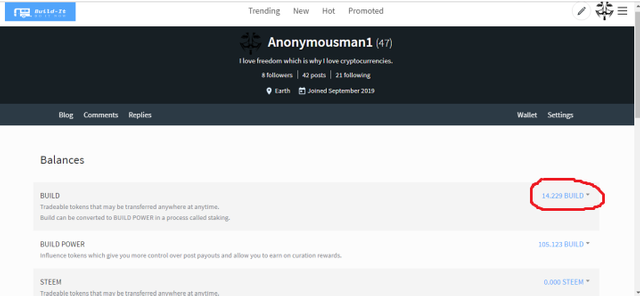 Next, you'll be given 3 options: transfer, stake, and market. Click on "Stake".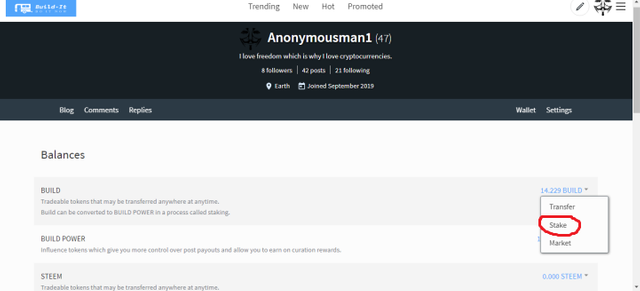 After you've clicked on the "Stake" icon, the website will bring you to this section where you will have to fill in the amount of BUILD you are willing to power up (stake). Go ahead and input the amount you want to power up and click "Stake".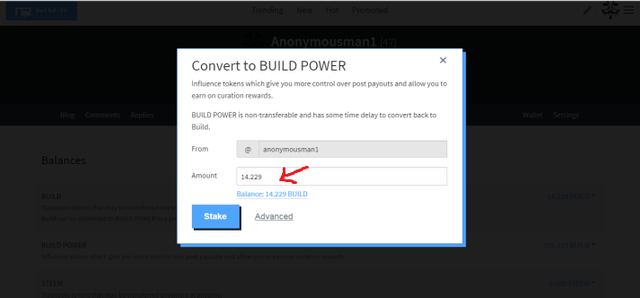 Thereafter, the platform will request your PRIVATE ACTIVE KEY to confirm this transaction. Insert your PRIVATE ACTIVE KEY in the bar below your username and click "Sign in".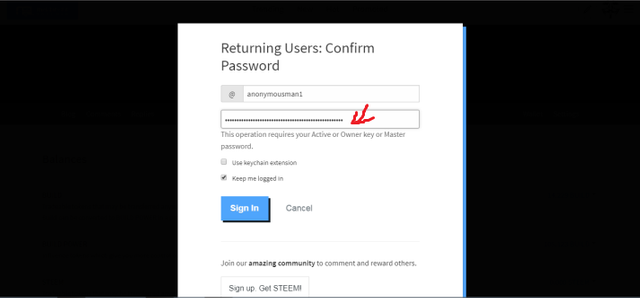 Once that is done, the website will bring you back to the wallet section. Note that the BUILD you staked has been added to your BUILD power as shown.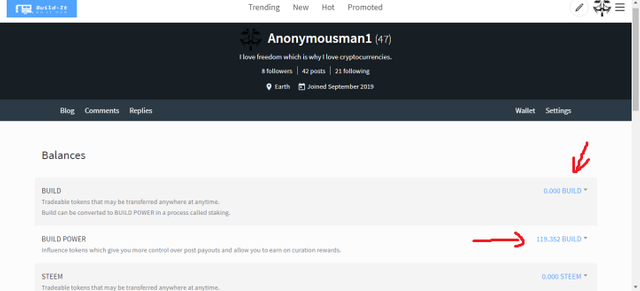 ---
Optional Section: Increase your BUILD power!
If you would like to increase your power beyond what you have been rewarded, you can buy BUILD tokens directly from the STEEM-ENGINE marketplace. Login with the same USERNAME and PRIVATE POSTING KEY. On STEEM-ENGINE you can exchange any token for another, be it Bitcoin, Litecoin or EOS.
---
Section 4: Cashing out to your local currency
Step 1: Login to STEEM-ENGINE with the same USERNAME and PRIVATE POSTING KEY. Then visit the Build token marketplace.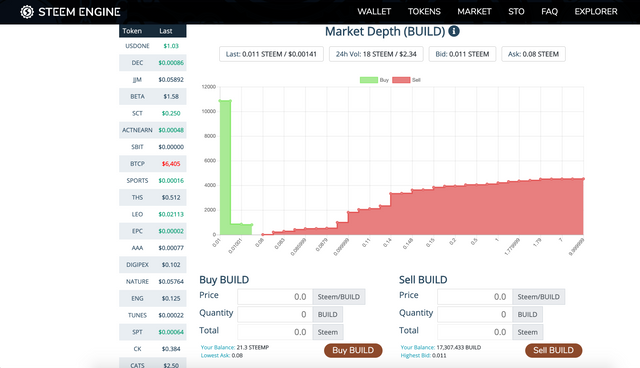 Exchange BUILD token into STEEM as shown above which we will exchange again later into Bitcoin, Litecoin or EOS.
Here you review your order before proceeding.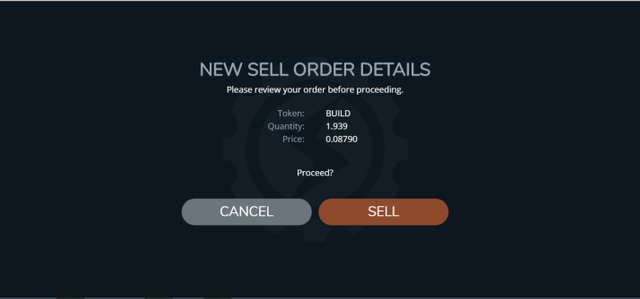 Confirm your transaction and click "confirm".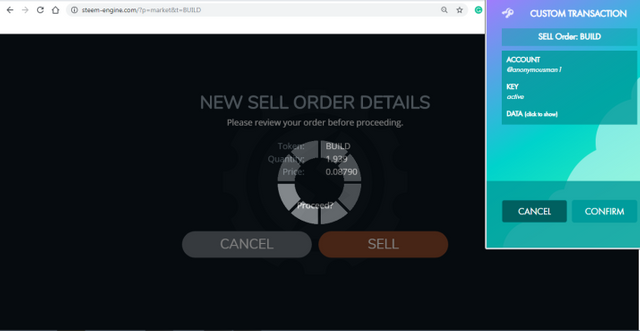 After your submitted exchange order is executed, you can proceed to the next step.
Step 2: Exchange your STEEM to Bitcoin (BTC). Visit the STEEM marketplace and place a buy order for BTCp.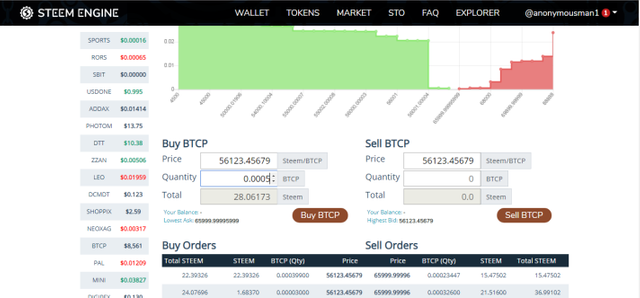 Once your order has executed, you can withdraw your Bitcoin.
Step 3: Withdraw your BTC from any Bitcoin ATM near you
In any marketplace page, you will find a withdraw option as indicated below.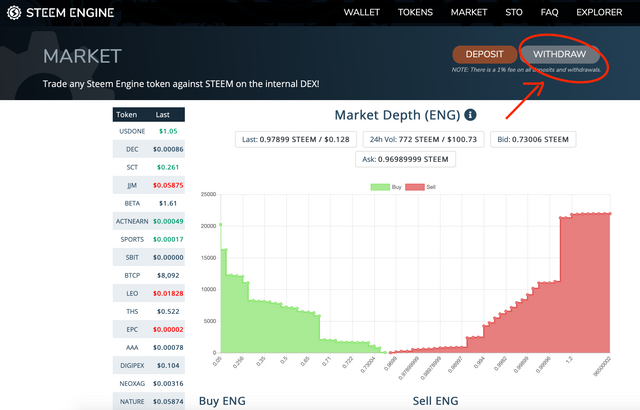 Select the type and amount of the token to be withdrawn, in this case, we choose Bitcoin.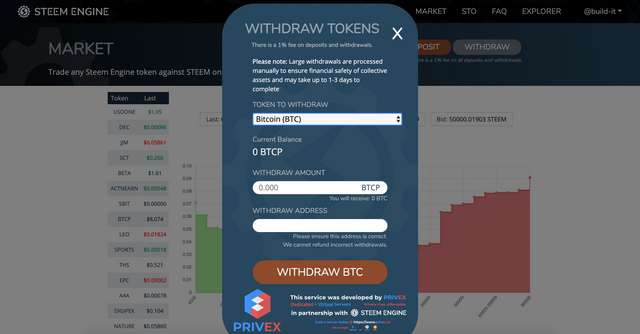 Follow the instructions on the Bitcoin ATM and obtain the address to which the ATM will receive your Bitcoin. That is, withdraw the BTC amount to the address of the Bitcoin ATM and receive your rewards in your local currency.
Need help? Live technical support on Telegram or Discord
---
Build-It information and resources