I Can See More Clearly Now, But the Rain ain't Gone Yet
What I'm talkin' about in the title is the bear market in Steem, STEEMIT, and crypto's in general. Lot's has changed around here since the summertime, and certainly from a year ago when Bitcoin was mooning toward 20k. It has fast been returning to Earth ever since.
The one thing in life that is absolutely certain is constant change. Sometimes change is for the better and sometimes catastrophic. I myself have been quite occupied amid transitory changes and new passions of late, the details of which I will share in my next post. That said, I always keep an eye on the financial markets for ongoing business and personal reasons.
Knowing that I have a quarterly update to deliver to subscribers coming up in December, I decided to open up some charts to see how close the legacy S&P 500 might be to delivering a long-term sell signal (it's close, but not quite there yet). In doing so, I stumbled upon a big picture Bitcoin chart that I rendered nearly a year ago.
All of my notations remained just as I had left them, however, what changed was "time." I had a few plausible scenarios outlined, and what's interesting, and thus the sole reason for this post, is to point out that with the passage of time, all of the potential bullish scenarios that were on the table have all failed miserably.
As an aside, if one wants to review all of my technical analysis on bitcoin, just search "passion-ground BTC" and all of my related posts and videos should appear.
I've since removed the bullish prospects upon updating the chart below, leaving only the worst case bearish scenario playing out - which has been happening at an escalated pace in real time. Right click and open it in a new tab to view it in full size.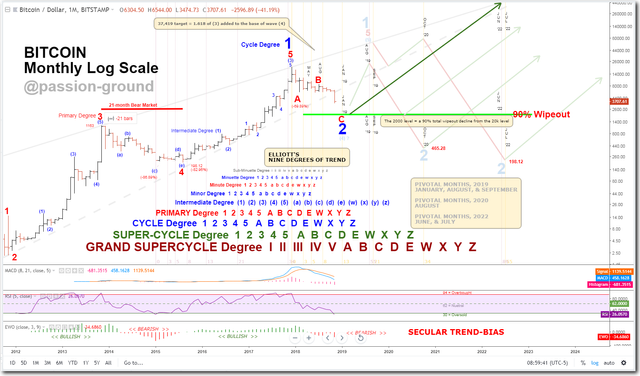 The reality that time has brought forth has irrefutably rendered the 20k peak as "the top" of large Cycle Degree wave structure. As I warned, and as it readily implied back then, albeit in the company of alternate bullish possibilities (which no longer exist), a large bear market of Cycle Dimension was indeed in force - and this bearish interpretation "won the day" over all of the other near to medium-term bullish possibilities that everyone was hoping and praying for - including myself.
When will this Bear Market end and how low will it go?
Quite honestly, I don't know. The 2000 level seems a quite likely target equating to a rather common 90% wipeout from peak equity. Such declines have happened numerous times amid the legacy markets, and are tell-tale calling cards for devastating bear markets of such sort.
In terms of when such a final low may come to pass... The chart depicts four likely "turn-months" of critical import. Given that turn-months may mark pivotal highs or lows (plus or minus a month) several of the listed turn-months (+/- one bar) may well give us a clue as to the timing of such an event.
The most ideal is right around the corner in January 2019. At this stage, an accelerated bloodbath to crazy lows in January to mark an absolute and final bottom would be much more preferred rather than dragging the already prolonged agonizing torture out for several more months and years to come.
The very next turn months are August and September of 2019, followed by August of 2020, and finally June and July of 2022.
Sorry to reinforce yet another aspect of site and community related bad news - but it is what it is - and in truth, it has been that way for quite some time now - it just seemed to get in our face in no uncertain terms since the summer, and much more intensely so during this most recent drawdown for sure.
For whatever it's worth, I hope once again, that my efforts to convey my knowledge of charting financial markets helps folks in putting things in better perspective regardless of how much hope and belief one may cling to.
I'll be back for at least one more post about my newfound passion - and hopefully many, many more thereafter...
Peace Out