I love reading real content on steem. It used to be that steem was my Nr1 content platform. This has changed lately, as it has been almost impossible to earn rewards on steem.
But every once in a while we find great stuff.
Today I stumbled over a post about the price of ETH:
Part 1: https://steemit.com/ethereum/@ethsensei/why-ethereum-will-never-reach-another-ath
Part2: https://steemit.com/ethereum/@ethsensei/why-ethereum-will-never-reach-another-ath-part-2
It claims ETH will never reach ATHs.
It claims reason why ETH hit 1400 is only because of ICO's. And because ICO's are dead ETH can never go to 1400 again.
Then however in part two it goes: But it won't go to 0 because of DAI.
There is some truth
It is true that ICO's pumped lots of value in and out of ETH and these waves of flowing value are exaggerated by the market in both directions.
So YES, ICO's had a huge effect on the price of ETH. ICO's were also executed in a really stupid fashion and won't work the same way anymore thankfully.
BUT: ICO's are not dead, they still make sense. You can create a decentralized project, tokenize it realize huge benefits operating digitally automated smart contracts on open markets vs following the old manual processes of governments, regulations and restricted markets.
Ethereum is also not exclusively an ICO platform just because ICOs were the first thing how the platform was used by many. Even if ICO's were dead there are other use cases that Ethereum and ETH may demand market cap for.
ETH still out-performed BTC by a factor of 38!
I have been reading lots of ETH is dead posts lately on twitter like this one: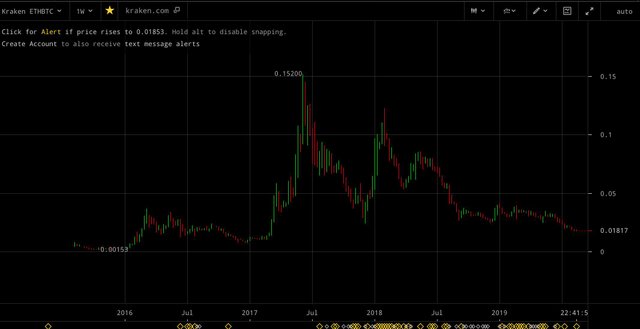 Lets not get too cocky. ETH is still 30x vs bitcoin from inception https://t.co/S85eP5aSDi

— Philipp Knirck (@knircky) August 22, 2019
The thing is ETH is far from dead, but particularly it has outperforming bitcoin by a lot.
You see at the initial crowdsale ETH traded at 2000 ETH per bitcoin. That was the price that was set and produced the initial supply. So if you bought 2000 ETH for 1 BTC, you could now trade those back for btc at a rate of roughly 0.019 btc per ETH.
If you would do that you would end up with: 2000* 0.019 = 38 BTC in your possession.
In other words ETH has outperformed bitcoin 38 times since it's inception.
Maybe this where all the hatred from bitcoin Maximalists is coming from. But let's not kid ourselves or let us get manipulated by BTC maximalists.
I love BTC and ETH
I love both bitcoin and ethereum. Both of them have their strengths to me. I think it is paramount to keep an open mind and stay vigilant regarding where to keep our crypto investments. Both are leaders in their field and both are first movers. That does not mean they will survive and we must be aware of that. Today however they are the leaders of what they do still.
I think both of them have a great future. And I believe my portfolio is stronger with both of these assets in them.
It is also my firm believe that the world is a better place because of both these technologies.
As to the ATH, I am pretty sure that if ethereum makes it, it will trade far above the ATH.