Free Credits at the BROsino!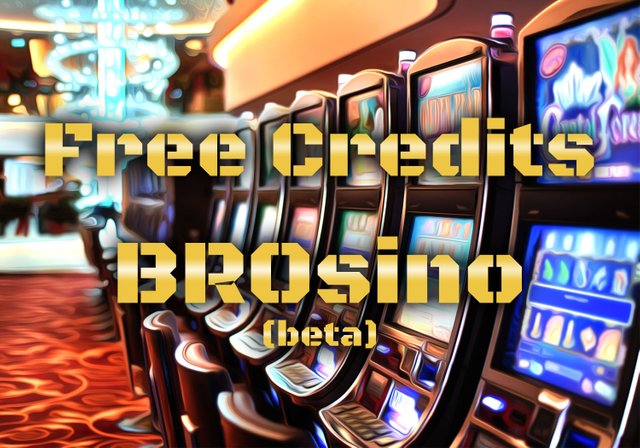 Welcome to the BROsino!
Well, to the official BROsino account on Steem, that is!
Our first official order of business for the community and our players is...
Free virtual credit giveaways!
Beginning this Friday (tomorrow), the BROsino will be giving away free virtual credits every week to be used on our website, brosgn.net! This weekly giveaway will be called Free Credits Friday!
How it Works
Every Friday,
@brosino
will publish a post right here on the Steem blockchain with instructions on how to claim your free credits. This Friday - May 24th, 2019 - we will be asking you to leave a review of your experience at the BROsino so far. Your review will need to be left as a comment on the
Free Credits Friday
post by
@brosino
, so if you have not already signed up at
brosgn.net
, you better hurry! Only those people with verified and active accounts will be able to claim the credits!
In addition to leaving a review, we will also be giving away additional credits for verified and active players who retweet our Free Credits Friday post on Twitter! If you want to claim those credits, make sure you're following BROSGN on Twitter!
Further details about our credits giveaway will be published in this Friday's post (tomorrow).
For more information about the BROsino, please read this announcement: Beta Test at the BROsino!
---
Entertainment Only
The BROsino (brosgn.net) is intended for entertainment purposes only and those 21 years of age or older. Our games were created for an adult audience. Success at social casino games does not imply success at real money gambling in the future. Our games do not offer any "real money gambling" or any opportunity to win real money or any prizes.
All virtual credits at the BROsino and on brosgn.net are non-transferrable and cannot be sold or cashed out.
---
Support the BRO Sports & Gaming Network™
Here are the many ways that you can support BROSGN's efforts to continue delivering exceptional sports and gaming platforms:
Try out our fun, randomized voting bot, @bro-rando
Delegate some Steem Power to @brosgn, @brosino, or @bro-rando
Donate directly to @brosgn on Steem
Approve @ats-witness and @guiltyparties as Steem witnesses
Become a sponsor/advertiser at the BROsino. (Contact us for more details.)
Download and use the Brave browser using our super-awesome referral link: https://brave.com/bro191 . You can also set up monthly tipping for brosgn.net - a verified Brave publisher - to send us a share of your free monthly BAT distributions. And if you enable ads in your browser settings, you can even earn some BAT currency while you play!
If you prefer to hang onto your valuable STEEM, and just want to donate to some bros looking to continue offering and developing fun stuff for everyone to enjoy, you may also donate directly to us at the following wallet addresses:
Bitcoin (BTC): 1DnmsSuveWz2gcks6Kmu25eHiECzRpuNxC
Litecoin (LTC): LUgoi1FWqrDw1JP4sTZZe2fRgrVWiaziUn
Ethereum (ETH): 0x6880a2704716888c21ed0e843035fe3082456c2f
Be sure to also subscribe to the official BROSGN YouTube channel and follow us on Twitter! You can also join us on Discord in the official BRO Sports & Gaming Network™ chat!
---
Thank you for your support and good luck to everyone playing at the BROsino!