Beta Test at the BROsino!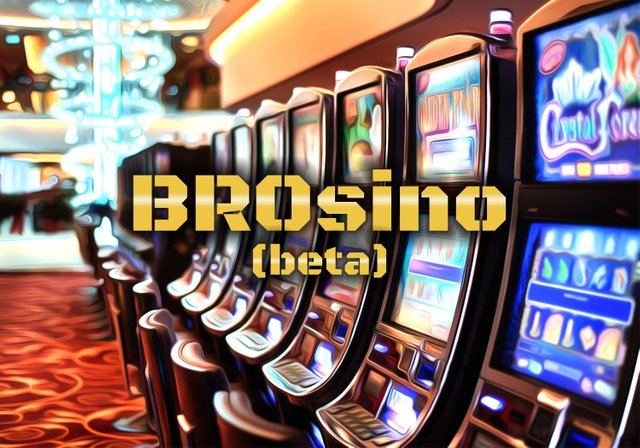 It's a big day at the BRO Sports & Gaming Network™ headquarters! We're opening new packs of cards, polishing slot machines, greasing the roulette wheel, and welcoming our first guests to the BRO Casino...or, the BROsino!
The BROsino is the first major addition to the BROconomy and joins our first project, @bro-rando, in the Steem ecosystem. For content related specifically to the BROsino, you can begin following @brosino right here on the Steem blockchain. The @brosgn account (the one you're on right now) will continue bringing news, information, and announcements for the greater BRO Sports & Gaming Network™ (BROSGN).
While our BROsino doors are now open to the larger public, please remember that we are still in beta. There's still plenty of work to be done and there are several additions already planned and in development.
So, what is the BROsino and what are some of the things that we currently have to offer? Rather than just tell you about it, have a look yourself!
"Do I have to be a bro in order to play at the BROsino?"
Absolutely not! "BRO" is just an acronym - you don't actually have to be someone's brother to be able to sign up and enjoy the #1 FREE online casino! You can play any of our games, whether you're a BRO guy or a BRO girl!
Did someone say "referrals?"
Yes, it's true! The BROsino has its very own referral system where you can earn lots of extra virtual credits by referring new players!
You can begin signing up now at brosgn.net and enjoy a limited-time boost to your referral rewards during open beta testing. You'll receive a bonus of 2% of all virtual credits that are bet from everyone you refer, plus a bonus of 50% of any virtual credits purchased by everyone you refer! If you sign up with a referral link, you'll receive a bonus of 5000 virtual credits in addition to the 10,000 that every new user receives!
This limited-time referral rewards boost will only last until the end of June, so sign up and start stacking those virtual game credits today!
Entertainment Only
The BROsino (brosgn.net) is intended for entertainment purposes only and those 21 years of age or older. Our games were created for an adult audience. Success at social casino games does not imply success at real money gambling in the future. Our games do not offer any "real money gambling" or any opportunity to win real money or any prizes.
---
So much more is on the way!
We still have work to do to get out of beta testing and to deploy new games and features, so any support given to BROSGN and the BROsino is greatly appreciated! These are the ways that you can be a BRO supporter:
Try out our fun, randomized voting bot, @bro-rando
Delegate some Steem Power to @brosgn
Donate directly to @brosgn on Steem
Approve @ats-witness and @guiltyparties as Steem witnesses
Become a sponsor/advertiser at the BROsino. (Coming soon! Contact us for more details.)
Download and use the Brave browser using our super-awesome referral link: https://brave.com/bro191 . You can also set up monthly tipping for brosgn.net - a verified Brave publisher - to send us a share of your monthly BAT distributions. And if you enable ads in your browser settings, you can even earn BAT while you play or surf the web!
If you prefer to hang onto your valuable STEEM, and just want to donate to some bros looking to continue offering and developing fun stuff for everyone to enjoy, you may also donate directly to us at the following wallet addresses:
Bitcoin (BTC): 1DnmsSuveWz2gcks6Kmu25eHiECzRpuNxC
Litecoin (LTC): LUgoi1FWqrDw1JP4sTZZe2fRgrVWiaziUn
Ethereum (ETH): 0x6880a2704716888c21ed0e843035fe3082456c2f
Be sure to also subscribe to the official BROSGN YouTube channel and follow us on Twitter! You can also join us on Discord in the official BRO Sports & Gaming Network™ chat!
---
Thank you for your support and good luck to everyone playing at the BROsino!