A brilliant 9 year-old sold 312 boxes of cookies to those whom you could say had the munchies.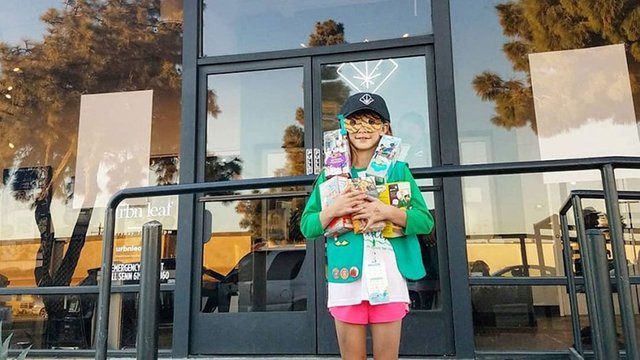 The location was in front of urbn leaf, a recreational and medical state licensed cannabis dispensary. She and her father took their little wagon and their hundreds of boxes of cookies and sold them to the good guys and gals with munchies. Maybe a few who haven't got the craving yet, but surely took some for later.
How brilliant was that ?
A perfect location to help raise money to fund and improve their community. She even got some help from the shop when they posted a picture of the young girl on Instagram.
I'm sure there were those who had some negative comments to say about this story, but let us not forget the cause behind the Girl Scouts and the fact that she was accompanied by her father.
A spokesperson for Girl Scouts San Diego stated that the young girl didn't violate any rules or break any code of conduct.
So I myself am very satisfied to have read this story and even more pleased at the fact that she didn't catch too much flak for being a smart young girl who knew where to target her customers.
"Anytime we can help out by driving more people to support local fundraising like a Girl Scout selling cookies, we'll do that,"
-Urbn Leaf owner Will Senn
https://www.sunnyskyz.com/good-news/2633/Girl-Scout-Sells-312-Boxes-Of-Cookies-Outside-Of-Marijuana-Shop