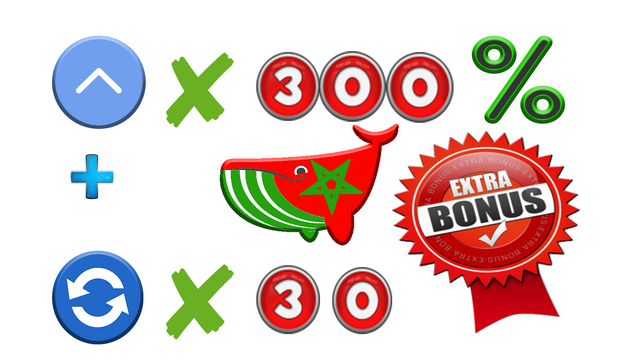 Morwhale fedeliting program : A bonus of 1% to 100% of your transfer for life.
Program post : https://steemit.com/bot/@morwhale/morwhale-fedeliting-program-a-bonus-of-1-to-100-of-your-transfer
To reward its most loyal customers, morwhale sets up an exclusive and accessible fedeliting program.
Program content:
A bonus of 1% to 100% of your transfer.
The bonus is for life
The number of beneficiaries is limited to 100.
Each beneficiary can leave his place to someone else or unsubscribe
After the reservation you prove increased or demerge your bonus as you want.
How to participate :
Registration is done by a minimum of 1 STEEM which gives you 1% for life
The maximum and 100 STEEM which gives you 100% for life
The shipment is made to morwhale with morwhalebonus as memo
The unsubscription is subject to a refund of STEEMs sent according to the performance of morwhale each week.
The refund is made totally or partially depending on the amount and the situation.
To take my place to someone else, you must contact me at discord: morwhale
Example:
If you were registered with 20 STEEM which gives you the right to 20% lifetime bonus, you make the transfer of your link with 0.1 STEEM morwhale will consider it as 0.12 STEEM and the total value of the vote will be 0.24 $ with the 2X which is offered by default by morwhale.
Contenu du programme :
Un bonus de 1% a 100 % de votre transfert.
Le bonus est à vie
Le nombre des bénéficiaires est limité à 100.
Chaque bénéficiaire peux seder sa place a quelqu'un d'autre ou se désabonné
Apres la réservation vous prouver augmenté ou démener votre bonus comme vous voulez.
Comment participer :
L'inscription se fait par un minimum 1 STEEM ce qui vous donne 1% à vie
Le maximum et 100 STEEM ce qui vous donne 100% a vie
L'envoi se fait à morwhale avec morwhalebonus comme memo
Le désabonnement fait l'objet d'un remboursement des STEEM envoyés selon le rendement de morwhale chaque semaine.
Le remboursement se fait totalement ou partiellement selon le montant et la situation.
Pour seder sa place a quelqu'un d'autre, il faut que vous me contacté a discord : morwhale
Exemple :
Si vous été inscrit avec 20 STEEM ce qui vous donne le droit à 20% de bonus a vie, vous fait le transfert de votre lien avec 0.1 STEEM morwhale le considérera comme 0.12 STEEM et le valeur total du vote sera 0.24 $ avec le 2X qui est offert par défaut par morwhale .